Girl Power: Kids Will Fuel GoldieBlox's New Macy's Thanksgiving Day Parade Float
The debut parade entry will highlight the toy brand's efforts to encourage kids' interest in science, math, and engineering on a national stage.
November 19, 2014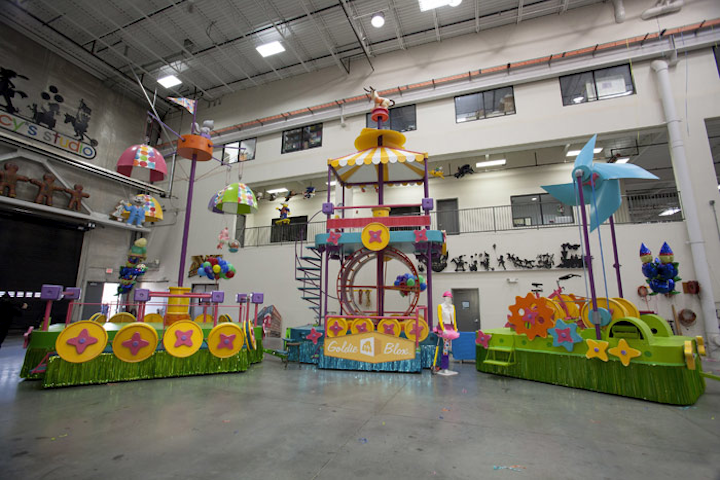 Photo: Courtesy of Macy's Inc.
GoldieBlox, the toy company that's created big buzz—not to mention very viral ads—for its toys meant to inspire girls, will partner with Macy's this year for a float in the 88th annual Macy's Thanksgiving Day Parade on November 27. And, appropriately, the brand's parade entry will derive its power from its target demographic.
Dubbed the "Girl-Powered Spinning Machine," the new parade float will incorporate elements from the world of the character Goldie, a girl inventor. The GoldieBlox team is collaborating with the engineers and craftspeople at Macy's Parade Studio to design and build the float, which will render the brand's toys on a massive scale in the form of a colorful machine.
With three individual stages, the float uses kid-generated power to spin, pull, and rotate a variety of eye-catching components. Included in the float's moving parts is animation powered by bicycle, and a giant pinwheel that spins and releases bubbles. People-powered rotation also drives a vertical wind spire. And kids revolve a crank that makes parachutes go up and down.
It's all in line with the brand's mission to inspire girls toward interest and aptitude in engineering, science, and math from an early age.
"We're thrilled to join the lineup this November with the first-ever float that is specifically designed to showcase the principles of engineering. Macy's Parade floats are the ultimate engineering spectacle, and relatable to kids everywhere," says founder and C.E.O. Debbie Sterling in a release.
Parade executive producer Amy Kule adds, "Macy's Thanksgiving Day Parade has always been about sparking the imagination through creativity, magic, and fun. The new GoldieBlox float is an aspiring engineer's dream, perfectly combining Macy's Parade's signature creativity and artistry, with real-world engineering practices that will inspire girls and boys to learn more about engineering and technology."
Annually, more than 50 million viewers across the country and more than 3.5 million spectators along the two-mile parade route in New York typically view the spectacle, which is considered a kickoff to the winter holiday season—and is one of the biggest parades in the nation.