Q&A: Inside Essence Festival's New Conference & Expos Daytime Program
With nearly half a million people coming to the magazine's three-day festival in New Orleans, event planners expanded programming around a community theme.
July 3, 2018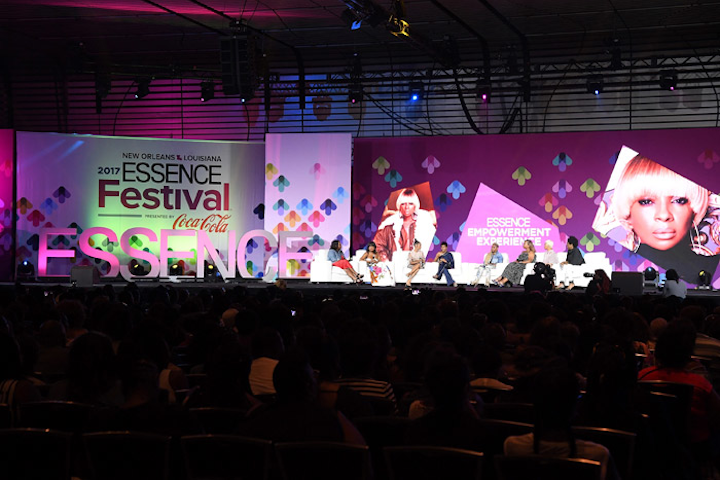 Photo: Paras Griffin/Getty Images for 2017 Essence Festival
The Essence Festival never fails to make a splash in New Orleans. Now in its 24th year, the annual consumer conference and music festival geared toward black women—which was famously featured in last year's comedy Girls Trip—is slated to bring an all-star lineup of more than 40 acts across five stages to the Mercedes-Benz Superdome from July 5 to 8. Headliners include Queen Latifah, Erykah Badu, Missy Elliott, Mary J. Blige, and Janet Jackson, with more performers in a special curation by the Roots and Snoop Dogg. 
Equally noteworthy is the festival's debut of Conference & Expos—a new daytime program focused on community enrichment, which will offer motivational talks, roundtables, live podcasts, workshops, networking opportunities, and interactive exhibitions at the Ernest N. Morial Convention Center. The content of the program, which is essentially an expansion of the festival's usual daytime experience, is centered around nine tracks: technology, personal finance, beauty and style, entertainment, food, community and culture, wellness and spirituality, entrepreneurship and career, and shopping.  
Candace Purdie-Montgomery, senior live events director for Essence, recently discussed the decision to launch the new program, the specific experiences attendees can have at the program, how the company's new ownership has changed the festival, and more.
Why did Essence Festival launch the Conference & Expos program this year?
Essentially, we realized we were already delivering quite a bit of content across multiple areas to the audience. We wanted to repackage it to make it more organized and more efficient for her [the attendee] to find her passion points—to allow her to drill down into the things that she's most interested in. What we did was group the information based on those passion points. ... You can go online and choose what you're interested in, and we direct you to a schedule to help you find where you want to go.
How did you go about curating content for each of the tracks?
For many of the tracks, the content existed already. We were already activating our beauty and style stage. Beauty and style is one of our most popular areas. That was a no-brainer. A lot of it is driven by insights. We talked to her [the prospective attendee] throughout the year to understand what it is she's interested in. That information allowed us to create experiences throughout the weekend that are more tailored to what she's looking for.
Our entertainment track was built from the passion point of having access to her favorite celebrities and being able to see the cast of her favorite shows. We also have our community and culture track, which harnesses all of our relevant and current event conversations—from elections that are coming up, to self-care, to wellness, and the state of black women in this country. All of our community and culture conversations happen in that particular track.
Do attendees have to register for certain tracks individually?
Registration allows you an easier way to get in. For the screening events, you have to sign up. But for most of the daytime experience, 95 percent of it is free for attendees. They can come straight into the doors and move about how they wish. We are driving the audience to our website and app for all our scheduling information. We grouped the information in a way that is easy for the audience to understand and find, to help them navigate their experience in the daytime much more easily.
[PULLQUOTE]
What are some of the specific experiences that attendees can have during Culture & Expos?
In our beauty and style track, there's an entire hall dedicated to beauty. You can meet and greet some of your favorite beauty influencers and heads of beauty companies. We have a stage activating all day at the convention center, where you can talk to your favorite makeup artist all the way down to your favorite beauty blogger. You can see demos and sample beauty products. Additionally, we're launching our Beauty Bungalow, which is a ticketed V.I.P. experience where attendees can have light bites and sips, meet and greets, and take home bags full of products. We also have a beauty shop where, for the first time, attendees can purchase products from their favorite brands.
In our entertainment track, we are doing screenings for shows. Our partners, like Showtime, are screening episodes from upcoming shows and trailers. And in our fan zone, people can meet members of the cast from some of their favorite shows. We do have some of our entertainment partners activating on the floor as well, including Disney for example. All of these experiences have an interactive element. You have an opportunity to hear from talent on stages, you get to experience some of the activations from our partners, and you have a chance to meet and greet, get access to products, and watch live shows. 
Earlier this year, Essence was acquired by Essence Ventures from Time, Inc. Did the change in ownership change anything about this year's festival?
There have been some changes. We've actually added a lot more innovative programming, including Conference & Expos. We've added a lot more off-campus programming. It has allowed us a little bit more air to breathe and to be more creative with our programming. We've packed a lot more into the weekend than we've ever have. 
Aside from Conference & Expos, what else is new for this year?
We have launched our E-Suites program, which is a membership-based pop-up experience for entrepreneurs, executives, and women focused on economics. We have also launched our Essence House at the Ace Hotel New Orleans, which is a partnership in which we're activating smaller, more curated experiences throughout the weekend. In terms of the nighttime concerts, we have more talent than we've ever had on our stages. The audience is definitely not going to be disappointed.
Last year's festival attracted more than 470,000 attendees. How many attendees are you expecting this year?
I don't have an exact number, but we definitely think that we will exceed numbers from last year.
What else can you share about what went into organizing this year's event?
We have spent a lot of time this year on the community. We spent a lot of time thinking about how to engage different communities around the different experiences. I hope that the audience will feel that throughout everything they attend this weekend, in terms of the expos, the talks, the nighttime shows. Everything has been looked through the lens of community.
Featured Venues/Suppliers: