My Night as a Hipster
I checked out a rooftop party by Gawker for Starz Network and a slice of the Portland, Oregon, art scene at the new Ace Hotel.
May 28, 2009
It is refreshing that while all the traditional media are fading faster than we can blog about it, Gawker has to suck up to its advertisers to survive just like everybody else. Also refreshing is that they do it with their snark intact.

The Starz Network, a premium channel that we all get and never really know why, was thanked for sponsoring the celeb-transfixed Web site with a rooftop party for Gawker's community of commentators. The wisdom behind the idea that this group of opinion leaders who traffic in both delicious and indefensible blind gossip would somehow be swayed into a supportive audience for two of Starz's original series, Head Case and Party Down, was something I wanted to see for myself.
A young digital media buyer from Kirshenbaum Bond + Partners' Media Kitchen by the name of Andre Woolery at least convinced me that the cable channel's money was being thoughtfully spent. Both fairly well-reviewed shows poke pointedly at the service industries they portray, psychiatry and catering, respectively, so why not recruit the most sarcastic of audiences first and hope that their invective trickles down?
Gawker is very proud of its rooftop—they host shindigs there all summer long (next up is a pour for HBO's True Blood). It's easy to see why. You enter a convincingly grubby/cool building and trudge up the four flights to a decidedly dark and hip office that reminded me of the starship Serenity (assuming you know about Firefly). There, attractive and engaging staffers in white shirts, pink bow-ties, and faux aviators charmingly welcomed and checked in guests—an easy-to-master secret hospitality weapon too rarely deployed.

I hate party favors, particularly ones that you are expected to wear, but the long table filled with sunglasses (custom-made, from ePromos.com) were too neat to pass up and, given the sunset hour, actually had utility.

The staffers were everywhere on the multilevel roofscape, appearing to have more fun than they should. One bartender sported an unlit ciggy, another told me, "FYI, vodka does not leave you breathless."

It took me a while to realize (actually, it took Gawker party guy James Del telling me) that the wait staff were actually models/actors from Soza Models, aping the look and attitude of the Party Down cast, the pilot of which I had actually seen. I'm dense, but once I got the joke, I loved it. The show is about a bunch of waiters who all have their heads somewhere else as they blithely pretend to give a rat's ass about your party.

To promote Head Case, Gawker had therapists on hand with pads, pens, sofas… you get the idea. While watching one girl take a 20-minute session, I thought the therapists were real. I am such an idiot sometimes. I met a random looking young lady named Nova who described herself as a "renaissance girl" who did "this and that" and applied her trade(s) "here and there." She seemed to be a typical party guest, so I convinced her to let me listen in on her therapy session, which I finally realized was being staffed by a Gawker commenter. This Gawker therapist (rod@rodtownnsend.com) wasn't bad and didn't look as prosperous as my last two therapists, so consider him if your mother still gets under your skin.

You know how this Gawker thing works, don't you? You slavishly submit celeb-spume until editors find you sufficiently Gawkerish and then you get "accepted" to have your blind quotes and occasionally libelous smears posted on the site. You also get invited to swell parties like this. They have formed their own little family sub-culture, and one of their self-appointed leaders posts her musings as The Supergoddess (hmmm). Her real name is Jolie Madden, and she hosts a series of non-official Gawker commenter events where other commenters meet and divulge their handles via name tags. ("Oh! Skankdogger! You're the one who cleared up the Heidi Klum gratuity controversy at Minetta Tavern. Wow.")  And while Del explained these events are "somewhat surreal" and that the commenters can be a bit "reclusive and strange," it's all in the name of good clean gossip. I should point out that the somewhat prickly Supergoddess reprimanded me for talking to her and not declaring myself a journalist upfront (taking notes gave me away), then took quite awhile before deciding whether she was on the record or not. After she reads this, I fear I may not be invited to a Gawker commenter event like she promised—and I so want to be.

Since I was on a roll (though quite possible with liquor breath, thanks to the vodka) I made my way to the Ace Hotel on 29th Street near Broadway, where the Portland (Oregon, not Maine) Institute for Contemporary Art (PICA) was promoting its Time-Based artist exhibition with Paper magazine, which I think means that art was happening at the party.

I have been to one of the four Ace hotels, and they completely capture the zippy-hippie-lumberjack-organic cheese vibe that is Portland. They get a lot of press for the old-fashioned SMEG refrigerators and turntables that are in most of the rooms. This one is no different, though perhaps more remarkable for being in Manhattan.

Let me just say that I love this place. They have a 2,500-square-foot event room called Liberty Hall. It's not open yet, but if I were you, I would email event sales manager Whitney Fuller (whitney.fuller@acehotel.com) to book it right away. Or better still, have your party in the lobby like Paper did, if they let you.

It's giant, cavernous, and dark, with burly day beds upholstered in suede with leather braiding. All the tables are gargantuan, with one main monster bisecting the room and serving up hearty Oregon dairy products and charcuterie. There was a cash bar, or if you preferred, a "Dishonor Bar," where you could help yourself to wine. I chose dishonor.

Music was provided by Silent Knights, who spun "rarest punk, reggae, and soul 45's with a curator's ear and child's joy." Well, I recognized Joe Jackson's "Sunday Papers," so how rare is the curator's ear, but these guys sure looked the part—flannel shirts, giant beer guts, full wiry beards, and relatively genial dispositions.

The hotel has 250-plus rooms of which almost half are now open. General Manager Jan Rozenveld showed me a loft/studio suite with no furniture but nice wood floors. With no furniture, what else can I really say, except that it goes for $759 a night.

The Portland art scene is a thriving one, and PICA boasts Laurie Anderson and Philip Glass among its supporters. There were all sorts of arty things going on, but why don't you just go to pica.org and see for yourself.

The Ace Hotel will sport two lobby venues. The first to open will be Stumptown Coffee, where you will be pleased to know that you will pay in excess of $1 per pound extra to insure that Fair Trade prices are being exceeded by 20 percent. That doesn't sound like a real consumer benefit until you read the brochure and learn that this means the nice coffee laborers of Latin and South America won't be exploited in the production of your cup of joe. At least that is what I think Stumptown stands for, and now so do I.

By fall, you can hit the hotel's marquee restaurant, the Breslin Bar and Dining Room, which will be a collaboration with Ken Friedman and April Bloomfield of the Spotted Pig. (I used to go to the Spotted Pig all the time and liked their food, but honestly, I'm starting to be a little bit underwhelmed by the founders' overwhelming success.) Lighting maestro Bentley Meeker took me to the John Dory, where he loved his bacon but my fish was way too salty. Then Robert De Niro told me he tapped this duo to replace his (now defunct) no-starred Ago in the Greenwich Hotel, which made sense. With zero stars the only way is up. But I will wish them the best in their expansion zeal because I want the Ace Hotel to make it big time.

I for one plan to become a regular at the plain old lobby bar, maybe even paying cash. The decor is by artist Michael Anderson, who worked with scans of a small portion of what is widely known as the preeminent collection of street art stickers. The piece consists of over 3,000 street art stickers from 1994 to 2004. Michael has been collecting these for decades, and you can see them at chamuconegro.com. There are name tags, gift labels, the kind of installation you can look at for hours: an unkind message to police officers on an Oxford University Press mailing label, a warning about "dark theory," all sorts of interesting stuff. I am certain that this art will invite graffiti on top of graffiti, which apparently is not what the artist had in mind. I'm curious to see how that plays out.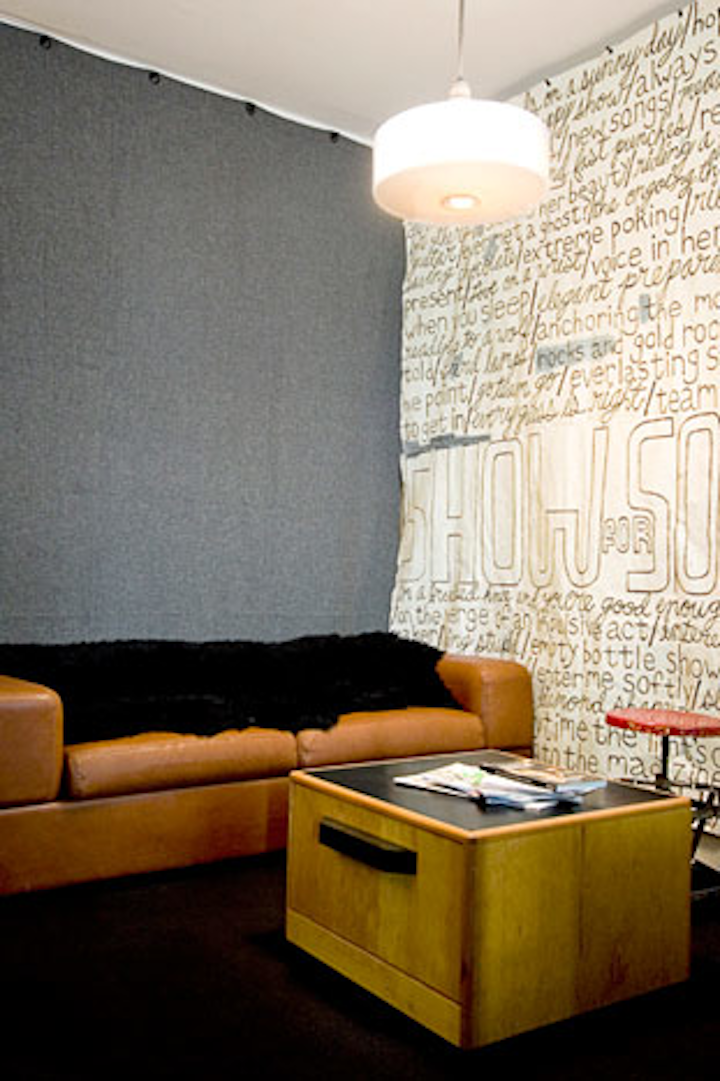 Photo: Courtesy of Ace Hotel
Featured Venues/Suppliers: