See How This Door Is Connecting Olympic Athletes and Canadian Fans
Canadian Tire's full-size, live streaming "Red Door to Rio" activation is part of its sponsorship of the Canadian Olympic team at the 2016 Summer Olympics.
August 16, 2016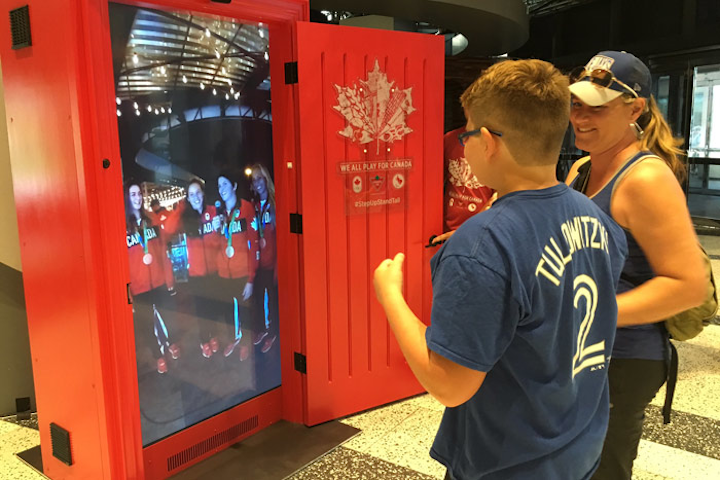 Photo: Courtesy of Canadian Tire
Live streaming is nothing new, but Canadian Tire's "Red Door to Rio" activation is demonstrating an innovative way to make use of the technology. The door is a physical structure that enables full-size, real-time communications between Canada's athletes in Rio and their fans more than 5,000 miles away in the Toronto area.
"We're always looking for ways to connect with people in authentic and real ways," says Eva Salem, vice president of strategic marketing for Canadian Tire. "Everyone wants to be in Rio, everyone wants to support our athletes, but not everyone gets the chance to do that. This allowed us to use technology to help people connect with the athletes while they're away, and we just thought that that was a really interesting space for us to play in."
The concept, developed by Canadian Tire and brought to life by WonderMakr, consists of two identical doors—one traveling to sites around Ontario and the other stationary at Canada Olympic House in Rio. The doors are made of Canadian pine, and inside are a 94-inch outdoor TV, a camera, and a microphone that only turns on when the door is open. Hidden from view in the back of the structure is the computer and streaming hardware that runs the activation.
As fans open the door they are greeted by one or more of Canada's Olympic athletes. "We're trying to keep it be a surprise and delight, where people don't know what's about to happen," Salem says. "You open the door and, 'Oh my gosh, there's an athlete,' sometimes wearing a medal. It's fairly organic and that's what we love about it." After the interaction, fans receive a video of their conversation via email so they can share it on social media.
Canadian Tire debuted the "Red Door to Rio" in the atrium of the Canadian Broadcasting Centre in Toronto on August 8. Since then, Salem said more than 300 fans and 24 athletes have participated in the activity. There have also been more than 500,000 views of the "Red Door to Rio" video on Facebook and Twitter and more than 18 million unique users of the #StepUpStandTall hashtag, which is part of the company's overall campaign as sponsor of Canada's Olympic team. The door is being used at additional locations for the duration of the Olympics, including the Mattamy National Cycling Centre, the Markham Pan Am Centre, and several Boys and Girls Clubs around Toronto.
"The scale of it just draws you in. People are talking to people they've never met before, and they'll have conversations for five minutes," says WonderMakr president Mark Stewart. "It's amazing, that way that sport can bond you together. The kids, especially—it's a wonderful thing to see."
Featured Venues/Suppliers: