Joint Gatherings: How Event Planners Are Adapting to Cannabis Legalization in Canada
Working around regulations that restrict weed promotion and marketing, planners have emphasized lifestyle rather than samples at events.
April 4, 2019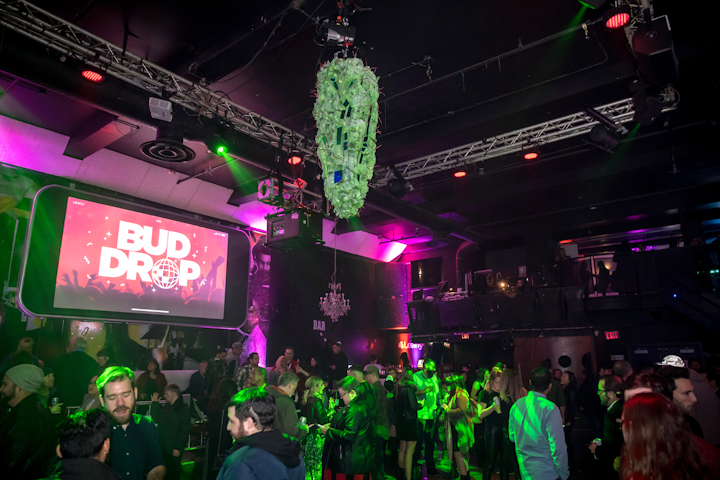 Photo: Courtesy of Leafly
TORONTO—Since marijuana was legalized in Canada last October, Toronto has been experiencing a whirlwind of change for cannabis retail in the city. Until this week, the only way for consumers in Ontario to legally purchase cannabis was through a government-run online store and consumption is only permitted in private residences. But private retailers are now beginning to get permits to sell cannabis at shops in April—the first legal store opened Monday—and more lax regulations around edibles are on their way.
What does the new legalization mean for Toronto's event industry? Most importantly, since the rules of the Cannabis Act (known as Bill C-45) went into effect last October, event planners and marketers have been restricted from promoting cannabis to the public. And cannabis brands can't sample products at events. Monica Gomez, the founder and president of the Concierge Club, an event production and staffing agency in Toronto, says this means events won't be able to drive sales through product trials immediately.
"Events will need to be tongue-in-cheek and creative in order to get Canadians excited about the overall cannabis lifestyle, rather than the product itself," says Gomez. "Brands will need to stand out with meaningful and memorable experiences that really break through the clutter."
Brands had already been doing so, holding buzzy events and pop-ups well before the legalization. Most notably, events that took place during the Toronto International Film Festival in September included a couple high-profile pop-ups from cannabis companies in anticipation of legalization. Canadian company Aurora Cannabis transformed the former bank building at 320 Bay Street into a three-day pop-up used for premiere parties, networking events, and press junkets. And Dosist, a California-based company that sells cannabis pens, held a 10-day wellness and education pop-up at King Street West and Spadina that offered product displays and fitness classes in a greenhouse-style tent.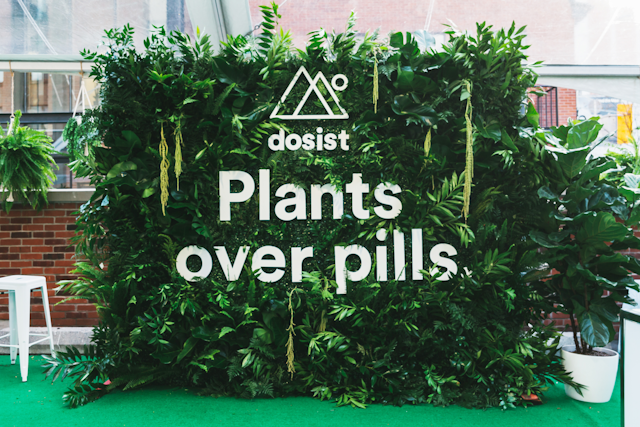 Cannabis brand Dosist held a greenhouse-style pop-up during TIFF 2018.Photo: Tekniqiue

Toronto also is home to the largest annual convention for cannabis professionals in Canada, which is hosted by Lift & Co., an online cannabis platform for consumers and businesses. The Lift & Co. Expo Toronto will have its third edition June 6 to 9 at the Metro Toronto Convention Centre. The industry trade show, which has a consumer-facing day, draws more than 250 exhibitors that range from licensed producers and growing supply companies to artisans and advocacy groups.
Tormi Tuk, the events manager of Canopy Growth—the first cannabis company in North America to be publicly traded, in 2014—says that since the legalization, the company has been more selective when choosing events in which to participate. Canopy, which owns cannabis brands including Tweed, is currently focused on opening events for its retail stores in Manitoba and Newfoundland.
In Toronto, Tuk said the company works with its legal team to make sure events comply with the Cannabis Act. "We have to be in age-gated spaces and not visible to minors," she says. "We also want to make sure that our activations focus on educating and breaking stigmas, and having meaningful conversations about cannabis, but also making it a fun experience all around."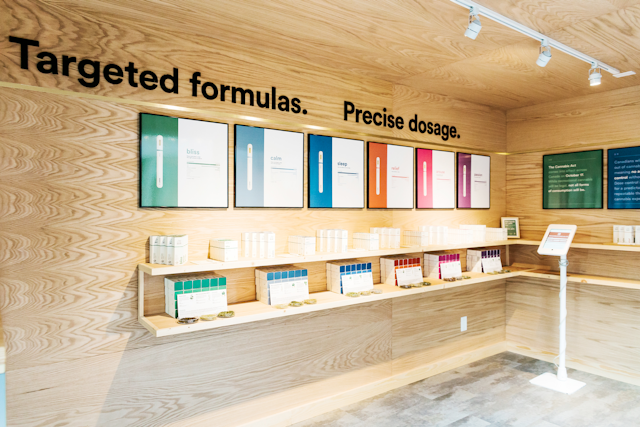 The pop-up's displays highlighted the California-based brand's vape pens and cannabis formulas.Photo: Tekniqiue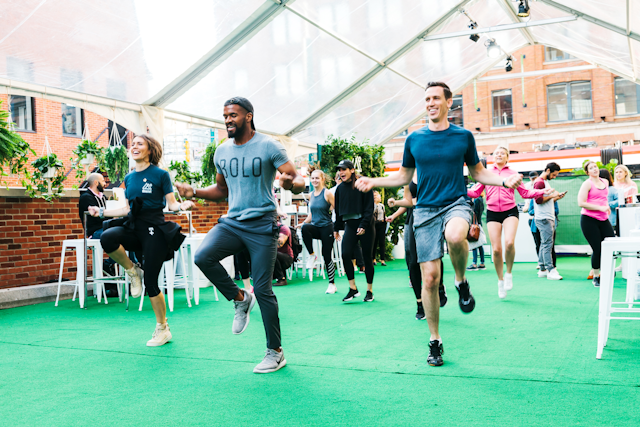 As Dosist aims to rebrand cannabis for the wellness community, its pop-up hosted workouts by local trainers.Photo: Tekniqiue

Gomez says the Concierge Club has been approached to produce cannabis events but has yet to take one on.
"There are definitely legal obstacles we'll need to consider if we begin working with a cannabis company. With legalization being so new, the cannabis industry is still a gray area—meaning many brands have yet to play in the space or are hesitant to do so," says Gomez. "I am personally interested and invested in the cannabis sector and … it is definitely an industry we'd like to explore."
When the time comes to execute a cannabis brand event, Gomez said her team's checklist would include adhering to Bill C-45 rules; creating a highly visual experience; having a memorable, educational element; and offering takeaways for consumers that tell the brand story.
Shez Mehra, president of the 194 Group, an event production and brand marketing agency, said the legalization has opened new doors for the event industry. "It is a completely new realm with a unique demographic, so it really allows us to be creative and push the envelope," says Mehra. "Clients are looking to take chances and go big, and that's exciting for us."
Mehra said his company has received client requests for cannabis events, but couldn't give specifics because of non-disclosure agreements. He did note the abundance of legalization parties recently—from brands that are and aren't part of the cannabis industry—which included a New Year's Eve-inspired "bud drop" party hosted by cannabis website Leafly. "It's not every day you see a giant marijuana bud drop from the ceiling of a venue," he says.
Joshua Hendin, director of Treeline Catering, has catered events for two cannabis companies since the legalization and noticed a parallel to tobacco industry events of the past—both industries have massive budgets that allow them to be as creative and unrestrained as they want.
"These companies have money and an interest in being creative. They have a real desire to strengthen their brands and make their brands known," says Hendin. "It is a competitive industry and it's getting a lot of buzz. A number of companies are finding events to be a great way to get face to face with potential or existing customers, and create an experience outside of what our more modest clients—or even our more established clients—might do."
For the events Treeline has catered, one that hosted a few hundred attendees and one that was much larger, Hendin says his team created marijuana-theme menu items. Treeline hasn't experimented with infusing THC into menu items yet—edibles are still illegal in Canada until on or before October 17, 2019—but Hendin says it's possible in the future.
Once edibles are legalized, Torontonians will demand more refined fare than brownies and cookies. Canadian companies such as the Green Chef and the Herbal Chef specialize in private dinners and events for people who have medical marijuana prescriptions. Based on dosages, the companies infuse specific amounts of THC into dishes: the Green Chef offers shepherd's pie, Thai curry soup, and a cotton candy machine, while the Herbal Chef serves upscale items like fig and burrata dip, roasted Cornish game hen, and braised short rib with roasted potato.
So what's next for cannabis events in the city? Planners say they're confident that weed industry events have a bright future, and they expect to see some new trends take off—and others die down this year.
"A lot of events have been playing off the tropes of cannabis culture by incorporating elements like 'munchies' in lieu of more formal catering. I think this will start to fade away as the initial excitement of legalization dies down," says Mehra. "I also believe that you'll start to see the acceptance of cannabis at 'regular' events. And it could become a fluid event element—incorporated into cocktails, for example."
Tuk says more food, beverage, and cooking events will start to happen when edibles are legalized, and that the interest in cannabidiol, a cannabis compound known as CBD—one of the hottest new wellness trends—will continue to grow. "People are looking into CBD beverages to relieve anxiety and topicals that aid with inflammation," she says. "As CBD gains popularity as an ingredient, we are seeing it come up more often in presentations at conferences and events."
Gomez believes the cannabis space presents an exciting new territory for brands and marketers. "I see the future of cannabis events in Toronto as a great opportunity for brands to be super creative, push boundaries, and think of new and innovative ways to bring their brands to life through sensory experiences."