This Week in Toronto: Transitions Lenses' Outdoor Boardroom, AGO Unveils Basketball Exhibit, Sidewalk Labs Reveals Waterfront Plan
BizBash's new Toronto column from Calvin Barr covers the week's biggest event news.
June 26, 2019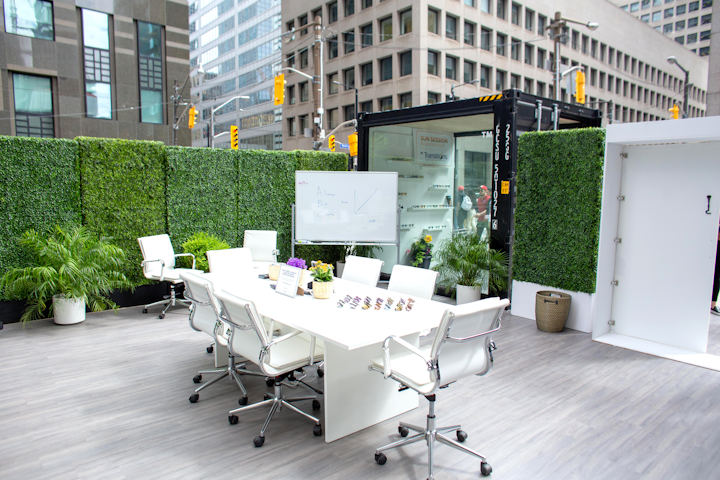 Photo: Courtesy of Transitions Lenses
TORONTO—Welcome to BizBash's Toronto-based column, where Calvin Barr covers the week's biggest local news. Got a tip? Get in touch!
Moves and Milestones
The Ritz-Calton, Toronto named Paul Shewchuk its new executive chef. Originally from Kitchener, Ontario, Stewchuk studied under culinary masters of farm-to-table dining, chefs Michael Stadtländer and Jonathan Gushue. He's already brought his flare for popularizing locally sourced meals to the hotel, launching in-house baked pastries at Ritz Bar, a rooftop herb garden, and banquet-style catering for the building's event and meeting spaces.
Newswire: Gail Edwards was named an independent director of Neo Performance Materials. Headquartered in Toronto, the company is a leader of rare earth and metal processing applied to a multitude of technological engineering. Edwards also holds leadership positions as a director at Amica Senior Lifestyles and as a member of the Real Estate Advisory Committee.
A Turn of Events
The Verge: "Sidewalk Labs, Alphabet's smart city subsidiary, released its massive plan Monday to transform a slice of Toronto's waterfront into a high-tech utopia. Eighteen months in the making and clocking in at 1,524 pages, the plan represents Alphabet's first, high-stakes effort to realize Alphabet C.E.O. Larry Page's long-held dream of a city within a city to experiment with innovations like self-driving cars, public Wi-Fi, new health care delivery solutions, and other city planning advances that modern technology makes possible." 
See BizBash's initial story on the project here. 
In Case You Missed It
With more sun finally emerging for the summer, the Toronto Flower Market revealed its peony collection, which was delayed due to extended rain. For its third weekend of the season, 12 flower vendors and designers came out to the Centre for Addiction and Mental Health (C.A.M.H.) grounds to showcase locally-grown floral selections. The market will run on select weekends from 10 a.m.-3 p.m. through October.
News
Factory Theatre unveiled the theme for this year's fall line-up: 50 Seasons and Still Fiercely Canadian. Beginning in October, six productions dedicated to paying tribute to the theater's mandate to celebrate and promote Canadian stage writers, directors, and performers will run through spring 2020. The season includes a world premiere, two Toronto premieres, and the return of two productions that originally debuted at the Factory Theatre. Programming will be led by artistic director Nina Lee Aquino, who's also headlining Toronto Fringe Festival next month.   
One eyewear apparel brand offered an alternative meeting space in downtown Toronto. Transitions Lenses hosted the Sun Session Boardroom, an outdoor meeting space and retail pop-up outside the Royal Bank Plaza from June 17-20. Through the website, users could book an hourlong meeting for as many as 12 people. The space included Wi-Fi, a TV, and a garden-style work space. Participants could also try out the eyewear company's custom UV protection and blue light filter lenses during their meetings. The pop-up was produced by Weber Shandwick in partnership with production agency Who Gets It Done. 
The BIG on Bloor Festival will return for its 12th year on July 20. More than 100 vendors will take part in the free Bloordale Village street fair, which will turn into a walkway from noon until midnight. Led by Toronto-based multidisciplinary artist and mental health activist Jacquie Comrie, this year's "All Colours as Equal" festival theme aims to encapsulate arts and culture diversity through various musical, experiential, and visual arts performances. 
Venue Buzz
On June 20, the Art Gallery of Ontario (AGO) unveiled the large-scale, basketball-inspired Brian Jungen Friendship Centre exhibit. Located in the AGO marquee, the artist's new work features an intersection of sculpting, painting, drawing, and film. Jungen, an Indigenous rights activist, presents the gymnasium setting as lens to culturally integral spaces for many youth growing up on reserves. His is the first high-profile display to open in the gallery since the announcement of its reduced admission plan.  
Overheard 
"The Danforth shooting was a wake-up call for all of us to take charge. We won't accept living in the shadow of a gun. Nor will we accept that any of us who continue to struggle with the impact of this tragic event should do so quietly or in isolation."
— Danforth area resident Tilly Gray spoke to Toronto.com about hosting the Danforth Community Sale. The neighborhood event took place nearly a year after the deadly shooting, with participants pledging to donate proceeds towards gun control advocacy.   
On The Scene
Pride Toronto's annual Pride Parade took place June 23 along on Yonge Street, ending at Yonge-Dundas Square. 
What's Next?
The 2019 International Conference on Social Media & Society will take place at Ryerson University from July 19-21. Now in its 10th year, the annual event presents research on the impact of social media in a number of disciplines, including communications, education, and health sciences. The keynote speakers are Tarleton Gillespie, a principal researcher for Microsoft, and Valerie Steeves, a lead researcher for MediaSmarts and a professor of criminology at the University of Ottawa. The conference has been organized by the Ted Rogers School of Management and its Social Media Lab program at Ryerson.
The inaugural Wine Festival Toronto will take place July 5-6. Featuring more than 50 wines, the outdoor tasting will be held in the town square of C.F. Shops at Don Mills. Serving local and international grapes from 12 countries, attendees will receive two free drink tickets, with samples and full glasses also available for purchase. Recommended food pairings, live music, and wine seminars also will be part of the event.