This Week in Toronto: Fan Expo's '80s Lineup, a Lego Pop-Up Bar, the Inaugural Taste of Germany
BizBash's new Toronto column from Calvin Barr covers the week's biggest event news.
July 10, 2019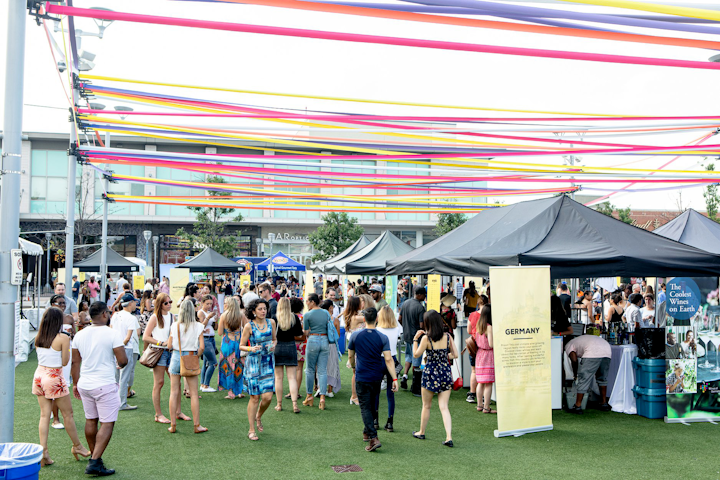 Photo: Photo: Bao Dao
TORONTO—Welcome to BizBash's Toronto-based column, where Calvin Barr covers the week's biggest local news. Got a tip? Get in touch!
Moves and Milestones
Mirvish Productions, a commercial stage theater producer, confirmed that its partnership with American Express Canada has been extended for another multi-year term. The collaboration, known for offering American Express cardholders' theater ticket rewards, began in 1992 with the Canadian stage premiere of Miss Saigon at Princess of Wales Theatre. Under the current agreement, cardholders will have access to special packages for shows including Come From Away, Dear Evan Hansen, and Disney's The Lion King.
On September 20, Toronto-born Canadian entertainment legend Steve Smith a.k.a. Red Green will debut the Canadian chapter of his "This Could Be It" tour, which recently wrapped in the U.S. The star of the Gemini award-winning The Red Green Show will perform in more than 30 cities from coast to coast. Despite the name of the tour and the comedian's claims of calling it quits for years, he's still not confirmed whether or not this tour will in fact be his last.
In Case You Missed It
Political Gabfest, Slate's in-depth, state-of-affairs commentary podcast will have its debut international show in Toronto tonight. The event will be hosted by the New York Times' Emily Bazelon, CBS 60 Minutes' John Dickerson, Atlas Obscura's David Plotz, and Canadaland's Jesse Brown. The event at the Telus Centre for Performance and Learning will also include a pre-show cocktail party for select fans to meet the show's hosts. 
News
Fan Expo Canada, the country's largest annual pop culture convention announced its guest lineup for 2019. The event is being headlined by main cast members of 1980s TV and film classics Saved by the Bell, The Goonies, and Blade Runner. The lineup includes Mark-Paul Gosselaar, Elizabeth Berkley, Sean Astin, Corey Feldman, Sean Young, and Edward James Olmos. Stars of DC's Aquaman and Shazam Jason Momoa and Zachary Levi, as well as Jeff Goldblum and Pamela Anderson, are also among the big names. The convention will take place August 22 to 25 at the Metro Toronto Convention Centre. The convention will offer panels, booths, and activities, including a Cosplay Masquerade Ball, and a 10,000-square-foot family zone.
The Analytics by Design conference will take place on July 19 at the TIFF Bell Lightbox. Now in its second year, the event was conceived and produced by a group of students and professionals specializing in data sciences, technology, and design. Topics for this year's conference, which is expected to draw more than 500 industry professionals, will focus on the roles of analytics in global aid, future applications for A.I. technology, and data-driven customer experiences. Terry Hickey, chief analytics officer at C.I.B.C.; Devin Singh, physician lead clinical of A.I. and Machine Learning for Pediatric Emergency Medicine at Sickkids Hospital; and Pavel Abdur-Rahman, partner and head of data science at I.B.M., are among the 40 speakers at the event. 
Venue Buzz
BlogTO: The Rosehill Venue Lounge hosted a Lego-inspired pop-up called the Brick Bar, which closed July 7. Previously stopping in London and New York, the space, dubbed an "adult playground," was created with more than one million Lego blocks. The blocks were used for sculptures, guest seating, wall art, and bulk pieces for patrons to build their own creations. The setup also included a Lego ping-pong table, a ball pit, and a 150-person bar area with an all-night D.J. To treat the inner child, specialty cocktails were designed to drive a sugar rush, and Lego-shape gummies were stocked at the bar. 
A Turn of Events
Despite many beach event planners' hesitations around swimming in Lake Ontario, CBC reports that most of Toronto's beaches are consistently meeting international standards for clean water. While sewage and E. coli have been an ongoing concern for the city, standard testing, which requires that beach water meet cleanliness standards for 80 percent of open days, indicate that eight of Toronto's beaches are safe to swim in. 
Overheard 
"As a host, I love introducing great people to one another. I encourage people to stay off their phones and be present to their physical environment. See who is in the room and get to know new people, rather than staying in their little groups. I hear all the time from Toronto singles, 'I have no single friends to go out with.'"
—Shannon Tebb, a local matchmaker and dating expert, speaking to BizBash about helping Torontonian professionals find someone special at mixers. Tebb will be hosting singles meet-and-greets throughout the summer.
On The Scene
The Beaches Jazz Festival kicked off July 5 with the Sounds of Leslieville & Riverside Block Party. The annual jazz fest runs through July 28. 
Wanted to be featured in our column? Tag #bizbashto on Instagram.
What's Next?
The German Consulate General Toronto announced the city's first Taste of Germany will take place at the Evergreen Brickworks on July 21. The event will run as a pop-up from 10 a.m. to 3 p.m. during the venue's Sunday Artisan market and will include live music and a games area for kids. The event organizers have stated that beyond traditional notions of German fare, like sauerkraut, bratwurst, and beer, attendees should expect to have a multicultural tasting experience that encompasses a blend of culinary styles and inspirations.
The iBridge Toronto conference will take place on July 26 at MaRS Discovery District. The event focuses on high-tech entrepreneurship workshops, lectures, and networking, directed toward people of Iranian heritage. Mayor John Tory; founder and chairman of Global Innovation Catalyst Kamran Elahian; and director of the World Bank Haleh Bridi are among the speakers. The event is held in conjunction with the Tirgan Festival of Iranian arts, which is expected to draw more than 160,000 city visitors, with a lineup of more than 250 artists and 150 performances and presentations.