This Week in Toronto: Aurora Winter Fest Opens, Canada's Walk of Fame Awards, Toronto's Zoo's Magical Holiday Walkway
BizBash's new Toronto column from Calvin Barr covers the week's biggest event news.
November 27, 2019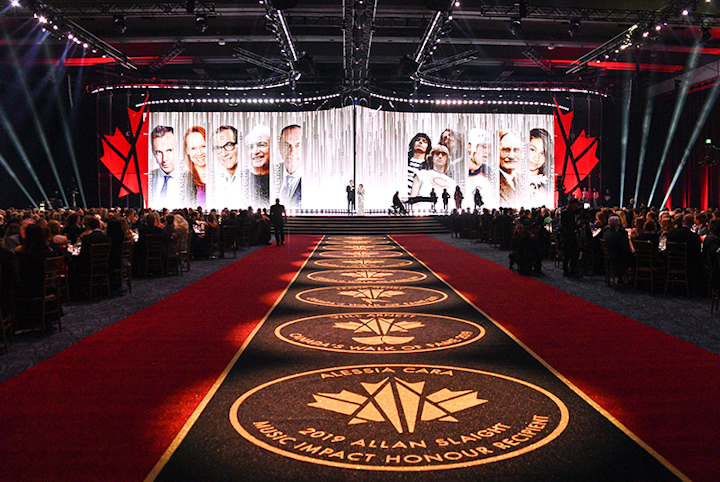 Photo: Courtesy of Canada's Walk of Fame
Moves and Milestones
The Supreme Cannabis Company, a local premium distributor, has announced John Griese as its new chief operating officer. Griese brings more than 30 years of consumer packaged goods experience to the role, including medical and recreational cannabis supply chain management.
In Case You Missed It
The City of Toronto's "Winter Warm-Up" pop-up series kicked off on November 23 at David Pecaut Square. Activities included recreational street curling, a South Asian dance demonstration, a jazz trio, and a collective art-making workshop. The King Street area will be hosting outdoor, family-friendly winter attractions during the next few Saturday afternoons, concluding with a Winter Solstice celebration on December 21.
News
Canadian National Exhibition's 2019 Aurora Winter Festival opened for the second year on November 22 at Ontario Place. This year's Northern Lights-inspired carnival includes more than 25 marketplace vendors and 15 food trucks, plus a heated live music tent and a disco den, a 170-foot tube slide, an Aurora Borealis-inspired light tunnel, outdoor skating, and a North Pole village for visits with Santa. The festival, which runs through January 5, offers group bookings for corporate events or private parties with as many as 50 guests.
Toronto's 25th Gourmet Food & Wine Expo ran from November 21 to 24 at the Metro Toronto Convention Centre. The weekend featured more than 30 tasting events led by acclaimed chefs and mixologists—including a "Best Caesar" contest hosted by Dan Aykroyd. Musical entertainment came from local indie artist Stacey Renee, DJ Regina, and a Spice Girls-inspired drag group called Spice Queens. Casa Manila, Magic Oven, Oyster Boy, the Pie Guyz, BarChef, Le Chouff, and Zaza Espresso Bar were among the local participating restaurants.
Venue Buzz
Hotel X, in partnership with the Aurora Winter Festival, will host Improv Showdown—a holiday show by Second City Toronto—starting on December 13. The freestyle improv production, held in the hotel's 250-seat cinema, offers guests a highly interactive competition between two teams, performed with live music and sound direction.

Turn of Events
On November 20, a 1941 portrait of Pablo Picasso sold for $9.1 million at Toronto's Heffel Fine Art Auction House—making it the most expensive piece by an international artist to sell at a Canadian auction. The biggest sale for a work by a Canadian artist was Emily Carr's Street Alert Bay, which sold for $2.4 million. 
Overheard
"It's important that institutions like the ROM give up some of that control to Indigenous people to lead the program the way we like. And that includes focusing on the land, having medicines available for us to smudge—things you wouldn't normally be able to do in an institution like that."
—Royal Ontario Museum youth cabinet coordinator Leslie McCue, speaking to Now Toronto about an Indigenous-led mural now on permanent display at the museum.
On the Scene
The Bloor-Yorkville Holiday Magic tree-lighting ceremony took place on November 23 and featured a live performance by Ruth B.
Let's see what's happening at your events. Tag #bizbashto on Instagram.
What's Next?
Artscape Wychwood Barns will host NoshFest's Toronto Chanukah Market on December 1. The event brings together some of the city's most celebrated Jewish eateries, as well as vendors offerings Judaica, housewares, jewelry, and more. The afternoon will feature a series of musical entertainers, as well as cooking demonstrations by local chefs Amy Rosen and Carolyn Cohen plus the Rooks to Cooks culinary school. 
Moment Factory, in partnership with the Toronto Zoo, opens its first Toronto-based Lumina night walk installation on December 13. Featuring 10 outdoor exhibits along a 1.5-kilometer path, Terra Lumina will transform the zoo into an immersive vision of the year 2099 through cutting-edge lighting and multimedia design. The experience is intended to represent a future in which humanity has achieved long-term sustainability through harmony with nature.