This Week in Toronto: a Star Wars Pop-Up, Eggnog for a Cause, a K-Pop Convention
BizBash's new Toronto column from Calvin Barr covers the week's biggest event news.
December 18, 2019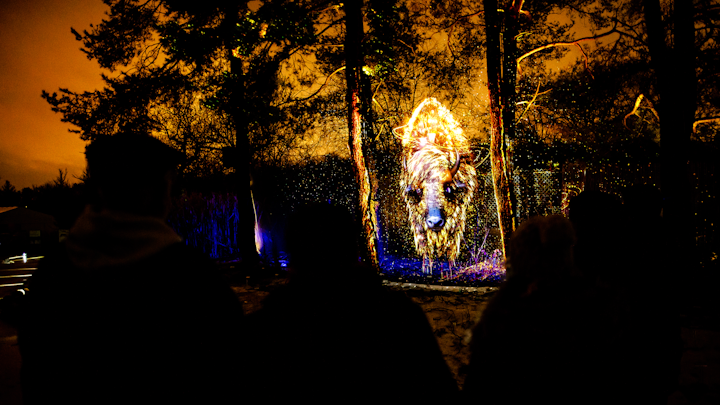 Photo: Courtesy of Moment Factory
TORONTO—Welcome to BizBash's Toronto-based column, where Calvin Barr covers the week's biggest local news. Got a tip? Get in touch!
Moves and Milestones
Ahead of the Canadian Football League's 2020 season, Ryan Dinwiddie was hired to replace Corey Chamblin as head coach of the Toronto Argonauts. Prior to serving as the Calgary Stampeders' quarterback coach over the past four years, Dinwiddie played five CFL seasons with the Winnipeg Blue Bombers and the Saskatchewan Roughriders.
After 28 years, Queen West's Tequila Bookworm announced it will be closing in the coming weeks due to a rent hike. The owners took to Facebook to thank patrons and confirm a closing party, to be announced.
In Case You Missed It
Shell Canada partnered up with local nonprofit Youth Assisting Youth to raise funds to support vulnerable young people over the weekend. Former Toronto Maple Leaf captain Wendel Clark and Steven and Chris host Steven Sabados visited Shell gas stations across the G.T.A. to encourage people to share an act of kindness on social media. Sabados shared hot chocolate with customers, while Clark took part in road hockey games in the parking lot.
And on bizbash.com, we checked out how Bacardí hosted a tropical holiday dinner party inside a shipping container.
News
To celebrate the theatrical release of Rise of the Skywalker, a Star Wars fan experience pop-up opened downtown on December 13. The venue features six exhibits based on the space saga—including an interactive lightsaber room inviting guests to choose between the dark and light side, a fur-covered Chewbacca lounge, and a toy display featuring a Millennium Falcon-shape futon. Fans can also shop for movie merchandise and take selfies with Storm Troopers stationed at the pop-up, which will be open until December 21.
Nog Your Socks Off launched its second year with an all-night "nog crawl" on December 13. Until December 20, establishments across Toronto will feature specialty eggnog recipes with proceeds going towards Socks 4 Souls Canada. (The volunteer-run organization aims to promote podiatric health for homeless people by providing high-quality socks.) Participating bars include Maple Leaf Tavern; Antler Kitchen & Bar; Bar Neon; the Good Fork; Famous Last Words; Founder; the Gaslight; Grey Tiger; PrettyUgly; Supermarket Bar; Coffee, Oysters, Champagne; Civil Liberties; and Earlscourt BBQ.
Venue Buzz
Following a semi-formal New Year's Eve party, Spoke Club will be closing for a full venue renovation until spring 2020. Partnering with INK Entertainment and Giannone Petricone Associates, the revamp will include an interior redesign, fresh entertainment and dining experiences, and new membership options. "While maintaining the private member legacy, we will continue this mandate by bringing something entirely new and progressive to North America's private member club scene," said owner Fernando Mammoliti.
Turn of Events
According to the Toronto Star, SBE plans to expand New York's iconic Hudson Hotel—famous for its appearance in Sex in the City—to a King West location. In partnership with Lamb Development Corp and IE Hospitality, the proposed 75,000-square-foot luxury venture with 146 rooms aims to open in 2024.
Overheard
"We didn't create Choir! Choir! Choir! with an agenda beyond one night hanging out with our friends. At the end of the first night, we just started doing it every single week, and then it snowballed. We realized it's what people wanted. They wanted that kind of human contact and to get away from their phones and have a real moment with people."
—Choir! Choir! Choir! co-founder Daveed Goldman speaking to Billboard about the ensemble group's success. The audience participation-heavy musical events started nine years ago in a Toronto tavern, and now take place regularly around Canada and the United States.
On The Scene
For the 13th year, Torontonians braved the December wind chill to raise funds for the Hospital for Sick Children in the Bloor-Yorkville Cheeky Santa Speedo Run.
Let's see what's happening at your events. Tag #bizbashto on Instagram.
What's Next?
KPOP North arrives at the Metro Toronto Convention Centre on December 21. The Rose, Verivery, Zion.T, and KARD are headlining the music performances, while a YouTube corner will give fans a chance to meet some of their favorite influencers—including comedians CantoMando, beauty vlogger NamiiCho, and K-pop dancer Ky. Attendees can also take part in KPOP Playground dance battles and shop in a convention space.
Celebrating the longest night of the year, the 30th Kensington Market winter solstice parade takes place on December 21. Marchers are encouraged to support market merchants by purchasing lanterns for the parade, which will conclude with a fire show in Alexandra Park.