This Week in Toronto: Black History Month's Launch Series, the Power Plant Gallery's Winter Opening, Previewing Winterlicious 2020
BizBash's new Toronto column from Calvin Barr covers the week's biggest event news.
January 29, 2020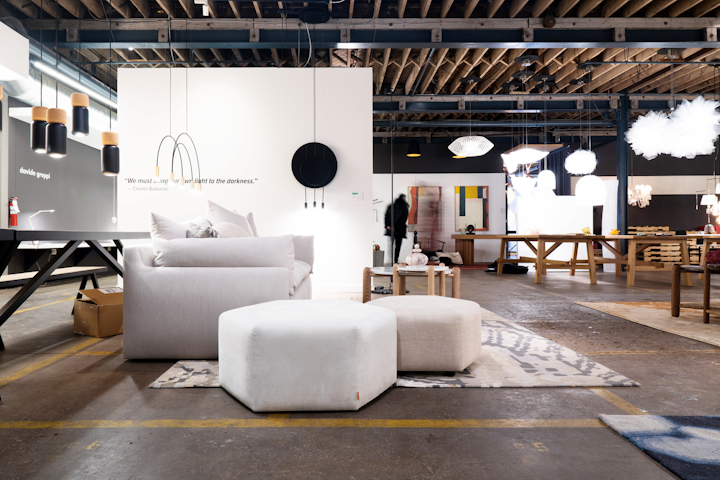 Photo: Courtesy of DesignTO
Moves and Milestones
Toronto-based chef Christine Cushing and her show Confucius Was a Foodie have been nominated for five categories, including "Best Chef in a Series," at the Taste Awards. The award ceremony will take place at the Writers Guild Theater in Beverly Hills, California, on March 9.
In Case You Missed It
The Office Pub celebrated Australia Day by hosting a fund-raiser to combat ongoing bush fires in the country, with proceeds going towards the Volunteer Fire Brigades Victoria. An Australia-style brunch menu featured Aussie burgers, string and hoppers, and breakfast tacos, as well as all-day drink specials, a DJ, and a burlesque show. Auction prizes included Toronto Raptors season tickets, a 50-inch Roku smart TV, and a fully-stocked beer fridge provided by Amsterdam brewery. 
News
In advance of Black History Month, the Harbourfront Centre hosted the "Black History Series Launch" on January 27. The event, which aimed to bring together and celebrate diverse voices and stories from across Canada, was hosted by Toronto-born rapper and hip-hop artist Maestro Fresh Wes, and featured appearances from The Young and the Restless star Tonya Williams, as well as Juno award-winners Jully Black and Exco Levi. Williams and director Nathan Burland introduced the premiere of Royal, a new short film from the Remix Project, while food and beverages were provided by chef La-toya Fagon, founder of Twist Catering and former personal chef to Toronto Raptors team members.
The Power Plant Contemporary Art Gallery launched its 2020 winter season on January 25. The premiere unveiled a full-scale exhibition, "Asymmetries" by Canadian-Guatemalan artist Naufus Ramírez-Figueroa; a wall installation, "Anxious Audience" by Rashid Jones; a film series, "What We Found After You Left" by Naeem Mohaiemen; and a multimedia experience, "Spazio Disponibile" by Dawit L. Petros. Catering for the evening was provided by Toben Food By Design, and the gallery announced lectures, programs, and special viewings coming this season.
Venue Buzz
Fifty years after its opening, the Toronto City Council will vote on whether to repair or replace Old Toronto's multi-space St. Lawrence Centre for the Arts, according to CBC. Estimates suggest that fully redeveloping the venue would cost $200 million, compared to the $40 million it would cost to bring it fully up to code. The center previously underwent a yearlong, $3 million renovation in 2007. 
Turn of Events
Pride Toronto executive director Olivia Nuamah unexpectedly left the organization last week, according to a letter from the board of directors. The news prompted long-time Pride volunteers to submit an open letter to the board requesting an explanation, as well as greater transparency from the board. 
Overheard
"Having a super-cool wedding venue in Toronto that allows maximum stylizing for all those photo opportunities doesn't need to cost huge amounts. Pop-up wedding venues that create a temporary venue that can be dismantled afterwards have enjoyed some success in downtown Toronto, offering a cost-effective approach that nevertheless allowed the couple to shape the overall theme and appearance of the day exactly how they wanted."
—Mango Studios, a Toronto-based photography studio, on selecting the perfect wedding venue.
On the Scene
The 31st annual Dragon Ball, celebrating Chinese New Year, took place at the Metro Convention Centre over the weekend.

Let's see what's happening at your events. Tag #bizbashto on Instagram.
What's Next?
Winterlicious returns this week, with three-course prix fixe menus coming to more than 200 restaurants and venues across Toronto from January 31 to February 13. Thirteen culinary events are set for the season, including "Afternoon Tea at the Castle" at Casa Loma, "The Art of Pizza Making" at Cibo Wine Bar's Yorkville location, and "Tequila Tasting Dinner" with Masterchef Canada host Claudio Aprile at Xango. The City of Toronto is encouraging diners to use the hashtag #LiciousTO to share their favorite meals.
Celebrating 175 years, the Toronto Board of Trade annual gala will take place on February 6, with more than 1,200 business and community leaders across the G.T.A. expected to attend. This year's theme, "Then. Now. Next.," will be led by keynote speakers George Cohon and Mark Cohon. George Cohon is known for founding McDonald's Canada and co-founding Toronto's Santa Claus Parade, while his son Mark has served as chair of Toronto Global, the Juno Awards, and the Ontario Science Centre.