This Week in Toronto: a Valentine's Day Recap, the Canadian International Autoshow, Chefs for Change's Mid-Winter Event
BizBash's new Toronto column from Calvin Barr covers the week's biggest event news.
February 19, 2020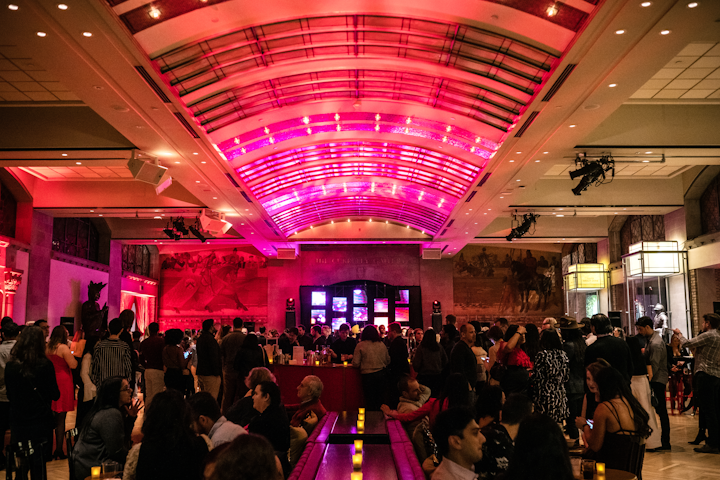 Photo: Lee Solo
TORONTO—Welcome to BizBash's Toronto-based column, where Calvin Barr covers the week's biggest local news. Got a tip? Get in touch!
Moves and Milestones
Alex Panousis has been named C.E.O. of Carat Canada. She made the move from Havas, where she became C.E.O. of Havas Village and president of Canadian advertising and media last fall.
In Case You Missed It
ComKids' 16th annual "Celebrity Sports Mixer" fund-raiser took place at the Hockey Hall of Fame on February 12. With more than 600 athletes, celebrities, and patrons in attendance, the cocktail reception featured a live auction, access to the venue's N.H.L. jersey exhibit, a Sportscentre newscast photo display, and a virtual hockey game activation.
News
Following the launch of its "After Dark" event series last month, the Royal Ontario Museum invited guests to a "bloody" Valentine's Day evening exploring desire. In addition to access to the "Bloodsuckers: Legends to Leeches" exhibit, attendees were invited to a "peep show" of objects from the museum's cabinet of curiosities, and to catch performances by Toronto-based burlesque dancer Pastel Supernova and drag queen Farra N. Hyte (mentor to RuPaul's Drag Race contestant Brooke Lynn Hytes). Live music included selections by DJ Sara Simms, R&B and hip-hop singer-songwriter Desiire, and baroque music stage company Opera Atelier.
The Canadian International Autoshow opened on February 14 at the Metro Toronto Convention Centre; it runs through February 23. More than 1,000 commercial cars, trucks, SUVs, classic models, and vehicle concepts take over more than 650,000 square feet of exhibition space. Dedicated to a future of more sustainable automotive design, this year's show focuses extensively on electrification, autonomous technology, and manufacturing efficiency.
North America's largest mac 'n' cheese festival took place at the Small Arms Inspection Building in Mississauga over the weekend. With more than 40 mac 'n' cheese dishes created by chefs across the greater Toronto area, the event also featured a craft beer bar and free-to-play board and video games. 
Venue Buzz
Venues across the city welcomed couples and loved ones celebrating Valentine's Day last Friday. Eataly Toronto offered high-quality caviar specials, Ripley's Aquarium held a "deep-sea soirée," and Ikea locations across the country served three-course Swedish dinners. For those not keen on rose-petal ambiance, Hemingway's threw an "anti-Valentine's Day silent rooftop disco" on February 15—featuring tracks that celebrate being single, such as Destiny's Child "Independent Women." 
Turn of Events
Toronto was named the 10th most economically influential city in the world by CEO World Magazine. The new study combines cities' overall economic activity, financial clout, political and demographic influence, quality of life, and competitive growth to determine the top 100. In North America, New York and Toronto were the only cities to make the top 10. 
Overheard
"You get people who are trying to drink less, and people who are recovering from alcohol addiction. ... There are also people who have health conditions, who are pregnant, who are athletes in training. One of my goals is to raise awareness about the fact that there are so many reasons why a person might not drink. And also that nobody needs to explain why they don't."
—Liisa Ladouceur, speaking to Toronto Life about "Abandon," an alcohol-free happy hour program she created at bars across the Toronto area.
On the Scene
The "Dust of Gods" sustainable fashion-focused pop-up is at the Bayview Village Shopping Centre until February 21. The initiative re-purposes pre-owned clothing as unique pieces of wearable art. 
What's Next?

Chefs for Change's "mid-winter's feast" will take place at the Junction's
Propeller Coffee
on February 20. Top-rated Canadian chefs—including
Victor Dries Events
' Chris Brown,
Don Alfonso 1890
's Farzam Fallah, and the
Drake Hotel
's Alexandra Feswick—will collaborate on gourmet meals served as part of an intimate dining experience. All proceeds will go towards Community Food Centres Canada, which helps low-income households get access to high quality, nutritious food options. 
ACTRA Toronto—the Alliance of Canadian Cinema, Television, and Radio—will host its 18th annual awards at the Carlu on February 22. Twenty actor nominations will recognize Canadian on-screen talent, and Kim's Convenience star Jean Yoon will be presented with the 2020 Award of Excellence.