This Week in Toronto: Community Support for Black Lives, Yorkville Murals Return, An Outdoor Hot Yoga Pop-up, and More
BizBash's Toronto column from Calvin Barr covers the week's biggest event news.
June 11, 2020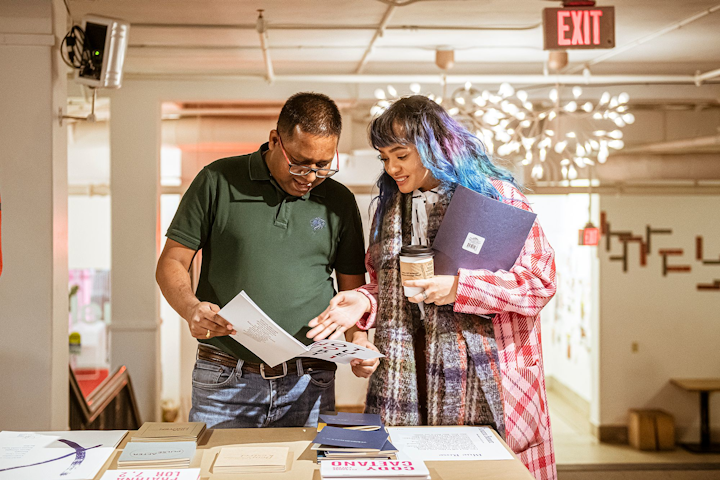 Photo: Courtesy of Laboratory for Artistic Intelligence
TORONTO—Welcome to BizBash's Toronto-based column, where Calvin Barr covers the week's biggest local news. Got a tip? Get in touch!
Awards and Milestones
Luminato announced that seven productions from its 2019 season received a total of 14 nominations from the Dora Mavor Moore Awards, which air on June 29. This year's online Luminato festival, which opens this evening and runs through June 13, features 20 hours of free programming, four world premieres, and four pieces designed for virtual spaces.
In Case You Missed It
Carlyle Condos' proposed property development in the heart of the Entertainment District is set to include a 13-level, 106-room hotel component. Built around the historic houses occupying the site's corner, the building design was initially 42 stories, with a retail area included. It's since been altered to 39 stories and removed the shopping component, and will share some amenities between residents and hotel guests.
Taglialatella Galleries and INK Entertainment announced that the Yorkville Murals Festival will return for the second year from August 28-30. With new murals on display throughout the summer, this year's event will also feature art installations, panels, film screenings, and a block party—depending on local health and safety guidelines. The inaugural festival reportedly drew 2,000 attendees. 
News
Art Gallery of Ontario (AGO) hosted "How to Talk About Anti-Black Racism," a seminar led by associate curator of schools and early learning programs Audrey Hudson. Featuring artwork currently at the gallery to introduce topics, the event was aimed at teachers, parents, and advocates looking to engage children or other community members in anti-racism discussions. "Young people today are tuned in and connected through social media; they have seen injustices perpetrated against black lives, and we cannot ignore that they have questions," said Hudson. "Hopefully this discussion will help folks gain some insight in order to have conversations about anti-black racism with people of all ages, using art as a point of entry. I was compelled to organize because I want the AGO to be held accountable to these brave conversations and take action on their promises."
Hey Girl Hey, a monthly queer dance party, is hosting an online Pride fundraiser on June 12. All proceeds from the evening will go towards Black Women in Motion, a local youth-led organization focused on developing content, educational tools, healing spaces, and economic opportunities to support black women and sexual violence survivors. Playlists by DJ Orange Pekoe will celebrate music by female and non-binary hip-hop and R&B artists, and drag queen Beardoncé will perform.
Venue Buzz
Although Toronto won't be included in phase two of the province's reopening tomorrow, Fairmont Royal York has opened its doors for socially distanced weddings. Ceremony packages offer backdrops by Forget Me Not Flowers, luxury dining set-ups in the ballroom, and photography by the hotel's landmarks. The company also announced that its Summer Afternoon Tea series is now available for takeout.  
Overheard
"There's a lot of excitement from the guys to get back in a little bit of what we're used to. Going back to the rink, seeing each other. We're still competing for the Stanley Cup, and to win it is obviously going to be extremely difficult. We can use this time to get better, get familiar with each other again, and build some positivity and continuity. We want to be firing on all cylinders as best we can be once competition begins."
—Toronto Maple Leafs forward John Tavares, speaking to CBC on returning to practices with the team. 
On the Scene
"Paint the City Black" brought Toronto graffiti artists together to create murals representing solidarity with Black Lives Matter throughout the city.
What's Next? 
Imnts Outdoor Studio, a pop-up fitness designer, is launching 50 hot yoga pods on the patio at Hotel X from June 19 to July 31. Every day, participants can book a 110-square-foot clear dome with heating and fan systems that keep the interior at 100-degrees Fahrenheit depending on the weather. Local yoga studios including Solis Movement, Mula Yoga, 10XTO, Be Hot Yoga Toronto, and Common Ground will lead classes.
Q107 announced that its 18th annual Canada Day picnic will be done virtually via the radio station's website, YouTube, and Facebook. Following a sing-a-long rendition of "Oh Canada," eight Canadian tribute bands will play classic covers, including hits by The Tragically Hip, Rush, and AC/DC. The 75-minute event will close with a live fireworks display.