This Week in Toronto: Canada Day's Lineup, a Drive-Through Food Market, an Immersive Van Gogh Exhibit, and More
BizBash's Toronto column from Calvin Barr covers the week's biggest event news.
June 18, 2020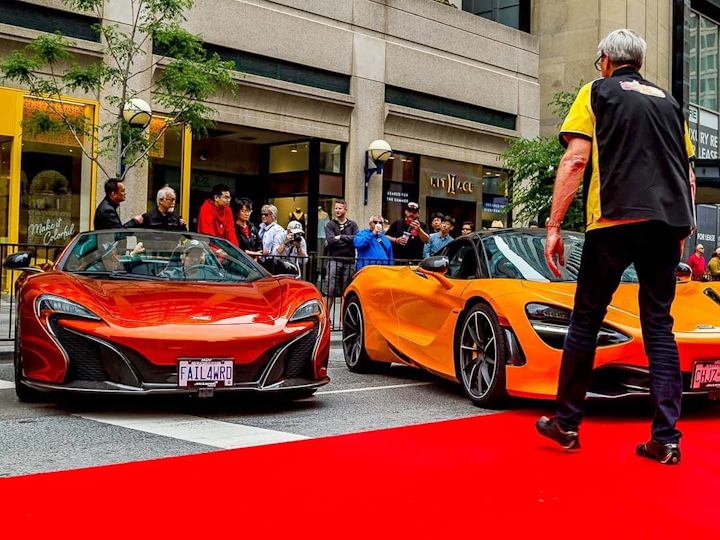 Photo: Courtesy of Yorkville Exotic Car Show
TORONTO—Welcome to BizBash's Toronto-based column, where Calvin Barr covers the week's biggest local news. Got a tip? Get in touch!
In Case You Missed It
Soundstock Inc. hosted an online concert to raise funds for the Black Legal Action Centre, a nonprofit community legal clinic that offers free legal services for low- or no-income black residents, on June 14. Toronto-area hip-hop, R&B, and soul artists Moël, M.I. Blue, Emanuel, Stretch, Nicole Chambers, and Tamir performed. 
NKPR hosted a digital fall trends event on June 11. The afternoon featured looks at upcoming fashion trends led by local stylist and writer Jillian Vieira, summer cocktail ideas by NKPR president Natasha Koifman and Eric Hendrikx, and a discussion on the future of retail post-COVID-19​ by Bloor-Yorkville executive director Briar de Lange. 
News
After the 15th edition of Fashion Art Toronto was canceled in April, organizers announced that they're launching a virtual runway series on June 22. Five shows are being produced by designers Mic Carter/L'uomo Strano, Meesh, Padina Bondar, Gorm Garms, and Neoteny Apparel—who are known for works exploring gender non-conformity, human rights, social justice, and sustainability. All presentations will be broadcast via Instagram and available on YouTube. 
Coast-to-coast virtual Canada Day activities, including cooking challenges by various Canadian chefs, sports challenges curated by GoodLife Fitness, and online games and trivia, were announced this week. A special presentation hosted by Serena Ryder and Pierre-Yves Lord will feature performances by some of Canada's most celebrated musicians, including Alanis Morissette, Avril Lavigne, and Sarah McLachlan, followed by a virtual fireworks show. "This year isn't like other years," said Steven Guilbeault, minister of Canadian Heritage. "But even these challenging times are a good opportunity to think about what it means to be Canadian. I'm inviting you, whoever and wherever you are, to take part in all the great activities we have planned."
Street Eats Market, a drive-through food festival, is launching at Yorkdale Shopping Centre this weekend. To enhance public safety measures, attendees are asked to place orders online in advance and arrive for contact-less pick up during a designated 15-minute interval. BeaverTails, Choco Churros, Jerk Brothers, Eva's Original Chimneys, Rebozos Taqueria, The Holy Grill, and Meltwich are among the participating eateries, and the event is set to pop up in Newmarket, Oshawa, and Kitchener this summer. 
Turn of Events
With areas across Ontario continuing to open up, Toronto restaurants can now apply to CaféTO—a city initiative developed to support physical distancing by expanding patios and venue spaces onto surrounding outdoor areas. If fully approved by the city council on June 22, the program will work directly with Business Improvements Areas and restaurant and bar operators to help them maintain the safety of customers and employees through reopenings.
Overheard
"We need space like Unit 2 for political events, spaces to fund-raise for activism. We need them for independent voices and to see trans performers, disabled performers, working-class artists, neurodivergent ones; people who I wouldn't see in a mainstream festival. We need that community relationship with other communities of artists and artist enthusiasts; it's an important connection. Black Lives Matter Toronto is very much in support of black artists across the city, the country, and the globe, not just during Pride and Luminato."
—Activist and DJ Syrus Ware, speaking to Yohomo about transitioning the Luminato exhibit Black Summers Night online.
On the Scene
Last weekend, Luminato showed Labyrinth, a two-part short film by R. Murray Schafer that features nearly 1,000 performers. 
What's Next?
Tonight marks the opening of the drive-through "Immersive Van Gogh Exhibit" in the historic Toronto Star printing presses venue. Six-hundred-thousand cubic square feet will be utilized for projecting animations of the artist's most famous works, including The Potato Eaters (1885), Starry Night (1889), Sunflowers (1888), and The Bedroom (1889). The walk-through edition of the event opens on July 1, where it's booked through to September.
And on June 25, Pride Toronto and The Power Plant Contemporary Art Gallery will present "Creating the Rainbow," a visual presentation of local queer artists discussing how COVID-19 impacted their craft, and their thoughts on its long-term impact. And on July 9, as part of the Toronto Online Art Fair, the gallery will present "Glimpsing the Future Vol. 2," featuring local artists describing their studio practice, processes, and artworks in up to 14 images.