Pretty in Pink
Elle Canada and the Toronto Fashion Incubator used the opening night of their new consumer show to host a gala dinner and the annual New Labels competition.
April 25, 2008
Creating an event to showcase
Elle Canada
while supporting local up-and-coming designers has been on Jacqueline Howe's mind for some time. Yesterday, the vice president of Transcontinental Media and publisher of
Elle Canada
realized her idea come to life at the first
Elle Canada
New Labels gala to support the Toronto Fashion Incubator (T.F.I.) at the
Direct Energy Centre
. "It's been a seed planted in the back of my mind for about two years, but we didn't get the final approval [from the
Elle
offices in France] until September," Howe said of the process that led to the creation of the
Elle
show, a three-day fashion and beauty show that runs through Sunday.
The magazine has long been a supporter of T.F.I.'s New Labels competition and runway show. "We had been a partner and sponsor with them for the past five years, so last year, after the 20th anniversary event, we talked to [T.F.I. executive director] Susan Langdon and told her what our concept and idea was and that we would like to do an opening night that would be a fund-raiser for T.F.I. and host that competition that we'd been involved with," Howe said. "She took it to the board and they said, 'Love it. It's great.' And so we started."Last night's gala kicked off the magazine's three-day consumer show. The evening included a V.I.P. cocktail reception, held on the show floor, followed by a dinner for 250 guests in the galleria lobby, and the runway show, produced by the
Idea Shop
. Howe reported that the show's ad campaign inspired the decor for the evening. "Denis Desro shot a girl on the run in a beautiful fuchsia pink raincoat, so we decided that was going to be our image that was promoting the
Elle
show, and we started to build out the entire show decor," she said.
Erin McLaughlin of
Canadian Home & Country
(also published by Transcontinental Media) created the centrepieces: fuchsia hat boxes filled with white roses and pink tulips. Each arrangement featured a designer item—including a posy vase by Marc Jacobs, crystal martini glasses by Vera Wang, teacups and saucers by Jasper Conran, and a four-inch vase by Gianni Versace—from the Wedgwood Company.
Chair Decor
dressed the tables in white linens and covered the chairs in white fabric accented with a fuchsia band.
Centerplate Catering
prepared the food for the cocktail reception, held on the show floor, and the gala dinner. The menu included a grilled maple pear, oven-roasted cherry tomato, and caramelized walnuts served on baby arugula followed by chicken with a citrus-thyme glaze, Yukon gold and sweet potato duchess, and baby bok choy and snipped carrots. Guest dined on a molten chocolate lava cake with minted crème anglaise for dessert.
The New Labels competition, which celebrated its 16th anniversary yesterday, featured the work of designers Lara Presber, Eugenia Leavitt, Adrienne Butikofer, and Ashley Rowe. A panel of five judges awarded the
Elle Canada
New Labels fashion award—including $25,000 and a spread in the magazine—to Leavitt in recognition of her collection of cocktail dresses. Event sponsors included Nine West, Rowenta, Triumph Vin de Pays d'Oc, and Movado.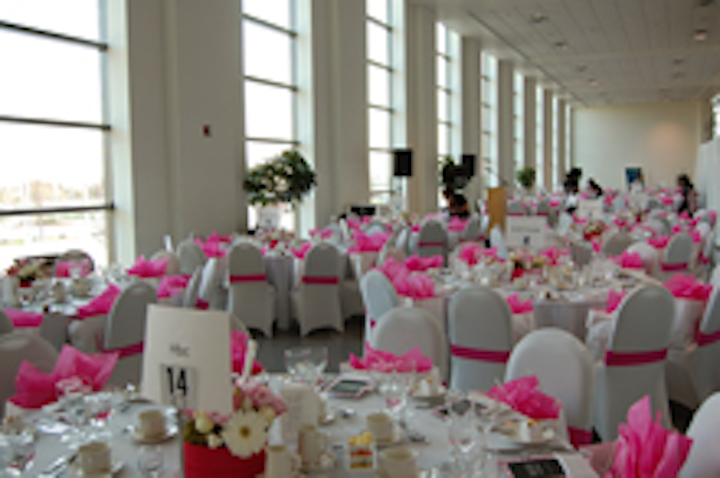 Photo: BizBash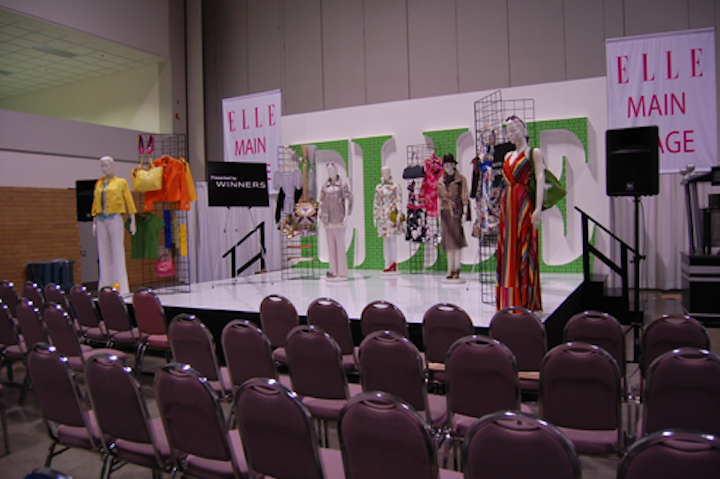 Photo: BizBash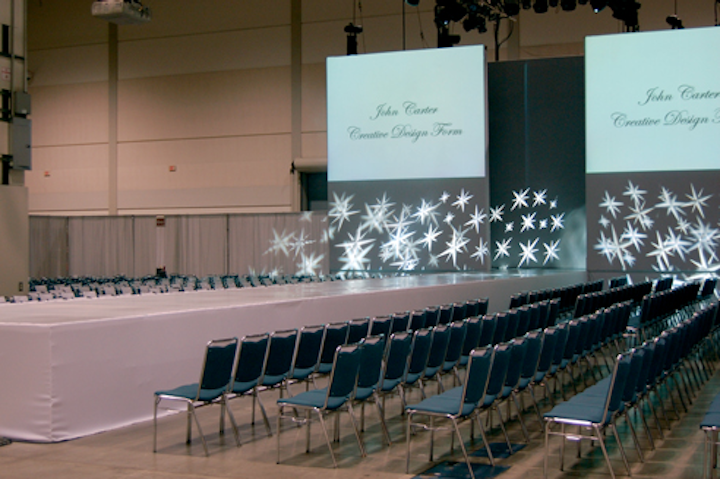 Photo: BizBash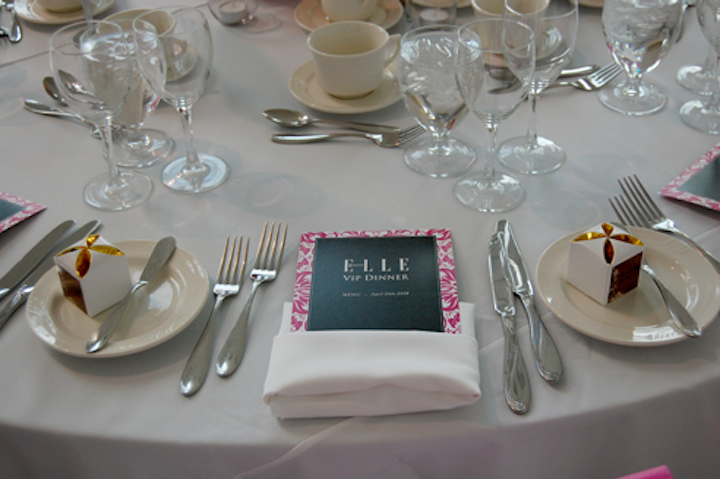 Photo: BizBash
Photo: BizBash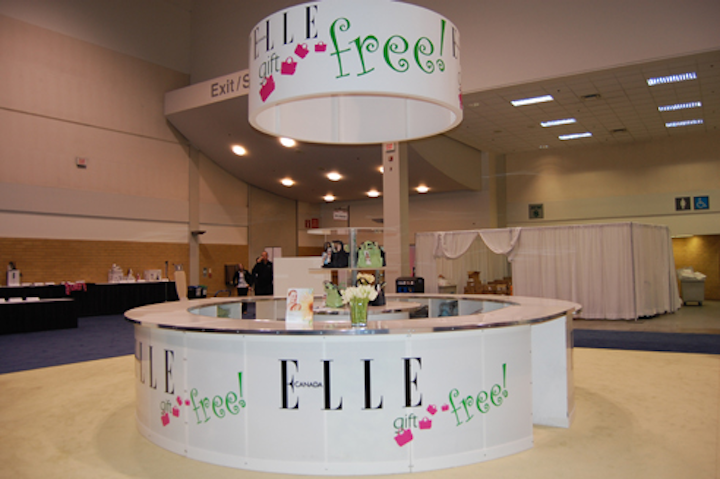 Photo: BizBash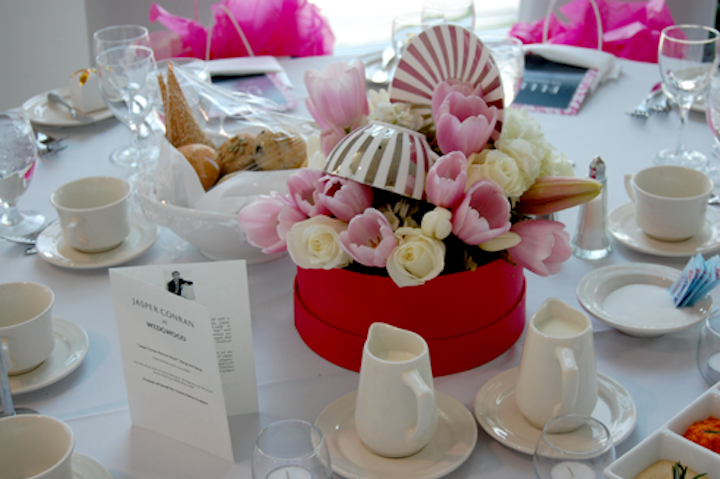 Photo: BizBash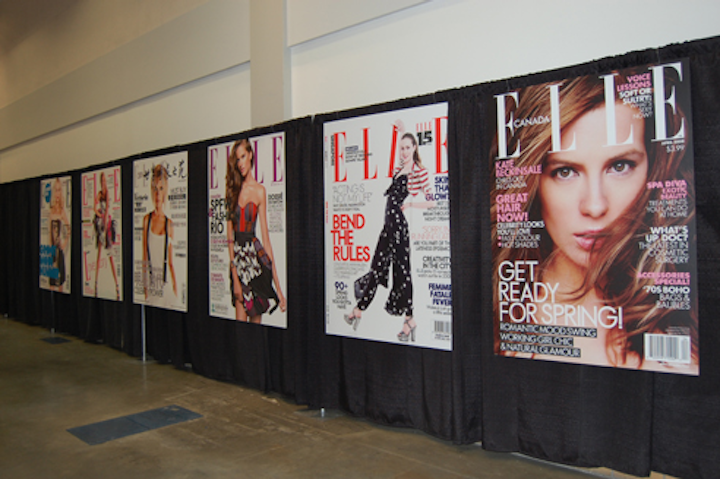 Photo: BizBash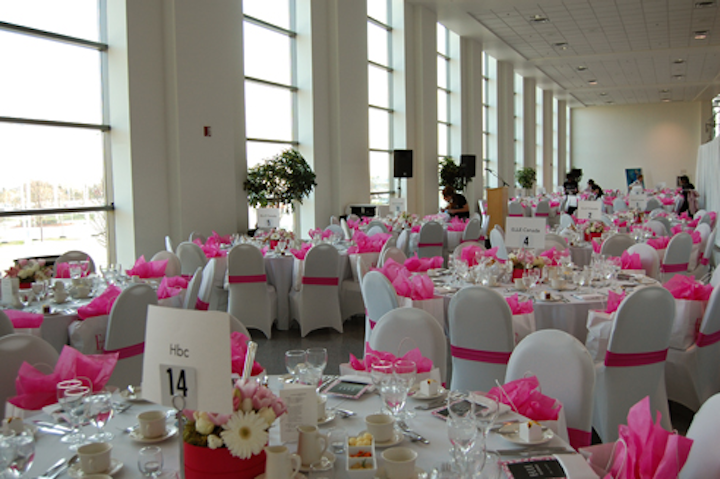 Photo: BizBash
Featured Venues/Suppliers: