Ultra Music Festival Expands by Returning to Former Home
March 22, 2012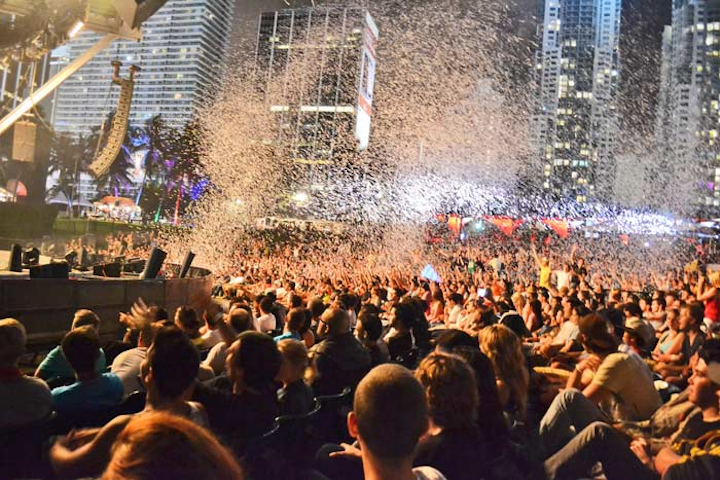 Photo: Tracy Block for BizBash
Between the Winter Music Conference, Miami Music Week, and the three-day, mega music festival known as Ultra, late March tends to turn Miami-Dade County into a reverberating playground of sounds, with global DJs and party promoters even more of a presence here than they usually are. Now in its 14th year, Ultra Music Festival will kick off its March 23 to 25 run with a new home—or more fittingly, a homecoming. From 2001 to 2005, Ultra was hosted in downtown Miami's Bayfront Park before relocating up the street to Bicentennial Park, where it remained until 2011. Due to the festival's capacity outgrowing that venue—200,000 attendees are expected this weekend—Ultra moved back to Bayfront Park this year.
"All things work out for a reason," said Ultra co-founder and executive producer Russell Faibisch. "Coming back to Bayfront Park is just so beautiful. There's grass everywhere, palm trees, canopies—it's really connected to the bay here. This park gets closer to the feeling that you are on the water."
Faibisch was on hand Wednesday night for Ultra's prefestival launch event, the screening of Can U Feel It, a documentary about the 2011 Ultra Music Festival. The mid-week kickoff brought 7,500 ticket holders to the new grounds. Ultra will also expand onto Biscayne Boulevard for the first time, closing down one of downtown Miami's main roads.
In addition to its growth, new festival features will include an expanded main stage (taller and clad in its own LED ceiling) and an upgraded V.I.P. area, with an additional deck by Biscayne Boulevard in the Carl Cox tent. For the production team, it was all about utilizing the park's natural gifts.
"When you're going around this park—unlike Bicentennial, which is all flat land—here, it's an adventure," said Faibisch. "You get lost, you find new things. It's the way a festival should be."
Big-name sponsors helping make things happen this year include Heineken and Heineken Light, returning as the official beer sponsor for the third year in a row. A new partnership with Google Play will air a live stream of the festival via YouTube throughout the weekend. Google Play will also provide an interactive integration with air-conditioned tents on-site. The final major sponsor, Red Bull, will provide a wall of 3-D mapping for the festival at the south end of the park, near the InterContinental Miami.
Featured Venues/Suppliers: