At BizBash Expo: 3-D Projection Mapping, QR Codes Highlight Event Technology Revolution
April 20, 2012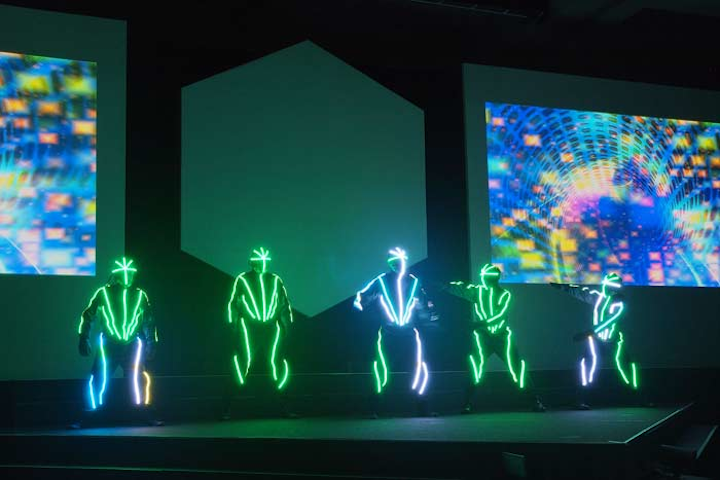 Photo: Brightroom, Inc.
Technology continues to fuel rapid changes in the meeting and event industry, and planners should learn how to use these technologies to make their events more effective and expand their knowledge base. That was the message from presenters during the afternoon general session at the BizBash Expo & Awards Wednesday at the Fort Lauderdale Convention Center. The "Event Technology Revolution" overview offered brief presentations from seven speakers.
Felix Pike, production manager for Media Stage, opened the program with a visually stunning demonstration of 3-D-mapping techniques and explained how a combination of projectors and software can create three-dimensional images on nearly any surface. "The key to creating visually striking effects is to think three-dimensionally," he said. "We are only limited by our imaginations." He asked planners to keep in mind that these projects can require up to three months to create the projection surfaces and animations. 
Don Mogavero, art director for Q Creative, described 3-D mapping as "the next generation of business theater that enhances content and brings the audience into the message." Every meeting and event is an information delivery system, and how the content is packaged can make it more meaningful and memorable, he said. The final decision should come down to whether the message is worth the cost of a high-tech delivery system.
QR codes are another hot technology tool for planners. Red Fish Media's Tim Tilson, director of new programs, and Laraine Hart, director of marketing and social media, shared examples of their company's work on custom QR code campaigns for events hosted by DKNY, Rachel Zoe, and BBC America. "QR codes are your mobile engagement gateway," Tilson said. For BBC America, the company created a QR-code-based scavenger hunt for attendees at Comic Con. The codes lead participants to various BBC America booths at the event and also captured contact information so the company could send a follow-up text message to participants. Hart said QR codes campaigns are most effective when there is clear, concise signage that explains the payoff for scanning, such as "scan to win."
Event Leadership Institute executive director Howard Givner demonstrated the company's online training programs. Topics include business ownership, event management and technical production. The training is available as unbundled micro-learning, meaning each class is broken down into three- to five-minute segments that can be viewed in any order. Givner also demonstrated the Super Planner App, a tool for iOS and Android systems that provides calculators to determine food and beverage, audiovisual, and venue capacity needs. Givner said a new version will be released this summer.
Erik Mintz, director of event marketing for Constant Contact, focused on the importance of securing permission when using social and mobile technologies to connect with potential clients and fans. "Permission is the gateway to engagement," he said. Permission can come in many forms, such as a person liking a brand's page on Facebook, following on Twitter, or opting in via an email.
BizBash general manager Aram Fischer demonstrated tools available on the recently relaunched BizBash.com. The site now allows users to create idea books that save articles and photos gathered from anywhere on the site. This summer more new features will be added, including the ability to create mood boards and new search functionality across more than thousands of BizBash articles, photos, and vendor listings.
Featured Venues/Suppliers: