New Digital Wristband Measures Crowd Reaction at Events
Find out how Pepsi used a new technology to respond to audience feedback at a South by Southwest event.
April 1, 2014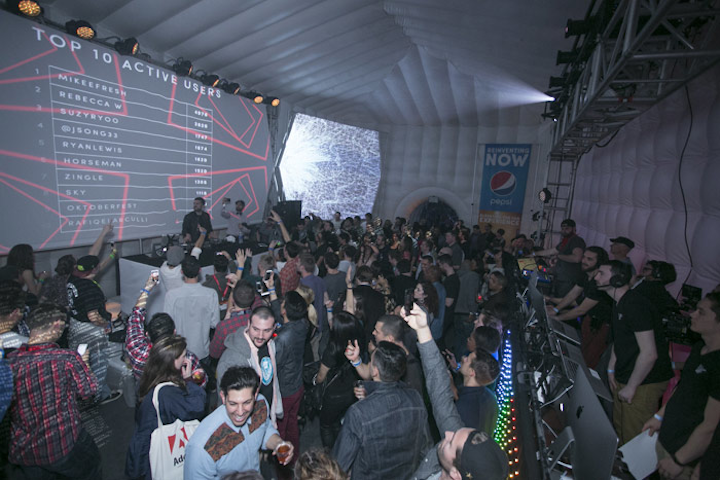 Photo: Natalie Cass/Getty Images for Lightwave
Lightwave is a new form of wearable technology for events that debuted at a Pepsi-sponsored music event at South by Southwest in Austin, Texas. The digital wristbands provide real-time data on audience movement, temperature, and sound levels. At Pepsi's event, the audiovisual team and DJ used the information to adjust the lighting and song selection to generate more excitement among the crowd.
"For example, we thought the lighting and projections would be very engaging, but actually the environment was too bright. So when we noticed the accelerometer readings were not where we wanted them to be, we dimmed the lights and suddenly people started dancing more," said Rana June, Lightwave founder and C.E.O. "The underlying goal is to provide deeper, more meaningful insights about what's happening beyond someone with a clicker saying 1,000 people walked in."
In addition to the accelerometer that measures the wearer's movement, the wristbands also include a microphone that transmits audio levels and a sensor that measures body and ambient temperatures. "That's a very important metric, because when people get hot they get uncomfortable. So if you can know that in real time and change the actual environmental conditions, you can improve the attendee experience," June said.
The event organizer can choose whether to use the wristbands anonymously or to ask guests to link them to demographic information. Pepsi asked its guests to sign in on an iPad with their gender, age, hometown, and an account name. During the event, a leaderboard displayed various metrics, such as applause levels and results of a dance-off competition between male and female attendees. To encourage participation, Pepsi provided American Express gift cards to the top 10 dancers.
"At a trade show it might be used to tell you how people are feeling during a keynote or what talking points are resonating [by measuring applause levels], or what booths people are spending time at," June said. "And that can be broken down by gender. Or it could be very helpful to know this bar has a wait, but the one over there doesn't, and we can redirect people."
After an event, Lightwave provides analysis, for example to indicate which moments got the most reaction from attendees or which moments caused a lull in the room. Hosts also can choose to send guests their personal data to share on social networks.
Organizers rent the Lightwave wristbands. For events with 500 or fewer people, the wristbands use low-energy Bluetooth. Larger implementations use a radio signal that can communicate with thousands of wristbands at one time. The wristbands communicate with the Lightwave system via beacons placed throughout the room. Hosts can view the data in real time through the Lightwave iPad app and can also display the information to event guests on large screens.
Featured Venues/Suppliers: