2017 Preview: Emerging Event Tech You Should Know About
Various twists on reality—augmented, virtual, mixed—top our roundup of technology products and strategies that will influence face-to-face experiences this year.
January 3, 2017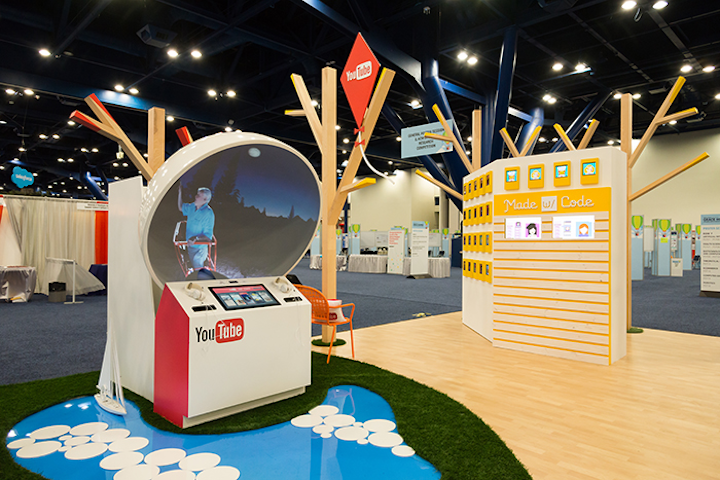 Photo: Courtesy of MKG
Start the new year with an understanding of the technology tools and tactics that will shape events such as conferences, trade shows, meetings, fund-raisers, and more. Here are the top insights gathered from 10 industry professionals that we interviewed via phone and email.
Jason Snyder, chief technology officer, Momentum Worldwide
"It's not going to be any one big technology this next year, but how we start combining some of the newer technologies into fully functioning application layers for events. Taking virtual reality and augmented reality and linking that to machine learning and artificial intelligence and all the geospatial technologies that are available and bringing that together to create compelling new experiences for people.
"Everything has the ability to be passive now, as well. You don't have to put on an R.F.I.D. wristband and check into places. We can do all of this magic simply because of the fact you have your mobile phone in your pocket or perhaps we are using facial recognition, so just you being somewhere helps us create a personalized experience for you.
"The mobile phone is a remote control for everybody's life right now. It's not just mobile first, but a mobile device being able to take advantage of the ambient intelligence that all of these systems provide. And then beyond that as we have things like conversational commerce—when you can talk to your Alexa or your Siri or your Google Now and have the same sorts of queries and things that required you to type something in, you don't need a mobile device for that. That's all part of that ambient intelligence. It's shifting into that conversational commerce—you ask objects for things to happen. And then we'll move to mind-to-mind communication after that."
Mo Twine, senior interactive producer, MKG
"The thing we have found in the past year and what we are looking forward to is 360-video experiences that are immersive but not headset-based. In the past year we've seen probably a dozen new VR headsets come out. But with headsets you have to have brand ambassadors constantly cleaning them, and it's one person at a time stepping into this very confined experience.
So we think how do we break out of that headset? How do we make it something everybody can participate in? In partnership with Google and YouTube, we built this custom dome and interactive kiosk. It had a very small footprint. You essentially step into the dome so it's over your head. You are fully in the 360 content, and we put in gesture control so you never actually touch anything. You step into this small space and use gesture control to explore 360 content. It was really a revelation because we were able to create passive excitement about the content and also really suck people in and be able to explore worlds without having to completely shut them off from an event. We are really looking forward to exploring that space. I would call it inclusive immersive.
"I think in the coming year we're going to see mass adoption of augmented reality. It will move out of the early adopter phase into mass adoption. And I think things like Snapchat Spectacles, even though right out of the gate it's not an AR tool, it has the potential with the next generation of glasses to essentially add filters that will make it an augmented-reality piece of hardware.
"[I'm] super hot on deep learning and machine learning in general. We've seen recently that these deep learning systems are increasingly available to anybody to build on top of. What we are looking to do in 2017 is create a variety of these interactive experiences using sophisticated and large computer processing systems to make technology really fun and surprising. With using the deep learning technology, we have a chance to cater to the users' tastes quicker and match the users' wants with what the brand is able to provide faster."
Mike Schaiman, managing director, Helios Interactive
"Microsoft HoloLens—we just built our first experiences for and it is one of the more powerful and unique technology experiences that I think brands can utilize. From an event perspective, it's a really amazing way to help visualize anything from esoteric content, data visualization that happens around the physical objects, to giant pieces of machinery. You could have a full 18-wheeler sit in the middle of your event and have people put on HoloLens and see that giant machine in place. They could walk around and explore it, they can interact with it. It's really fascinating and we are dedicating a lot of time towards it in the coming year.
"It's also unique in that it bridges that physical and digital divide. Marketers spend a lot of money building these beautiful environments in their event spaces. To be able to actually put a device on the consumers head and have them explore that physical space in a new way, in some ways that's kind of scaling up and leveling up the on-site experience as a whole. And it's something that, as people build out spaces moving forward, they will need to keep in mind. Something we are exploring now with fabrication partners is how do you build a space that has areas that aren't necessarily blank but will be great landing spots for digital imagery and experiences. There are interesting opportunities and interesting challenges with the tech.
"Google Daydream—sort of the evolution of Google Cardboard—it's the next generation of what Samsung Gear provided, which is a mobile-device-based virtual-reality experience But in this case it comes with a more comfortable headset. It's light, it's comfortable, and it also has a controller. With Samsung Gear and Google Cardboard you could have minimal interaction with your VR experience with gaze detection or having something on your temple, but the way Daydream works it puts a small controller in your hand. It can act as a laser pointer, it can act to manipulate objects, and potentially it becomes a way to guide yourself through VR experiences."
[PULLQUOTE]
Jamie Barlow, vice president of creative technology, Sparks
"It's a pretty exciting time for technology in experiential. And it's not always about the newest thing. We focus on that … but I think as digital integration and creative technology begins to mature within the experiential world and space, that maturity is starting to take on also a need to have mature approach to how you use technology. Being able to see the right connection between some type of technology execution and the story and the message that's being told is 10 times more powerful than having a new technology that is just purely interesting because it's new.
"The biggest thing we've seen this year and that we expect next year is that there will be more of a seamless integration of tech experiences within experiential marketing across all of our clients. It's become an expectation from an attendee perspective that these brand experiences are connected, that they are personalized, that they meet them where they want to be, that they are sharable in a way that is really relevant to the attendee. They have a pretty high level of expectation of user interface because of what they've come to expect from their own devices, and they are seeing it play out in so many marketing channels.
"Definitely VR and mixed reality—there's a lot of potential for those. … The other big buzz words right now are AI and machine learning. That's something that it's a little hard to see immediately how it applies to experiences, but I think there's actually a ton of ways that it can. From the simple experiential perspective, we did an engagement for Dell this past fall for their conference using something called neural network portraits. We took a photo of an attendee and then we took a brand image that had to do with the new brand look of Dell, and we applied it to the neural network so the machine could look at the portrait and look at this reference image and redraw the picture of the person in the style of this image. It was all around digital transformation. There are a lot of ways AI and machine learning can apply to the way we measure events, the way we gather information, to the types of information we show, to how we share our messages."
Alan Hughes, founder and creative director, Next/Now
"What we are seeing now is clients using virtual reality in a way that's beyond novelty to actually get across product message and brand messages. When we see that, we know it's a smart implementation.
There have been a couple of hurdles with VR that have been interesting to overcome, but we see a lot of momentum in overcoming those. The first hurdle is really a physical hurdle: In most cases someone has to put VR goggles on their head to the point of messing up their hair potentially, so you are asking a lot of a consumer to do that in a public space. [We're] developing a custom-built armature that allows users to walk up to a VR installation, simply place their head into a headset mounted on a flexible arm, and have the VR experience without the commitment of strapping a device onto their head. We used that for an Under Armour project recently in a retail space and the results were fantastic.
"Second, VR is kind of by its nature a singular experience. It's one person experiencing it and getting deep into this world. We're adding a group viewing station that shows largely what the person inside the experience is seeing as they see it. So a group of people standing around at the event can see what the person is doing inside this magical world, to the point you can see their body in the space. It becomes a much more public experience and much more fun for onlookers.
"Another trend that we are seeing is a lot more interest in mixed reality … primarily through the Microsoft HoloLens. We are early developers on the HoloLens and it's a wholly different experience from VR in that you can see the world around you as you see these magical elements that are placed into that world. Even more than VR, we are focused on that for more brand-focused and in particular product-focused messages. Examples would be an automotive brand that wants to show off not only the car that's sitting on the showroom floor, but the technology or engineering that went into the car. You look at the car but you also see overlaid holographic images that give more detail than you would by just looking at it."
Wilson Tang, vice president of digital experience, Freeman XP
"Data is finally going to be something more than a buzz term in the experiential space. It's finally going to be actionable in a way that it wasn't before. There are probably a couple hundred event technology companies out there. Most are separate technologies, and it's been difficult for event planners and experience designers to get a quantitative view of their whole event. In the past all this data was sitting in silos, it was difficult to access and you had to hire data scientists to make any meaningful sense out of it. We'll start to move a time where all of that data will be pulled into a single repository and you can start to find meaningful insights.
"You are starting to see data tools not just used to measure the success of an event, but being used to operate your event, to understand that so-and-so does not seem to be engaged the way we thought he would be so let's change the experience for him. All these things are finally starting to come together in a meaningful way, and our clients are starting to understand this is something they need to do in order to craft some of the next generation of events.
"AR and VR will move beyond being a party trick. Where I think it will be most dramatic is that it will change the process. We are developing these kind of technologies not just from an experiential standpoint for our attendees, but how does it change our design process, how does it change our creative process, our storytelling process. We've got technology we're developing so as we design elaborate experiences—a concert or an exhibit—you'll be able to walk through and experience that event before we ever build it. That changes the conversation. You can be in San Francisco and I can be in New York and our producer can be in Dallas and we can walk through a design virtually and make changes in real time. That's going to be dramatic."
Kirstin Turnbull, director of account development, Mosaic
"Holograms as decor. Not just for expensive Tupac performances, we are using hologram technology in a more budget-friendly, yet highly impactful, way. We recently used holograms to create unique tabletop decor for a gala dinner. We positioned Surface Pro devices on top of mirrored risers with custom-made plastic cones to reimagine floral centerpieces. The holograms projected were of flowers, a hummingbird, and butterflies and delighted our tech-savvy guests."
Brent Turner, senior vice president for solutions, Cramer
"Over the past few years, the two common tenets of attendee-oriented event technology have been social media and connectivity (e.g., event apps, wearables). Now, with these types of technologies being commonplace and event-generated data continuing to accelerate, event marketers are expanding their expectations for measurement—specifically enhanced analytics. With measurement as a prioritized focus, event marketers will continue to adapt the language of big data and data science. In 2017, we expect many more event marketers to become familiar (if not fluent) in the Five Vs (volume, velocity, variety, variability, veracity) and Four As (aggregation, access, attribution, and analysis) of big data.
"In 2015, we saw the popularity of messaging apps transcend even the most popular social networks while, in the business world, Slack became the unicorn startup du jour. In 2016, we saw the popularity of personal-use messaging apps and social media platforms spark a reemergence of business-oriented social networks. For example, launched in October 2016 is both the intuitive Workplace by Facebook and the smartly designed Microsoft Teams. Add these new offerings to the beautiful work being done by startups like Mightybell and the stalwarts of Yammer, Salesforce Chatter, and Jive, we see an ecosystem that is getting hot. In 2017, we expect event marketers, especially those that serve their brands' communities (e.g., sales meetings, leadership summits, user conferences), to create new strategies, content, and engagements that tap into these next generation social networking platforms."
Jeff Youngs, vice president of production and operations for corporate events, GES
"LED for screens are becoming ubiquitous, because costs are dropping and there are different formats and versions available. [For example] tiles so you can configure it in curves and stair steps and all kinds of shapes and sizes. But there's also a cool trend of this technology converging with lighting, so it can go up the wall and across the ceiling. Then images, colors, all kinds of things can be fed to those screens. They don't need to be super fine-pitch, detailed, high-res images in order to be effective in that format. So it's not necessarily very expensive, but it's a way to really be flexible with the look and feel of your room. And it's very intense color with LED. They've gone from strictly a media, information application to decor and lighting.      
"In the video realm, there's some cool stuff happening with mapping. You can map video on almost any shape and turn it into an interactive display. So you can tap into it, see that component, get some more detail, and really dig into that product. You can create content that is video projected but for a smaller group that can touch that projection and have it do things, tell a story.
"There are some other things going on with touch screens. There are panels that can be put together—essentially 55-inch monitors—with sensors, but what's special is they also have cameras inside so they see what you are doing. If you have a QR code on your badge, you can tap it on the screen and it will open a file that's your file and you can use the technology to find information and swipe it into your folder. And then it can collect data about who has received what information and who do we need to follow up with. That's great for a trade show application, an expo, or in the lobby of a general session if you want to see where everybody's minds are by tracking what kind of information they are accessing."
Peter Yagecic, executive director of technology and emerging platforms, Situation Interactive
"The addition of visitor sentiment into the pool of big data is something we're pretty excited about. As we continue to provide reasons for patrons to self-identify when they're in our spaces (Wi-Fi, seat upgrades, concession delivery, etc.) we now have more ways than ever to identify the mood of our guests in real time. The ability to parse which animated GIFs or emojis are going out on social media and respond instantly is both creepy and exciting from a digital marketing perspective."
Rick Cosgrove, creative director, AgencyEA
"Emerging event technology is pulling brands into new realms of reality—from virtual reality and 360-video, to augmented reality, and now even mixed reality. All are opening new opportunities for brands to build immersive storytelling experiences. However, this comes at no easy feat. In the name of innovation, we have seen some brands fall victim to the bright, shiny object syndrome without thinking beyond the standard 'cool' factor. As a result, the technology ends up serving little to no purpose in relaying key brand messaging. Brands are facing a reality check when it comes to the 'why and how' when approaching their digital integrations. Delivering authentic, story-driven experiences with a personalized message will continue to be the top priority over the next year. And just in time as we welcome the next wave of disruption with the expansion of the Internet of Things, which will take personalization to new heights."
Featured Venues/Suppliers: