Event Planners Converge for BiZBash Expo
October 22, 2003
Body-painted models in cages, break-dancers, super-stylish decor ideas and the
Village People
were a few of the things you missed if you didn't attend the 2003
BiZBash Javits Meeting and Event Expo—The Fresh Idea Show
at the
Javits Center
. BiZBash welcomed more than 190 exhibitors and 2,700 attendees to the two-day show, which was filled with hundreds of fresh ideas for event and meeting planners.
While exhibitors set up their booths on Tuesday, the BiZBash U
education seminars began with sessions like the "Lighting, Linens and Flowers, Oh My!" panel discussion, where several decor and lighting pros gave tips on working with vendors and dished on what planners are requesting for their events. Following the sessions, the trade show floor opened for a cocktail reception and the BiZBash Event Industry Hall of Fame induction ceremony, which included a two-song set from the Village People.
Wednesday offered more education sessions and a full day for guests to walk the show floor and check out entertainers on the main stage. Outside the show itself, guests could relax in
Taylor Creative
's pastel-colored lounge furnished with white sofas, a freestanding panel of color-changing lights and colorful
Philippe Starck
stools that doubled as tables. (The look was a scaled-down version of the lounge the firm created for the
ENK fashion trade show
.) Near the lounge, German artist
Christof Breidenich
painted two giant murals (one for each day of the show) on a wall of small wooden panels that were taken down and given to attendees at the end of each day.
National MicroRentals
provided computer stations at the center counter of the mezzanine for guests to check their email, and
Airstar Space Lighting
provided giant white BiZBash- and
Crobar
-branded lighting balloons to mark the entrance to the trade show floor.
The Expo spread throughout Javits' galleria and river pavilion space. Show decorator
GES
provided signage, piping and draping, and
Transformit
suspended swooping stretch fabric decor pieces from the ceiling above the trade show floor.
A few companies collaborated to create habitats instead of standard booths. Decor and entertainment company
Pink Inc.
created an all-white area with its signature stretch fabric columns, table coverings and ceiling decorations, where caterer
Fisher & Levy
brought some color to the area with bright foods like
Gummi
worms served in shot glasses filled with blue
Gatorade
and hors d'oeuvres topped with blue caviar, and
Special Events Available Light
provided white lighting balloons for a subtle glow. In another habitat area,
Musters & Company
teamed up with
Scharff Weisberg
,
Metropolitan Pavilion
and
Agile Furnishings
to create a muted lounge area with beige sofas, chairs and carpet and flower arrangements filled with roses, orchids and magnolia leaves.
The
Intrepid Sea-Air-Space Museum
showed it's not just a destination for military buffs, but can be a great venue for an elegant dinner event with its blue and white booth decorated with shimmering violet fabrics draped over tables strewn with glass beads, lamps with beaded shades and red rose flower arrangements. And one of most heavily trafficked booths of the show was
Party Rental
's silver, white and pink booth, where a busy bartender served up watermelon martinis.
Ice sculpture companies
Ice Art
,
Ice Sculpture Designs
and
Okamoto Studio
displayed different variations on ice as decor. Ice Art, known for the sheer size of their displays, created a huge ice bar and an ice fountain with apples frozen inside. Newcomer Okamoto Studio showed off a more delicate creation: an elegant latticed frame that surrounded a simple white orchid plant.
The most tempting places to rest your feet were the booths from rental companies
Eclectic/Encore Props
,
Props for Today
and
RentQuest
, who all went for modern looks in their areas. Eclectic/Encore's area at the front entrance of the show featured
Peter Brown
's body-painted models inside a giant bird cage, and chrome and white leather sofas were offset by glass coffee tables, a shimmery black backdrop and black carpet. Props for Today put their small space to good use with fuchsia and lime green shag carpets beneath white
Mies van der Rohe
chairs and a spacey silver bar. RentQuest created the illusion of more space with black-and-white cube seats and shag-covered benches set in front of mirrored bars.
Stage managers
Mark Steele
and
Steve Young
kept a lively lineup of entertainers on a stage designed by
Atomic Design
with backdrops by
Dream World
,
column-shaped electronic
Dynascan
monitors from
CPR Multimedia
and audiovisual production by
Big Wave
. The acts included a 50's-themed singing group from
Wizard Events
, a magician from
Michael Bongar Entertainment
and a team of break-dancers and DJs from
Love Productions
, who gave a raucous, adrenaline-filled performance.
Flatotel
sponsored this year's BiZBash U education sessions, which offered six education tracks, from best practices for independent event planners to corporate event management. In the "Trends and Style: What's New in 2004" session, speakers discussed where to find inspiration and new ideas, as well as dished on some of the ins and outs of gift bags and bad behavior among guests. One general education session featured event professionals from Los Angeles, Las Vegas, Chicago, Florida and New York extolling the merits and creative ideas of each market. Session attendees could also check out informal roundtable discussions on a range of topics, including "How to Break into Fashion Show Planning" and "The Art of Guerilla Marketing Events."
American Express
scattered bottled water throughout the classroom areas for thirsty attendees.
Read about the BiZBash Hall of Fame induction ceremony...
To see more pictures from the expo, go to
http://gallery.revibeinc.com
.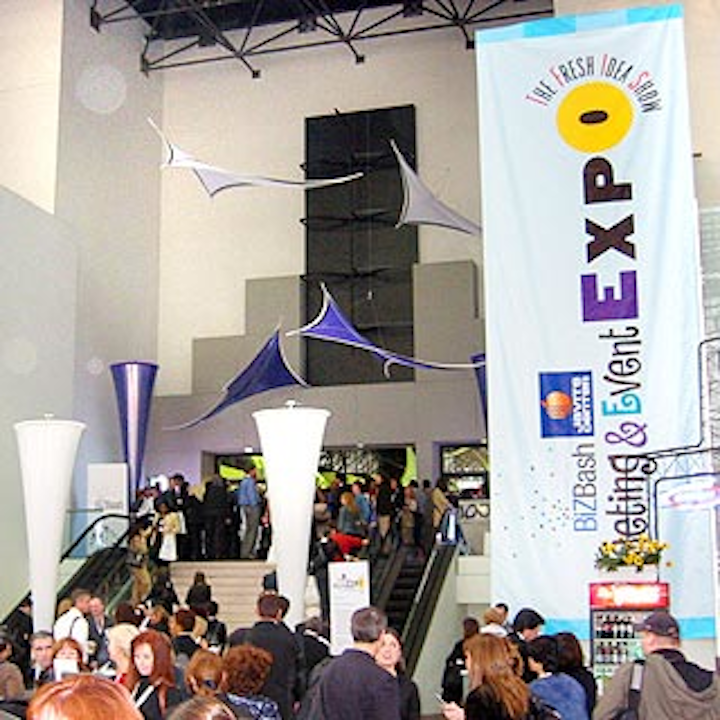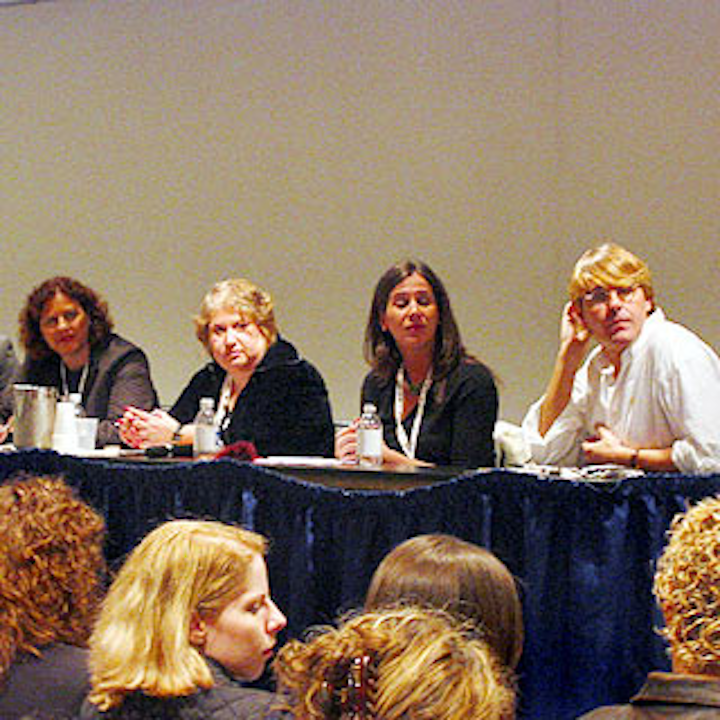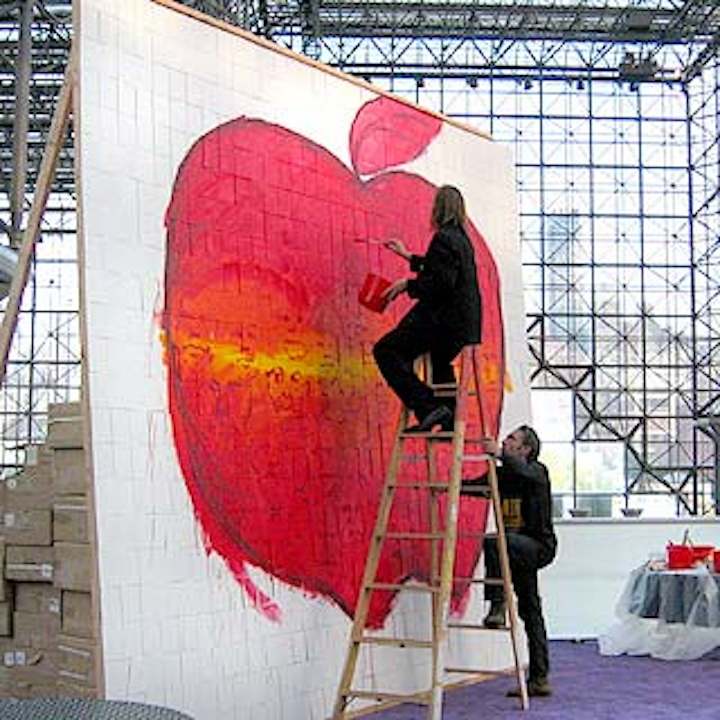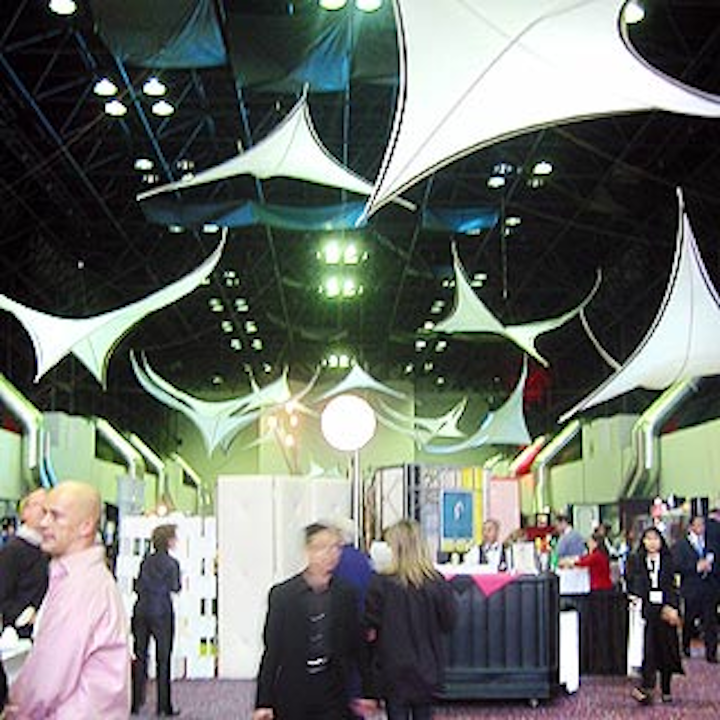 Featured Venues/Suppliers: