Guests Find Secret Rooms, Encrypted Messages at Oakley Event
The brand's "Disruptive by Design" launch was intended as a fully immersive event that celebrated its past, present, and future through interactive multimedia installations.
March 7, 2014
On February 24 Oakley launched its new global marketing campaign, "Disruptive by Design," with an interactive experience in Los Angeles intended as a celebration of the brand's past, present, and future. Oakley North America brand director Pierre Martin, creative director Brian Takumi, global director of brand communications Tom Cartmale, and the North America communications team tapped Moment Factory for the event's production and design.
Moment Factory was tasked with creating what brand experience producer Stephane Raymond called "multimedia scenography … through a spatialized visitor experience"—a mouthful that seemed to sum up the event's mysterious qualities—to aid the brand's efforts in creating a "unique emotional experience" surrounding the campaign.
With that in mind, the Moment Factory team created a surprising and very visual environment, including a prism in the middle of the room to represent the energy of creation and a 270-degree projection room. "We created a visual experience that brought people on a journey of innovation through design," amid live DJs and VJs, Raymond said.
At the back of the large event space, the team created secret rooms with interactive installations. Before entering the rooms, guests were given infrared pointers, which they could use on the walls, floor, and central prism to reveal messages about Oakley. When a visitor uncovered a word or mantra, it triggered real-time sound and video effects.
"The idea was that the visitors could change the space they are in, in order to discover unsuspected realities," Raymond said. Guests were also able to test products and discover new things about Oakley's technologies. The installation took the production team of about 50 about a week.
The Hollywood event served as a kickoff for what the company is billing as its first global multimedia brand culture campaign, set to launch in April. It is designed to show off the evolution of its so-called "disruptive" products, designs, technology, culture, and icons—beginning with Oakley founder Jim Jannard his first Oakley invention, the B1B motorcycle grip.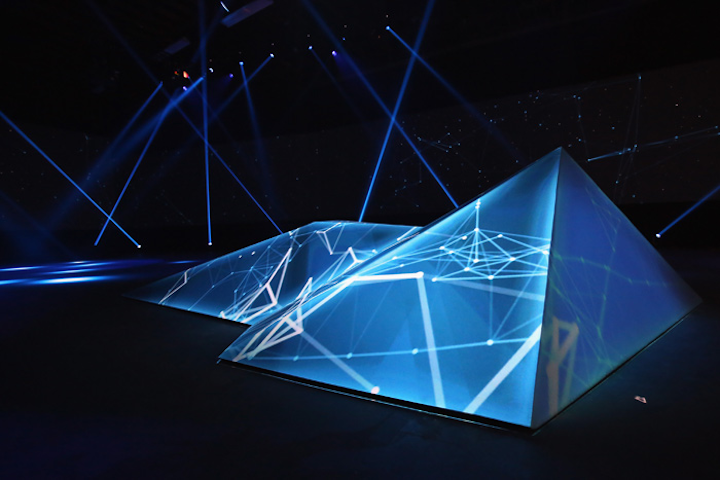 Photo: Jonathan Leibson/Getty Images for Oakley
Photo: Mike Windle/Getty Images for Oakley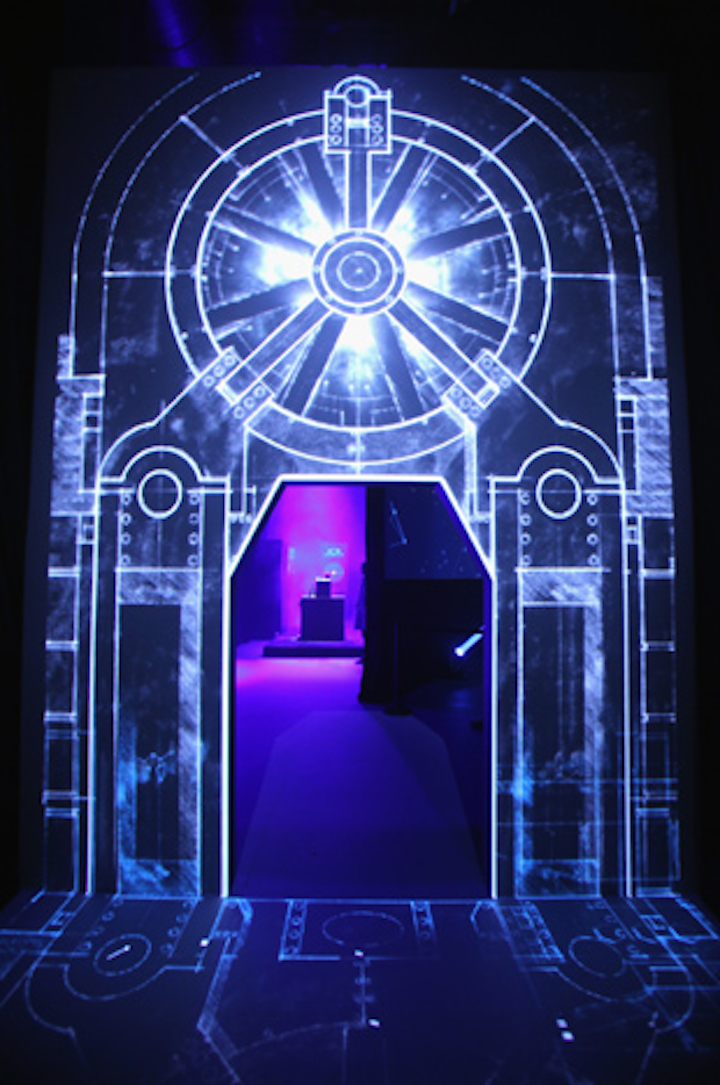 Photo: Mike Windle/Getty Images for Oakley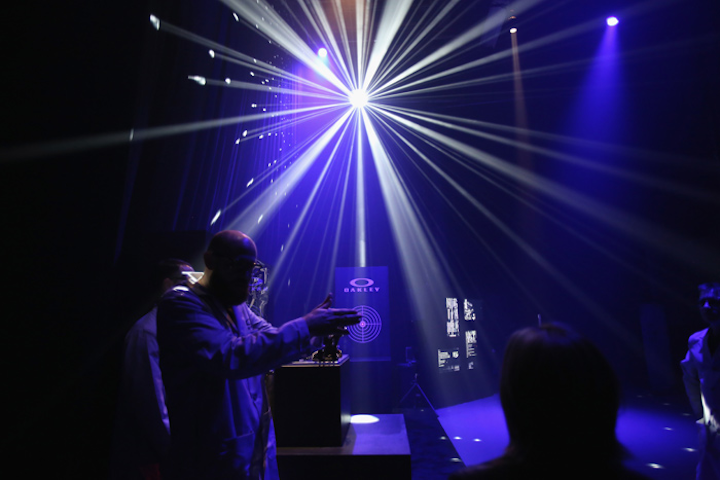 Photo: Jonathan Leibson/Getty Images for Oakley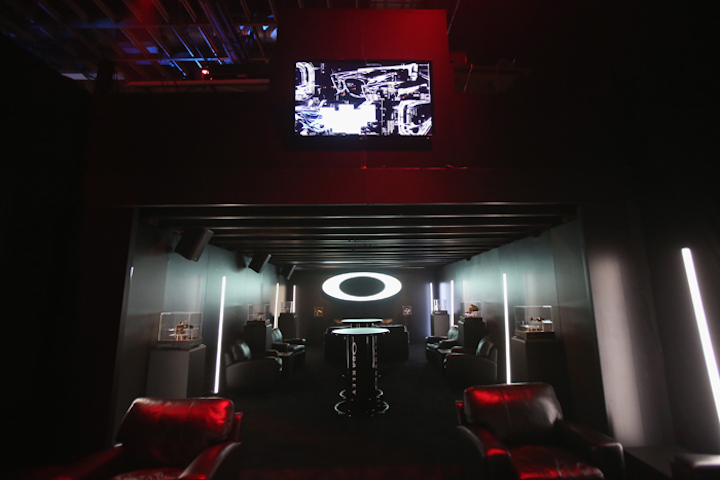 Photo: Jonathan Leibson/Getty Images for Oakley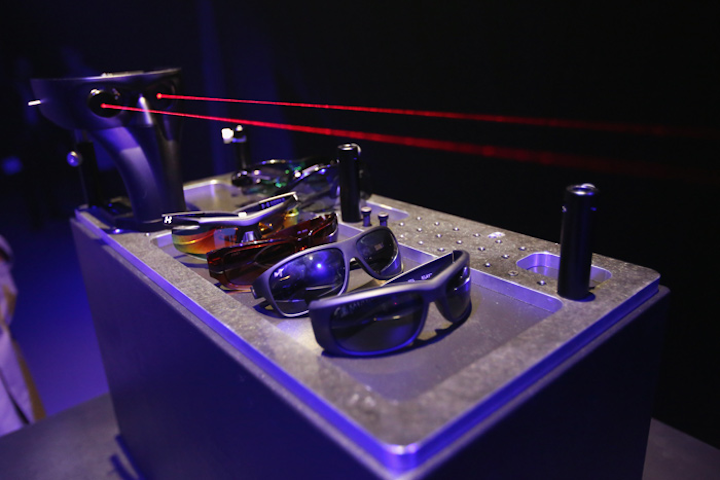 Photo: Jonathan Leibson/Getty Images for Oakley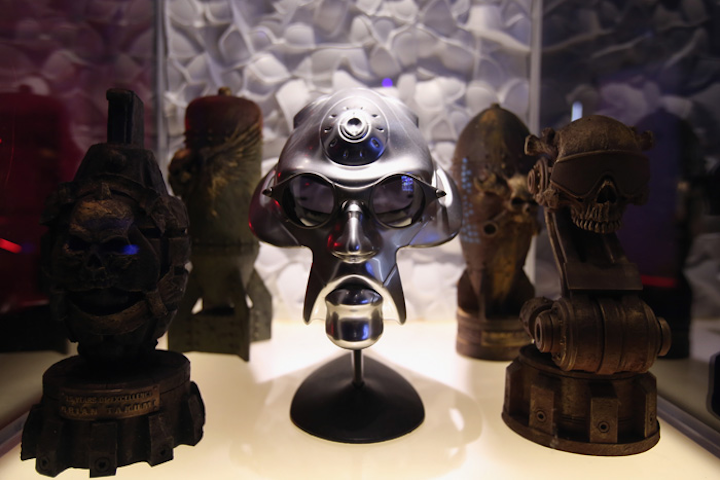 Photo: Jonathan Leibson/Getty Images for Oakley
Featured Venues/Suppliers: