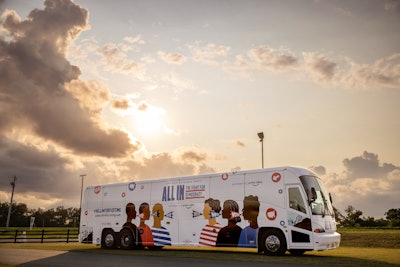 Typically studios roll out the red carpet for a movie premiere, but for its latest documentary, Amazon rolled out—across the country on a bus.
In September, Amazon Studios launched a national voter registration drive centered around the recent debut of its new documentary All In: The Fight For Democracy, which is currently streaming on Prime Video.
The film examines the issue of voter suppression in the U.S., with help from Stacey Abrams, the former minority leader of the Georgia House of Representatives and now head of Fair Fight, a voting rights organization aimed at dismantling voter suppression. So it makes sense that the studio would reach out directly to Americans, especially during this election season, in an effort to raise awareness and encourage voting.
As part of the bipartisan grassroots campaign called #ALLINFORVOTING, which is being executed in partnership with national public affairs and strategic communications firm The Raben Group, Amazon hosted premiere screenings for the general public in Statesboro, Atlanta, and Jesup, Ga., which are known as low-propensity regions—meaning areas where people aren't expected to vote.
In addition to the socially distant drive-in screenings in Georgia, Amazon also lifted the paywall on the film on Voter Registration Day (Sept. 22), making it free on its streaming platforms for 24 hours.
The marketing campaign also included a bus tour that crisscrossed the country, stopping in areas with high levels of voter restrictions and lower-than-average voter turnout, including Texas, Pennsylvania, Alabama, Tennessee, and Florida.
A fleet of five buses featuring illustrations by artist Andrea Pippins served as mobile spaces where citizens could register to vote, sign up to become a poll worker, check their current voter status, and participate in outdoor pop-up screenings of the documentary.
Plus, these efforts won't stop after the election. Amazon also partnered with BlueShift Education, which specializes in developing resources for media brands, on a new educational initiative called "Grow a Voter." It aims to reach students and teachers from grades six through 12 and educate them on the importance of civic engagement through lesson plans, tool kits, and after-school programs.
The initiative launched with a national student/teacher virtual screening and discussion with Abrams and former teachers during National Voter Education Week earlier this month. The program is set to continue into 2021.
See more from the #ALLINFORVOTING bus tour.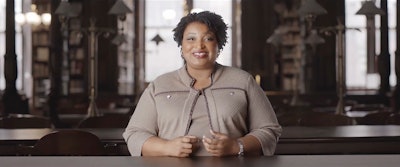 Photo: Courtesy of Amazon Studios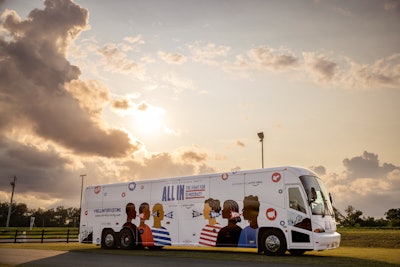 Photo: Courtesy of Amazon Studios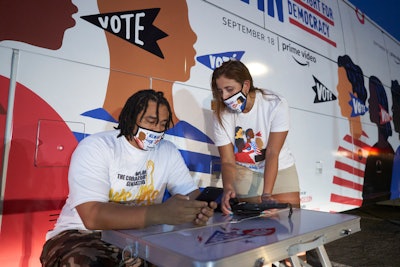 Photo: Courtesy of Amazon Studios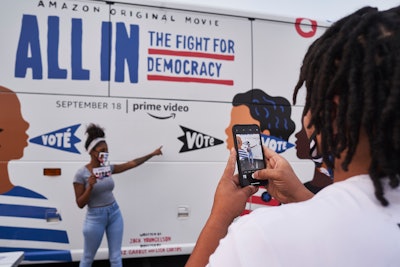 Photo: Courtesy of Amazon Studios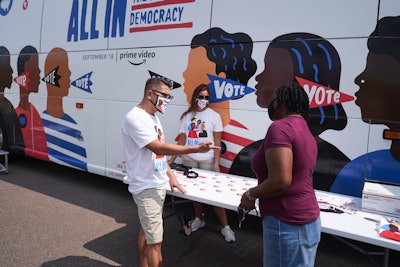 Photo: Courtesy of Amazon Studios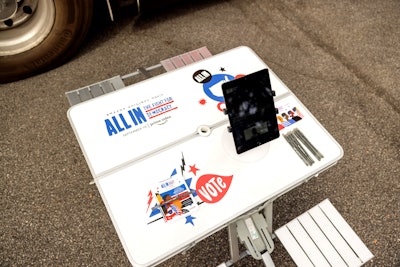 Photo: Courtesy of Amazon Studios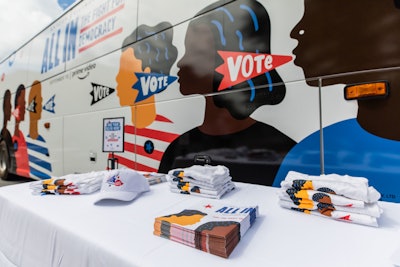 Photo: Courtesy of Amazon Studios