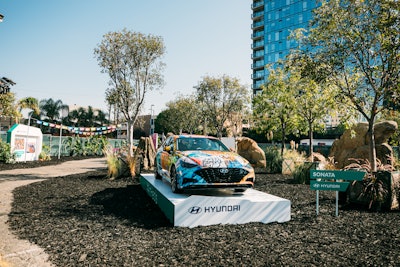 Photo: Scott Clark Photo for AKJOHNSTON
LOS ANGELES—Car-based experiences have exploded in popularity this fall—so no surprise that big brands are getting in on the action in increasingly unique ways.
One of the latest examples comes from Hyundai Motors, which hosted an immersive, drive-through art experience Oct. 1-4 in honor of Hispanic Heritage Month. Taking place in an outdoor area at the historic Hollywood Palladium in Los Angeles, the free consumer event was a partnership with Gabriela Urtiaga, the chief curator of the Museum of Latin American Art (MOLAA), as well as arts-focused nonprofit The Art of Elysium.
"DRIVEN: A Latinx Artist Celebration Presented by Hyundai" had two main goals: to celebrate Latinx artists and also to give back to the community in an authentic way, explained Jason Girone, vice president of Advantage, Hyundai's experiential agency of record. To pull it off, Advantage teamed up with AKJOHNSTON Group, which designed and produced the space, and Live Nation, which managed the venue, permitting, and staffing.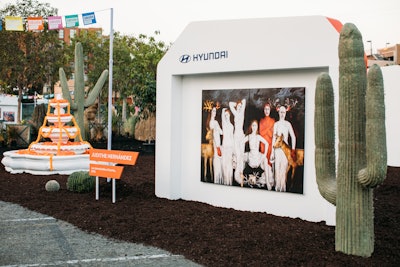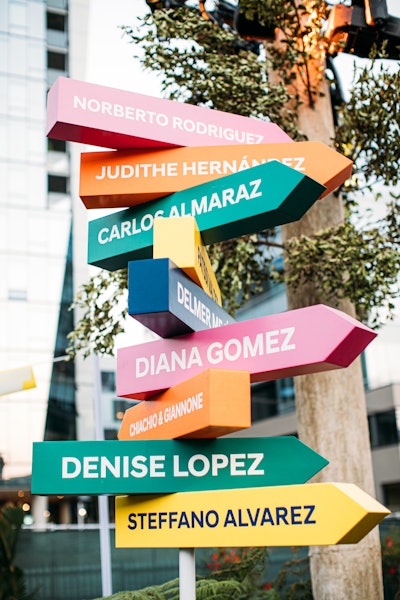 "Having developed activations on behalf of Hyundai for over eight years, DRIVEN is one of the most immersive and truly integrated experiences Advantage has created," said Girone. The idea, he added, was to provide a way for MOLAA to be "open" while museums are closed; curator Urtiaga selected pieces from the museum's permanent collection for the event, focusing on artists who emphasize diversity and inclusion in their work.
Guests, who remained inside their cars for the duration, kicked off the experience by driving through a custom-fabricated, LED wall tunnel before entering what Girone called an "art safari," which featured nine different installations inspired by Latin American landscapes. Hyundai cars such as the Palisade, Sonata, and Elantra were on display with custom wraps designed by the artists. And to enhance the immersive feel, car radios could be turned to a designated FM station to hear a curated playlist by KCRW's Raul Campos; the playlist celebrated Latin American bands who had previously performed at the Hollywood Palladium.
AKJOHNSTON Group CEO Austin Johnston sees this type of immersive, consumer-focused experience as the future of experiential marketing. "Hyundai took a traditional approach to experiential and presented something that was COVID-safe and culturally relevant to Angelenos," he said. "This, in my opinion, presents to brands a playbook on how to showcase with purpose while running safely."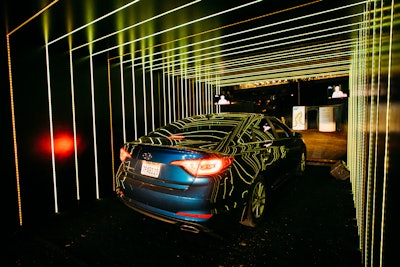 The team took a number of steps to keep guests safe, including ticket reservations, contactless check-in, and COVID-19 testing for the crew every day from load-in to load-out. While the testing is an added expense and logistical hassle (the team spent about $200 on testing for each staffer every day, and had to build in 45 minutes daily for results), Johnston thinks it's something planners should consider for large, crew-based activations. But even with negative tests, he noted, it's still important to have mandatory masks, physical distancing, and extensive cleaning protocols.
"As we all know, gathering safely is more important than gathering at this time, and clients will need to make hard choices and budget increases to meet the new demands," Johnston said, adding "Our AKJOHNSTON leads and producers are COVID-safety trained to be able to supervise, enforce, and maintain safe protocols while on site."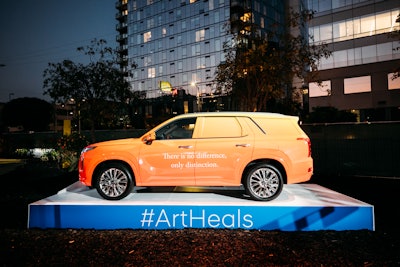 Beyond the COVID-related safety protocols, Johnston said the event's biggest logistical hurdle was in permitting and permissions to ensure a safe driving experience, too. "Having an experienced team that knows codes and standards for buildings and fire is so essential," he explained. "At nearly 2,000 feet, this was a pretty densely packed area and a long route; the city was impressed that we had created protocols for evacuation, medical emergencies, and safety throughout the experience, even though guests were completely unaware."
Despite the new challenges, Johnston thinks these types of experiences will continue growing in popularity. "I think drive-intos are cooler than we considered before," he said. "Venue space is everything so that will be the restricting factor, but other than that, guests enjoying a brand, film IP, or holiday from their vehicle is here to stay—if for no other reason, because it's weird and cool to create a theme park-style attraction that works and allows guests to safely interact and connect with experiences."