What You Need to Know About the New Trend in Conference Ticketing
Conference planners should consider dropping early-bird registration models and trying quantity-based ticketing.
December 7, 2016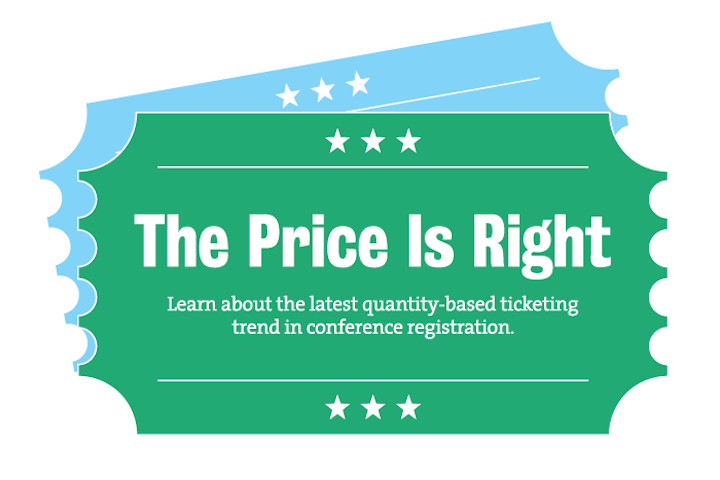 Illustration: Carolyn Bouchard for BizBash
Pricing for attendees may be one of the most complex elements of producing a conference or event. Planners have to determine things such as whether to offer more than one type of ticket, and if so, how they will differ. Then they must set the specific price of each ticket and decide whether it will increase as the date of the event draws closer. And if tickets are not selling as expected, should discounts be extended?
These decisions impact the event in multiple ways—not only in the obvious measure of how many people attend, but also in budgeting (are registrations coming in early enough to generate cash flow to pay deposits?) and marketing (can planners demonstrate a strong interest early enough to attract exhibitors and sponsors?)
The concept of early bird pricing is well-established in the industry. Traditionally, the lowest-priced ticket for an event is offered well in advance to entice people to sign up as soon as possible. Prices then increase in the months leading up to the event. But there is a modified version of early bird pricing that is gaining traction. Rather than setting a date when the price will change, this system is based on quantity. Once a set number of tickets is sold, the price increases.
Supply & Demand Model
Microsoft's general manager of worldwide events, Scott Schenker, sees many benefits to this strategy. "It creates even better supply and demand urgency than a time scale does ... because now you risk every day that the price will go away," he says. "And it allows us to manage the exposure much better. If we simply said it's 20 percent off until this date, we would have a much harder time predicting what that would mean to us in the way of reduced revenue than if we said the first 20 percent of tickets will be at this lower price. Boom! I've got 100 percent predictability."
The company tested the concept for its Ignite conference, which took place in September in Atlanta. In October 2015, Microsoft invited prospective attendees to lock in the lowest conference rate of $1,920 by providing their name, company, and email address. After a week, those reduced registration slots were all taken, and preregistration became available at the standard rate of $2,220.
In addition to offering more predictability, Schenker says reduced pricing based on capacity rather than a calendar date allows planners to eliminate the marketing frenzy of typical early bird schedules. "I'd get asked, 'It ends midnight Thursday in what time zone?' And 'If I'm in New York and I miss it, can my colleague in California sign me up?' This completely avoids that. I don't have to campaign around it. I don't have to adjudicate when it ends," he says. "I get the predictability, and I still give people a lower price to attend."
HubSpot used a form of this strategy for its Inbound marketing and sales event in November in Boston. The company offered a limited number of reduced registrations for the 2016 gathering at the 2015 event. Once those sold, there were incremental price increases that expired January 15 and July 15, when registration converted to the standard rate. Kim Darling, HubSpot's senior marketing manager and head of the Inbound team, says to spur registrations it's important to help prospective attendees understand exactly what they will get from the event experience.
"Put yourself in the shoes of someone who's a consumer of this type of product or package. ... If they buy something and then don't see the value for nine months, that's a hard connection to make," says Darling. "So we try to couple price changes with content releases—things like speaker announcements or what our agenda or topics will be or what those entertainment moments will be. So people understand what it is they are buying so you are constantly driving home what that value is."
Darling says her team also pays attention to attendee feedback about the event and uses it to create incentives."We had some challenges last year with people not getting into the sessions they exactly wanted. So what we put into the packages this year was if you bought by a certain date ... you got access to pre-register and build your agenda for sessions," she says.
Packages & Passes
HubSpot and Microsoft also use bundling to create registration options that will be attractive to specific segments of their audiences. HubSpot offered Inbound attendees three options: a "community pass," for those who wanted to hear keynotes and attend networking and entertainment events; the "all-access pass," which added admission to more than 250 breakout sessions, daily lunch, access to archived content, and more; and the "V.I.P. pass" that added first pick of breakout sessions, the ability to book a room at the closest hotel, faster check-in, reserved seating, exclusive networking sessions, and more.
For many of its events, Microsoft offers a limited number of "Plus Passes," which bundle various things such as access to a lounge and preferred seating in the keynote theater. Schenker says they have found one of the most popular things is access to a room at the nearest conference hotel.
"There were supply-limited elements of the event that we were treating as equal. The hotels adjacent to the venue we were treating, from an event-owner point of view, as if they were the same value to attendees as the hotels that were a 20-minute bus ride away," he says.
The first time they offered access to the closest hotel, at a cost of $500 per person—which did not include the room rate—Schenker says all 100 passes sold within two hours, raising $50,000 for the event. "This hotel comes with a premium because it comes with a value by proximity that in the past we as an event organizer never would have monetized," he says. "Supply and demand says those things with lower supply and higher demand should have a premium attached to them."