This Week in Los Angeles: a Succulent Arrangement Bar, 'The Bachelor's Rose-Filled Promotion, California Bans Foie Gras
West Coast bureau chief Claire Hoffman recaps the week's biggest event news.
January 11, 2019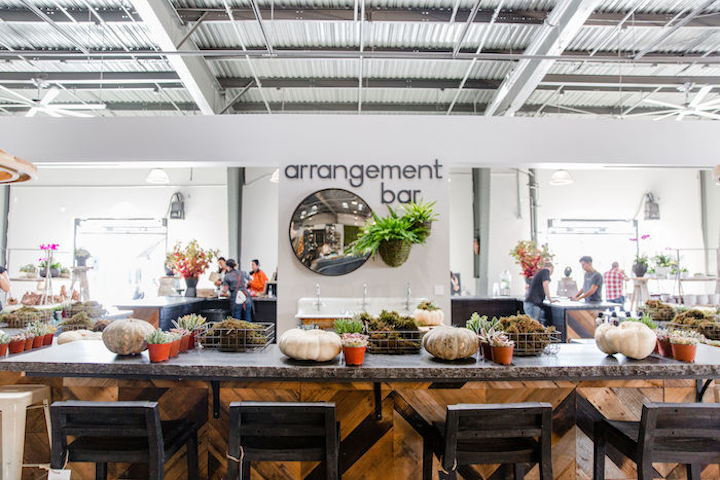 Photo: Courtesy of Rolling Greens
Welcome to BizBash's new Los Angeles-based column, where West Coast bureau chief Claire Hoffman recaps the week's biggest local news. Got a tip? Get in touch!
Moves & Milestones
Banc of California Stadium Entertainment has named Jill Przelenski its new vice president of special event sales, where she'll be responsible for booking, marketing, selling, and operating all special events at the Banc of California Stadium and its surrounding grounds.
Jennie Hoffman is the new director of sales and marketing for the Montage Beverly Hills. She has previously worked for Pyramid Hotel Group, Starwood Hotels & Resorts, and Marriott International.
In February, Taylor Creative Inc. will begin renting its new Savile collection in Los Angeles. The elegant all-white collection features a sofa, bench, and lounge chair.
In Case You Missed It
We peeked inside 12 of the Golden Globes' biggest parties, sharing details and vendor information on the glamorous event design, florals, catering, and more. 
In the News
For the first time in nearly three decades, the Oscars will have no host. Variety: "Producers will select a crop of A-listers to introduce various segments instead of relying on one marquee name... The producers and the Academy of Motion Picture Arts and Sciences, the group behind the Oscars, are scrambling to line up top talent needed to carry the telecast, which is just six weeks from airing live." https://bit.ly/2FjFM0B
Foie gras has officially been banned in California. Los Angeles Times: "The U.S. Supreme Court on Monday rejected the foie gras industry's latest challenge to California's ban against the French delicacy made from the fattened livers of force-fed ducks and geese, leaving intact a ruling issued by a Pasadena-based appeals panel. ... According to the law, a restaurant caught serving the gourmet item in California could be fined up to $1,000." https://lat.ms/2VHIp1J
A tribute to legendary comics creator Stan Lee will take place on January 30 at the TCL Chinese Theatre. The Hollywood Reporter: "Filmmaker and comics fan Kevin Smith, fan-driven investment company Legion M, brand company Agents of Mayhem, and Stan Lee's POW! Entertainment are behind the event, which will act as a benefit to The Hero Initiative, the nonprofit that helps aged comic creators in need." https://bit.ly/2FiViuw
Surprise Event Metric of the Week
90 minutes—the estimated amount of time this reporter waited in line for the after-parties for the Golden Globes. For security reasons, celebrities, executives, and members of the press who do not attend the ceremony itself gather in a nearby parking garage before being shuttled to the Beverly Hilton, drawing some attendees to openly wonder why there wasn't a bar set up. ("I don't do shuttles. Once you're in [the parties], it's great, but there has to be a better way," said stylist Rachel Zoe to Variety.)
Venue Buzz
Nightshade, chef Mei Lin's flagship restaurant, opened last week. Located in the Arts District downtown, the airy, industrial space has white-washed brick walls, marble details, emerald-green banquettes, and hanging greenery. The semi-exposed kitchen is located behind a 10-seat bar counter; overall, the Chinese eatery seats 60.
Overheard
"I love spaces like WeWork because when you go in there and you look around the glass, the person you might be looking to hire might be in there right now. I can go to all these cities around the world and I need a space that is very familiar; I know the type of people that are going to work there based on what the brand is. ... It's important to work within the community and bounce ideas off each other creatively."
—Jaden Smith, discussing why he's a fan of co-working spaces during the WeWork Global Summit on Wednesday. Held at the Microsoft Theater, the event included panel discussions with creators from various industries, including Issa Rae, Adam Rippon, and Lilly Singh.
On the Scene
We checked out ABC's fan-focused promotion for The Bachelor at the Grove last weekend. The activation allowed fans to pose in front of a lush wall of red roses; staffers were also on hand to give roses to passersby. 
What's Next 
One highlight of this weekend is the "Malibu Love Sesh" benefit concert, raising money for wildfire victims. Taking place at the Hollywood Palladium on Sunday, the event will include performances from the Red Hot Chili Peppers, Beck, and St. Vincent.
Also this weekend is the Los Angeles Boat Show, one of BizBash's Top 100 events, at the Fairplex in Pomona. And Bride World's Los Angeles Bridal Show takes place on Saturday and Sunday at the Los Angeles Convention Center, drawing 150 vendors.
And don't forget: DineL.A. kicks off today and runs through January 25. The 15-day dining event will offer specially priced lunch and dinner menus at more than 400 local restaurants.
Featured Venues/Suppliers: