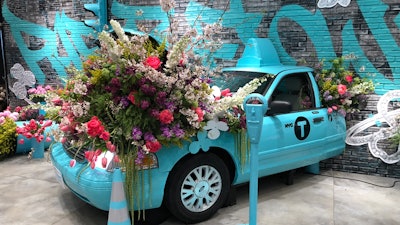 Photo: Courtesy of Levy NYC Design & Production
Earlier this month, we brought you some best practices for event professionals on Instagram. For the rest of the summer, we'll be focusing on accounts that do it right—sharing high-quality images, offering tons of creative inspiration, and amassing large followings on the photo-sharing platform.
We've previously shared lists of some top event pros, designers, and wedding planners to follow. Now, we're shifting to flowers.
Below is a (highly subjective) list of floral designers who inspire us with their Instagram feeds. Whether you're looking for a florist to hire for your next event, or want to keep up with the latest trends, or simply want to admire beautiful things, these accounts are chock-full of inspiration. Take a look at our picks—and follow @BizBash to let us know who we missed.
Jeff Leatham is the artistic director of the Four Seasons Hotel George V in Paris and the Four Seasons Los Angeles at Beverly Hills. Other clients include the Kardashian family, Oprah Winfrey, and former President Bill Clinton.
Putnam & Putnam is a New York-based floral designer with past clients including Gwyneth Paltrow, Bergdorf Goodman, and Vogue. The owners' first book, Flower Color Guide, came out in 2018.
Based in Sherman Oaks, California, Mark's Garden has handled floral design for the Oscars Governors Ball for the past 22 years. The company's work has also appeared at the Golden Globe Awards and several high-profile celebrity weddings.
Ellen Robin, owner of art collective FlowerCult in New York, creates large-scale floral art installations and custom art fabrication for events and sets.
Floral and event designer Eddie Zaratsian is the creative director of Tic-Tock Couture Florals in Los Angeles, and has offered creative consulting for brands including Neiman Marcus, Chanel, and Restoration Hardware.
B Floral in New York handles flowers and event design for corporate clients including Almay, Netflix, Bumble, and Lyft.
Amaryllis Inc. provides luxury custom floral and event design in Washington, D.C., and throughout the East Coast.
New York-based floral and event designer Lewis Miller is known for creating blooming works of public art in unexpected locations, such as empty trash cans and bus stops.
Winston Flowers works on private events, fund-raisers, corporate events, and weddings in Boston, New York, and Greenwich, Connecticut.
Steelcut Flower Co. works on events throughout Maryland, Washington, D.C., and Virginia.
Floral Crush, a design studio based in Los Angeles, has worked with clients including Entertainment Weekly, CBS, and Kate Hudson.
Texas-based Bows & Arrows Flowers provided floral design for Kacey Musgraves's wedding.
Ovando designs florals for events throughout New York and Miami. Its clients have included HBO and Jessica Simpson.
Celio's Design specializes in couture floral and event decor throughout Southern California.
Based in Bozeman, Montana, Julio Freitas of the Flower Hat is an event designer and farmer who teaches classes on floral design, client management, and social media marketing.
Inessa Nichols is a floral and event designer who works throughout California, Oregon, and Washington.
Vancouver-based Celsia Floral provides full-service floral design for corporate events, weddings, and venues.
Floral Art in Los Angeles works on weddings, events, and art installations around the world, and also teaches design classes.
Bloom Couture Floral Studio in Boston offers floral design for weddings and events, as well as design workshops for groups.
Based in Salem, Oregon, Katie Davis of Ponderosa & Thyme leads workshops and creative retreats in addition to offering wedding and event design throughout the country.
San Francisco-based Lambert Floral Studio handles floral design for weddings and events throughout the country.
Tin Can Studios, based in Brooklyn, New York, offers full-service floral design for clients including Facebook, Prada, and Viacom; all arrangements are crafted in recycled and reused vessels.
DeLight Floral & Design in Toronto provides flowers for weddings and events, and also offers floral design workshops.
Based in San Antonio, Statue of Design offers floral design for events throughout Texas, and also offers destination wedding services.
Kiana Underwood of New York-based Tulipina offers floral design for events around the world. She's the author of Color Me Floral: Stunning Monochromatic Arrangements for Every Season.
Angel Salazar Design does full-scale floral design for clients such as CNN, Facebook, and Valentino. The company works in New York, Los Angeles, and Hawaii.