This Toddler's Birthday Party Had a Gucci Claw Machine
For their son's first birthday, philanthropists Christine and Gabriel Chiu hosted an over-the-top, carnival-inspired bash at a new venue in Santa Monica.
July 11, 2019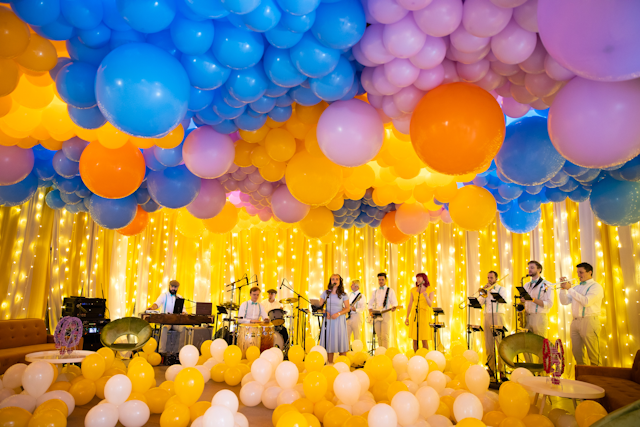 Hundreds of balloons filled the space, highlighting a performance by Dallas & Doll.Photo: Dina DouglassLOS ANGELES—Christine Chiu appreciates a good party. Together with her husband, plastic surgeon Dr. Gabriel Chiu, the philanthropist and socialite has organized everything from a lavish Chinese New Year party to an Armani-hosted baby shower.
So it's perhaps no surprise that planning for her son Gabriel's first birthday party started as soon as he was born. "First birthdays are exciting in all cultures, and particularly important for the Chinese," she explained. 
While the original plan was to take over the Santa Monica Pier, complete with a Dolce & Gabbana fashion show, the Chius changed their minds because of recent tensions between the fashion house and China over a controversial ad. Instead, they set their sights on the new Cayton Children's Museum, which opened on June 30 in Santa Monica. The party was held the day before the museum opened. 
"As a firm believer in the positive impact early childhood education has on not only the emotional and psychological development of children but also the social, economic, and cultural growth in communities, I was immediately intrigued [by the museum]," said Chiu. "Not only have my philanthropic interests focused on the educational wellness of children, but now that I am finally a mom myself this was a fitting opportunity to get intimately involved."
She and Dr. Chiu quickly decided that the money originally planned for the pier party would be better spent sponsoring an entire exhibit wing at the museum in honor of Gabriel's birthday; the couple donated one million dollars total. "We desired for baby Gabriel's birthday to not only be fun, but also to be an opportunity to learn and grow," she said. "Dr. Chiu and I felt that this was our chance to teach [him] the importance of sharing, giving back, and inclusivity."
The family faced a big logistical hurdle, though: The location was switched to the museum just 10 days before the event itself. Chiu worked with Aliana Events to pull off the feat. Event producers had six hours the day prior to fill the space with hundreds of balloons and to start placing the custom builds—but since the museum had a small private event the morning of the party, no customization was allowed until an hour beforehand. While certain aspects—such as a custom roller coaster—did not make it in time, the rest of the event went off without a hitch.
Decor was inspired by the Santa Monica Pier, with carnival games, an arcade, virtual-reality stations, and puppets from the famous Bob Baker Marionette Theater. Jugglers, stilt walkers, and caricature artists entertained the guests, who could also design their own boogie boards, T-shirts, and other beachwear. Elevated pier-inspired food was served, such as caviar-topped tater tots and kobe beef sliders. A cake from Sweet Novelette took the shape of a roller coaster. 
And, of course, there was that custom Gucci claw machine, which Chiu had the idea for three days before the event. Gucci did not sponsor the machine—Chiu paid for the items herself as gifts for the party attendees. Inside were Gucci kids and baby shoes, backpacks, fanny packs, and other accessories. "[It] was my guilty pleasure of the day," said Chiu. "Against traditional claw machine odds, most guests won Gucci prizes!"
In lieu of gifts, the Chius asked for donations that would help fund free access to the museum for children in underserved communities. Attendees included Real Housewives of Beverly Hills star Teddi Mellencamp, celebrity makeup artist Joyce Bonelli, and heiress Alexa Dell. 
Scroll down to see inside the over-the-top birthday bash.
VENDORS
Balloons: Belle Âme Balloons
Cake: Sweet Novelette
Event Management, Design, Production: Aliana Events
Floral Design: Butterfly Floral Design
Liquor: Drake's Organics
Venue: Cayton Children's Museum
VR: Vertigo Attractions & Parties