7 Things to Know About Events on Boats
From choosing the right vessel to getting guests on board on time, here are insider tips to remember when planning an event on the water.
August 18, 2015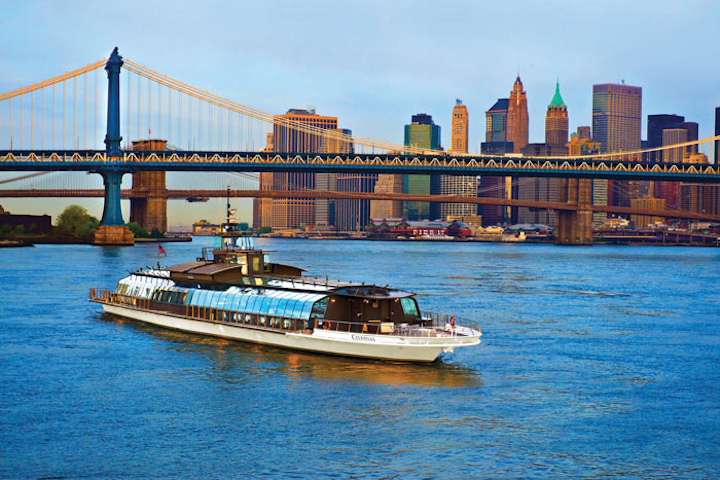 Photo: Courtesy of Entertainment Cruises New York Metro
Summer may be waning, but there's still plenty of time to plan an event on a boat. In northern or Midwestern climates, fall may be one of the best times to sail because of the temperate climate and views of changing leaves. In boat-friendly South Florida, planners can hold events at sea year-round.
Before booking a boat, consider these tips from pros including Florida-based Paragon Events president and managing director Renee Radabaugh and director of association management and operations manager Francesca Radabaugh; Luis Alvarado, corporate and travel industry sales team market manager of Entertainment Cruises New York Metro; and Nancy Shaffer, founder and C.E.O. of Washington-based Bravo Events by Design.
1. Group size matters.
If you're booking a boat for a private cruise, make sure to match the size of the group to the right boat. "Each of the boats are unique, and we have vessels that are perfect for a group of 50, a group of 200, or a group of 500," Alvarado says. "It is imperative to match the right vessel with the right number of persons and the style of the vessel." Having a firm handle on the guest count as early as possible is essential. "Yachts and boats are not the best venue for groups that have the potential to fluctuate in size," the Paragon team says. "There are no options for extra space on a yacht like in a traditional venue that you can get an extra ballroom or use a prefunction area for overflow."
2. Know your attendees.
Consider the special needs of guests before committing to a boat. Paragon checks with clients to see if the guest list includes young children, attendees who may be on call and have to leave, like physicians, or guests who have mobility challenges that might make navigating narrow corridors, stairs, or doors with raised thresholds difficult. If so, then a boat might not be the best venue.
3. Get a complete cost estimate.
When evaluating venues in the planning process, make sure to factor in all costs. "What are the additional costs like fuel, docking fees, and service charges that might not be readily visible when considering costing?" suggests the Paragon team. Alvarado adds that entertainers may have additional fees: "On a land-based facility an entertainer may arrive at a specific [time] and leave after the performance. On a boat they are usually there for the duration."
4. The guest arrival period is crucial.
"You must be very careful with your timing and leave yourself some wiggle room before your sail time for stragglers," the Radabaughs say. "You don't want to have anyone literally miss the boat. Also, make sure you still have enough parking for your guests. Some locations that the yacht is departing from may not have enough parking for your attendees, so make sure you provide shuttle service or enough parking from the departure location."
5. Choose vendors with experience on boats.
"Boats usually have a very tight turn for load in and decor, and you must make sure you have vendors with this type of experience," says the Paragon team. "Be sure you can set your client's expectations for what you can deliver regarding food and beverage and decor or entertainment. It is not necessarily a good idea to try to put an eight-piece band on a boat; the metal hull can overexaggerate the drums, and they take up a lot of space."

Check with the boat operator for any catering restrictions. "Many of the larger boats require that you use their on-boat catering and bar service. This limits or makes far more difficult the ability to be creative with your budget or secure sponsored liquors or other food/beverage opportunities," Shaffer says. "Most of the smaller private boats do provide more flexibility related to catering and overall event style and guest experience. This enables you to brand the event for the specific client."
6. Remember boat-specific amenities.
"It's all about the little touches, just like with any other event," the Radabaughs say. "Have branded pillows and throw blankets in case people get cold outdoors while the yacht is under way." They also advise toning down the decor: "Don't over-set the room: allow for more space for guests and try to set tables for more dining area. Go for tabletops [without] large oversize centerpieces to allow for table space. Allow for interior space to be comfortable in case there is inclement weather outdoors." To ease any fears over seasickness, Alvarado suggests offering ginger candy to guests before sailing. But he adds that it's rarely a problem. "In most harbor cruises this is not really an issue because the guest will always see land," he says. "The boat is sailing but it is never out in high seas."

7. Extend the event for maximum flexibility. 
If guests need extra flexibility, consider combining time on the water with dockside event time. "The beauty of a boat event is you can always extend your dockside pre- or post-receptions, enabling those who can't stay for the full time to still participate for a part of the event," Shaffer says.
Featured Venues/Suppliers: