Beer Gardens: the Newest Venue Option for Summer Events
Why the beer garden is growing in popularity.
March 4, 2013
One of the most noticeable recent trends in nightlife has been the transition from small and chic (wine bars, speakeasies, and cocktail joints) to raucous and oversize—specifically, massive German-style biergartens and beer halls, which have opened in nearly every large U.S. market. As this development spreads from coast to coast, the newest beer gardens are designed with more than just happy hours and birthday parties in mind. Instead, many combine a fun, casual aesthetic with high-tech settings that are well-equipped for corporate meetings and events.
When the city of Philadelphia and private developers set out to design Xfinity Live, a massive indoor-outdoor dining and entertainment district wedged between the city's football and baseball stadiums, they formed a collaboration with local Victory Brewing Company. Victory Beer Hall, a large, beer-centric venue that opened at the new complex in March 2012, has all of the usual beer garden trappings: picnic-table-style seating under a high, lofted ceiling indoors and outdoor seating on a 2,000-square-foot patio. However, it also has a full stage equipped with a drop-down screen, projector, and state-of-the-art sound system. The setup is designed for groups to host casual meetings or events inside and then proceed outdoors for a gathering around the fire pit, where the space offers city skyline views. The beer hall has hosted events such as corporate meetings and product launches.
"A lot of groups are looking for flexible spaces that have room to host meetings or presentations but also offer a little something more," says Rob Johnson, vice president of marketing at Xfinity Live, who handles bookings for Victory Beer Hall. "People really like the communal-table seating—it allows for a lot of easy mixing at an event that can have the tech and presentation elements, but not feel formal and stuffy."
A similar concept is at work in Studio Square, a 30,000-square-foot German beer garden and event space that opened in 2009 in Queens, New York. The sprawling venue is anchored by an expansive cobblestone courtyard and two covered, open-air indoor areas, and it features seating at handcrafted communal tables, food counters serving sausages and burgers, and outdoor taps pouring 23 beer selections. Its multimedia capabilities include high-speed Internet, HD projectors, and flat-panel display screens. An integrated sound system and wireless microphone setup are available; various indoor-outdoor arrangements can accommodate meetings or events with between 50 and several thousand people.
Other venues blurring the line between boot-swilling and brainstorming include Der Biergarten, which opened in Atlanta in September. The 7,000-square-foot indoor-outdoor venue includes a landscaped, 175-person terrace, where a flat-screen television can display corporate branding during events or hook up to a Wii console. In downtown Los Angeles, groups can host pretzel- and pilsner-fueled gatherings in the rooftop Biergarten at the Standard Hotel while watching films on the large projector screen or proceeding to the DJ-equipped dance floor. And New York's the Standard hotel has its own version, with open-air seating in the summer that becomes glass-enclosed in the winter.
A little further south in the San Diego area, award-winning craft brewers Stone Brewing Company are at work on dual projects that will take the beer-meets-business trend to the next level. Set to open in April, the 22,000-square-foot Stone World Bistro & Gardens–Liberty Station will encompass a brewery-restaurant with 40 rotating tap handles and several private dining areas, plus a landscaped garden area and an outdoor theater event space.
And, for groups that want everything to revolve around beer, the upcoming Stone Hotel, scheduled to open next year in Escondido, California, will be a 40- to 50-room property where beer is barrel-aged on site, then served at both indoor meeting rooms and outdoor garden event spaces.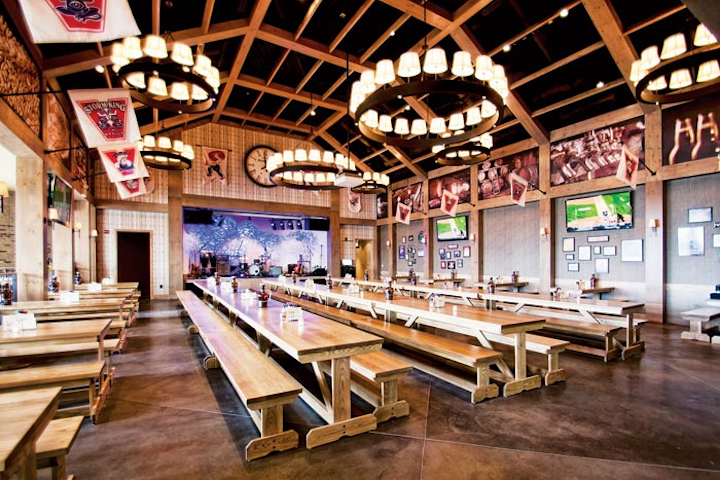 Photo: Courtesy of Xfinity Live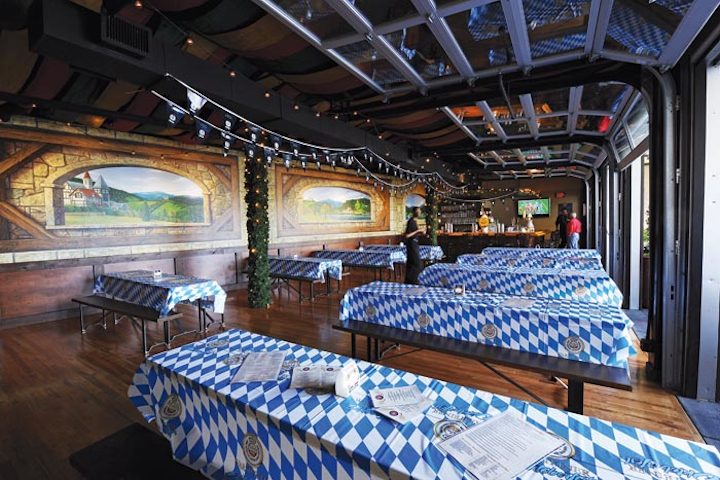 Photo: PWP Studio
Photo: Courtesy of Stone Brewing Co.
Featured Venues/Suppliers: