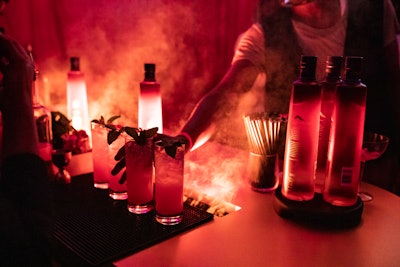 Photo: Tory Stolper
No matter the event, there's no denying the draw of a bar. It's a designated space not only for attendees to wet their whistles, but also for planners to deck out in additional branding, to sponsor with beverage partners, or to create an eye-catching photo moment. In the past, we've seen American Express, Bumble, and Target (see more here) create standout bars as an extension of an event's aesthetic—but what about when the event is actually for a product that occupies bar shelves?
Take it from recent events for PATRÓN, CÎROC, and 818 Tequila: When hosting a spirit-centered soiree, the key is to get attendees to taste the product. Or, as a James Valdes, the senior brand manager at CÎROC, put it, to "ensure consumers have that liquid-to-lips experience."
Keep reading to see inside the three summertime happenings, plus how each event built brand awareness through steal-worthy event inspiration and by tickling attendees' taste buds.
---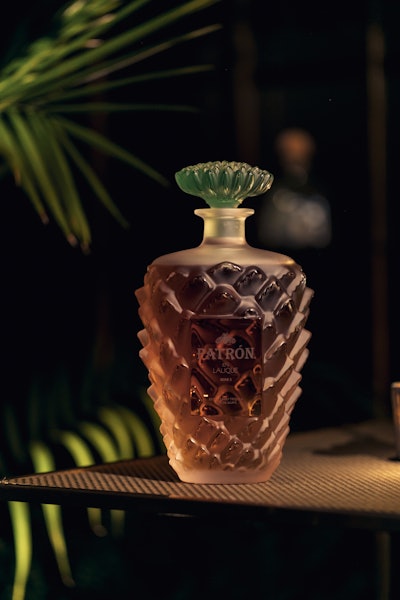 On July 12 and 13, PATRÓN introduced its limited-edition tequila, PATRÓN en LALIQUE: Serie 3, at LAVAN 541, located on gallery row in the heart of Manhattan's Chelsea neighborhood. The invite-only launch event welcomed more than 200 members of the press, influencers, industry VIPs, and partners to get immersed in an hour-long, educational experience.
"After checking in and receiving the 'Golden Ticket' for the exclusive tasting, guests were able to enjoy a signature cocktail and mingle in the lounge with PATRÓN master distiller David Rodriguez," Stephanie Rufo, the public relations manager for PATRÓN Tequila, explained of the guest experience.
During the cocktail-hour-style period of the night, a bar served up tantalizing specialty cocktails—including the Oldest Fashioned, made with extra añejo, vanilla syrup, and chocolate bitters as well as the La Ultima Cita, with butter fat-washed PATRÓN Silver, Amontillado Sherry, condensed milk, lime juice, and passion fruit—while white-gloved waiters passed hors d'oeuvres courtesy of Mary Giuliani Catering & Events.
"A menu was selected that would naturally pair well with the PATRÓN core expressions and cocktails served throughout the evening," Rufo said, adding that bites included chicken tinga tostadas, paprika grilled shrimp, mini potato donuts, back truffle honey grilled cheese, churro puffs, and more.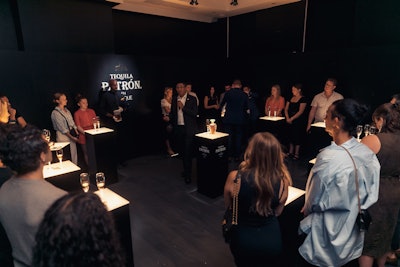 Beyond the bar area, "guests were directed to an immersive sound and video room where they experienced a creative projection video that interpreted how this partnership [between PATRÓN and LALIQUE] came to be," she added. In this space, attendees learned about the ultra-exclusive offering, blended 14 different types of extra añejo tequila, each of which was aged for eight years in French and American oak casks and then combined.
And the bottle, designed by French glassmaker LALIQUE, is a crystal decanter Rufo described as "an artistic interpretation of the agave plant [that] falls in line with the timeless theme of nature." Only 299 bottles were released for sale worldwide (they retail for $7,500 each), so "it was crucial that guests were then able to taste the rare tequila for themselves, witnessing the handcrafted passion and care that went into its creation," Rufo said.
---
And on July 21, CÎROC took over the grandiose Harlem Parish in New York to celebrate CÎROC Passion, Sean "Diddy" Combs' newest signature flavor with the British-based vodka brand (the rapper has 15 others). Set in a venue originally built in 1897, Valdes said "the historic space is a quintessential gathering space in the community [and] is a place to come together to tell stories," which is exactly what the event did.
The evening was fittingly dubbed "Château CÎROC," a nod to Diddy's upbringing in Harlem, and welcomed 314 invited guests—including multicultural tastemakers, Diageo executives, celebrities, and NYC-based editors from top-tier publications such as GQ, Vogue, USA Today, and more. A hero bar anchored the space and boasted a larger-than-life projection of the CÎROC Passion bottle's silhouette, plus red and purple under-lighting reminiscent of the packaging.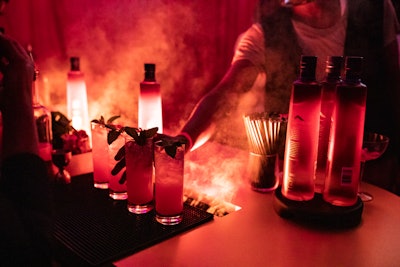 Beyond the branded space, sensorial stations invited attendees to experience passion through touch, sight, sound, and scent. "The first space—touch—opened to billowing silky fabrics selected in partnership with fashion designer LaQuan Smith," Valdes explained. And "as guests felt the cool air and fabric on their skin and hands, it parted to reveal a bar [seemingly] on fire." Eventgoers could then reach through the vapor to grab an ice-cold cocktail specially curated with enhanced textures.
Naturally, as Valdes noted, the sight-centered space "was a feast for the eyes in every way." Here, Château CÎROC's art and illustration partner Karabo Poppy supplied artwork to color the space, and, with "reflecting orbs in the space, cast light in every direction." Guests had to walk through the artistic installation to get to a cocktail "that mimicked the room," which was named CÎROC Live Passionately and dedicated to Poppy.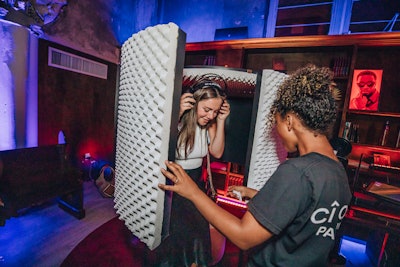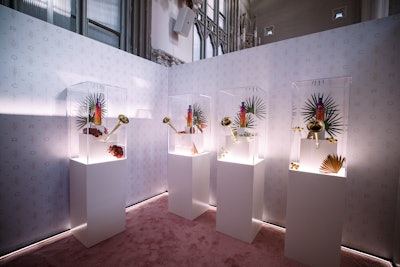 The third space surprised and delighted with sound, and was dedicated to CÎROC's sound partner Bryson Tiller, who was featured on "Gotta Move On," an R&B song Diddy debuted at the Billboard Music Awards on May 15. Here, guests made their way up a staircase and into the listening lounge where pods with seating and sound-deadening chambers enveloped participants in the new single. And as they listened, the sound-inspired CÎROC Passion Sparkler was served to accompany the tune.
Not to be forgotten: the scent lounge, where pillars representing scented ingredients allowed guests to experience the different tasting notes of CÎROC Passion through a new medium. Harlem-based MUSE (Modern Urban Sensory Experiences) was also tapped to create a custom fragrance for the event, which Valdes said was "tailored to the four flavors of CÎROC Passion." The fruity flavor portfolio—which is supercharged with tropical notes of pineapple, citrus, mango, and hibiscus—was also apparent in the food, which was helmed by chef Richard Ingraham. Menu highlights included tropical fruit and lobster salad with black pepper, tuna tartare cones with mango salad, and banana pudding cheesecake with coconut sauce.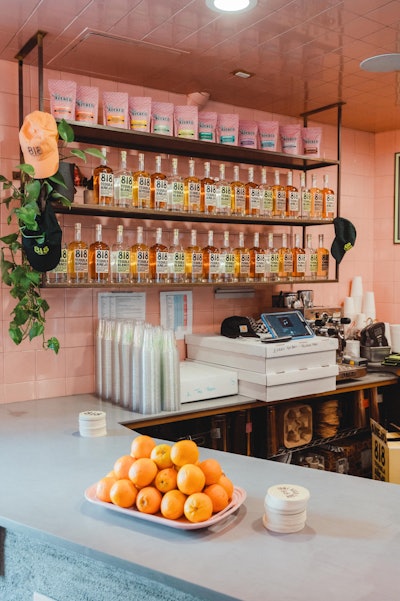 ---
Meanwhile, across the country at Alfred Tea Room in LA's West Hollywood, 818 Tequila was celebrating National Tequila Day. From 12-6 p.m. on July 23, nearly 1,000 guests attended the pop-up event, which capitalized on the cult-like following of Alfred's teas and coffees.
An 818 spokesperson told BizBash that the collaboration was all about "finding opportunities to give people a chance to try 818 Tequila in new and unexpected ways."
A plus—both brands were founded on the Gold Coast. Cue the pop-up, which boasted Instagram-worthy photo moments, including a display that replaced the venue's usual coffee-lined shelving with a pattern of 818's añejo, blanco, and reposado bottles. And decals outside the pink-painted venue leaned into Alfred's California-inspired aesthetic and featured puns like "tea-quila" alongside fun sayings and the brands' logos.
The event was free, which allowed as many guests as possible to sip on the refreshing cocktails. The spokesperson said when doors opened at noon, "a long line [had already] formed [and] wrapped around the block." On the menu? The blanco- and Arnold Palmer-infused Tea-quila Peach Palmer; the Carajillo, a riff on a classic Mexican-Spanish drink with añejo, cold brew coffee, and citrus-infused vanilla syrup; and the Sip of Summer, a blend of reposado, guava, hibiscus, and lime topped with seltzer.
As a bonus, 818 Tequila incentivized attendees by treating "guests who arrived early to a variety of 818 merch, including the highly sought-after tote bags and dad hats."