Podcast: 10 New Rules for Event Success (Episode 124)
Caspian Agency's Heather Mason breaks down the "Caspian 10 Essentials," her methodology for producing effective events and conferences.
November 27, 2018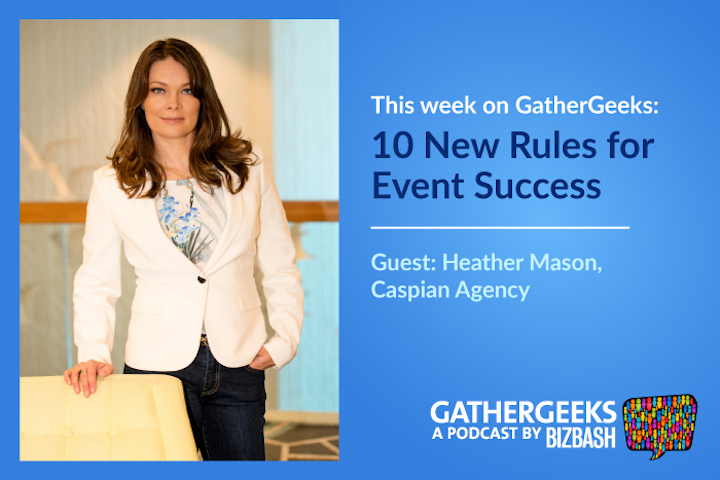 Photo: Courtesy of Heather Mason
Hosts: David Adler, Beth Kormanik
Guest: Heather Mason
In this episode of GatherGeeks, David Adler, C.E.O. of BizBash, and Beth Kormanik, editor in chief of BizBash, hear from Heather Mason, C.E.O. of event strategy and production company
Caspian Agency
. Mason takes us through what she calls the "Caspian 10 Essentials," a mix of overall strategies and nitty-gritty details for producing effective events. She shares why she puts budget last, her metrics for measuring success, why audience mix is so important, and more.
Sponsored by Go West and Hilton Meetings & Events.
Running time 48:56.
Roundtable Discussion: why "event producer" is a better term than "event planner"; is event format is a bigger draw than speaker lineup?; how to create a robust registration system; what is an effective external communications plan?
Further Reading
Coming Soon to GatherGeeks
Alive and Well Co.'s Natasha Ellis, the Idea Hunter's Janice Cardinale, CSM LeadDog's Dan Mannix
This Episode Is Sponsored By...
Go West
Go West is the must-attend event in Canada for event professionals. Produced in partnership with BizBash, this is an industry event you do not want to miss. Relevant education, experiential moments, and most importantly the opportunity to meet industry influencers and engage with like-minded event professionals. Find more information at gowestevent.ca.
 
Hilton Meetings & Events
Planning an event and wondering how you can give your attendees the best experience possible? Take advantage of customized meetings with Hilton that make it easier than ever to incorporate health, wellness, entertainment, and waste reduction. From Yoga & Yogurt morning starts to Puppies & Ice Cream afternoon breaks, Hilton will help you build an extraordinary meeting that attendees will remember. To book your next meeting or event, go to meetings.hilton.com.