Podcast: How Face-to-Face Events Can Change the World (Episode 128)
Richard Attias, a leader in the world of high-profile global conferences, discusses how live gatherings can build bridges between cultures and world leaders.
January 8, 2019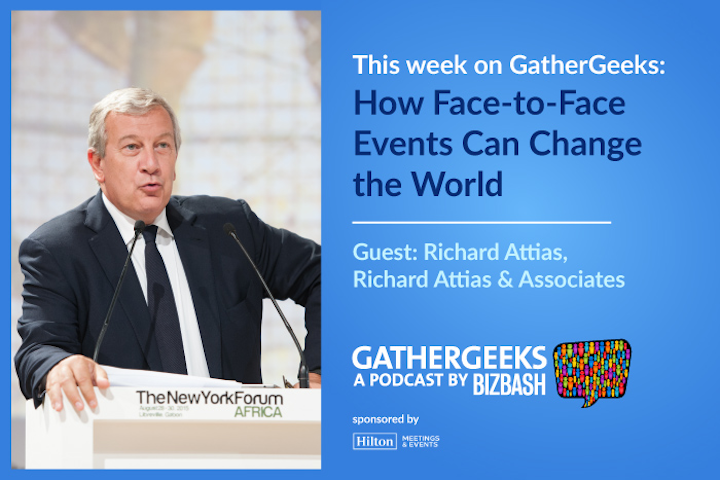 Photo: Courtesy of Richard Attias & Associates
Hosts: David Adler, Beth Kormanik
Guest: Richard Attias
In this episode of GatherGeeks, David Adler, C.E.O. of BizBash, and Beth Kormanik, editor in chief of BizBash, hear from Richard Attias, the head of communications firm Richard Attias & Associates and a producer of such high-profile events as the New York Forum, the Clinton Global Initiative, the Nobel Laureates Conferences, and the World Economic Forum. Attias shares how live, face-to-face conversations can build bridges between cultures and world leaders, and discusses the attributes of a great moderator, how technology can create active participants, what format works best for large conferences, and much more.
Sponsored by Hilton Meetings & Events.
Running time 48:24.
Show Notes
Roundtable Discussion: why finding a great moderator is harder than finding a great speaker; how to create a sense of community for event guests; why he doesn't consider himself an "event planner"; how new technology can enhance conferences before, during, and after
Coming Soon to GatherGeeks
Interviews with the teams behind Abel McCallister Abel, Convers(ate), and Pop-Up Magazine
This Episode Is Sponsored By...
Hilton Meetings & Events
Planning an event and wondering how you can give your attendees the best experience possible? Take advantage of customized meetings with Hilton that make it easier than ever to incorporate health, wellness, entertainment, and waste reduction. From Yoga & Yogurt morning starts to Puppies & Ice Cream afternoon breaks, Hilton will help you build an extraordinary meeting that attendees will remember. To book your next meeting or event, go to meetings.hilton.com.