Podcast: What Your Wedding Photographer Really Thinks, and Other Insights (Episode 149)
Andy Marcus discusses the business of photographing high-end weddings and social events.
June 4, 2019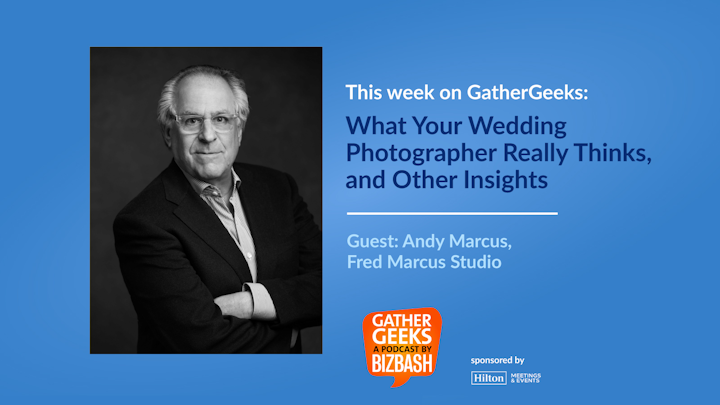 Photo: Courtesy of Fred Marcus Studio
Hosts: David Adler, Beth Kormanik
Guest: Andy Marcus
In this episode of GatherGeeks, BizBash C.E.O. David Adler and editor in chief Beth Kormanik hear from photographer Andy Marcus of New York-based Fred Marcus Studio. Marcus shares his insights into the business of event photography, discussing how the family business got started, how social media has changed the game, the relationship between photographers and event planners, and more. He also shares behind-the-scene details from the weddings of Jared Kushner and Ivanka Trump, Eddie Murphy, and other high-profile clients. 
Sponsored by Hilton Meetings & Events. Running time: 1:08:32
Show Notes
Roundtable Discussion: how event photography has evolved; the difference between social and corporate event photography; why word-of-mouth is crucial for the industry; how to know when someone will be a bad client; what a wedding photographer should cost; advice for up-and-coming photographers
Further Reading:
The Case for Event Photography
https://bit.ly/2JLiVhm
7 Things That Annoy Event Photographers—And Screw Up Their Shots
https://bit.ly/2EGLY1j
Follow Fred Marcus Studio on Instagram
instagram.com/fredmarcusstudio
This Episode Is Sponsored By:
Hilton Meetings & Events
Planning an event and wondering how you can give your attendees the best experience possible? Take advantage of customized meetings with Hilton that make it easier than ever to incorporate health, wellness, entertainment, and waste reduction. From Yoga & Yogurt morning starts to Puppies & Ice Cream afternoon breaks, Hilton will help you build an extraordinary meeting that attendees will remember. To book your next meeting or event, go to meetings.hilton.com.