Podcast: Radically New Ways to Host Meetings That Really Work (Episode 180)
Meetings expert Adrian Segar discusses the "unconference" concept, tips for introducing a new event format, and what you can learn from his most recent book.
January 21, 2020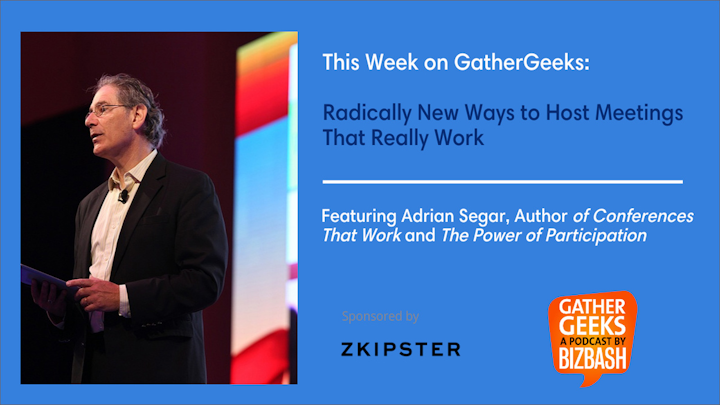 Hosts: David Adler, Beth Kormanik
Guest: Adrian Segar
In this episode of GatherGeeks, BizBash chairman and founder David Adler and editor in chief Beth Kormanik hear from Adrian Segar, a renowned meeting designer and conference facilitator and the author of the new book Event Crowdsourcing: Creating Meetings People Actually Want and Need. Segar shares how he coined the term "unconference," and shares tips and formats for various types of participation-focused gatherings. He also discusses the value of hosted-buyer events, how unconventional formats can build connections and confidence, and more.
Sponsored by Zkipster. Running time: 51:51
Show Notes
Roundtable Discussion: the value of unpolished presentations; tips for trying new meeting formats; new techniques he's developing; why unconferences build stronger friendships and business relationships than typical meetings; convincing the C-suite to try a new format
Further Reading:
Buy Segar's latest book at conferencesthatwork.com
This Episode Is Sponsored By: Zkipster
Building a memorable experience for your guests means planning every detail right. Zkipster is the guest management platform designed to help you create perfect experiences, from impressive online invitations to seamless check-in at the door. Get started at zkipster.com with a free test event.