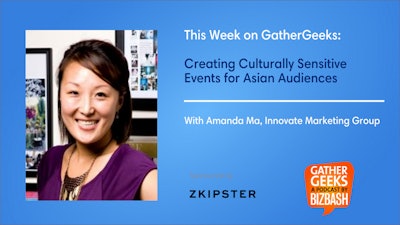 Hosts: David Adler, Beth Kormanik
Guest: Amanda Ma
In this episode of GatherGeeks, BizBash chairman and founder David Adler and editor in chief Beth Kormanik hear from Amanda Ma, the Taiwanese-American C.E.O. of Innovate Marketing Group in Pasadena, California, with clients including TikTok, East West Bank, and Toyota. Ma shares how to accommodate a multicultural audience at events, focusing particularly on Chinese and other Asian cultures. She dives into tips for handling language barriers, food preparation, holidays of note, and more. She also shares the numbers, colors, gifts, and event layouts that should be embraced—or avoided—at Asian-focused gatherings; important differences between Chinese, Korean, Thai, and Japanese cultures; unique ways to incorporate authentic food and entertainment; business customs in various cultures; and much more. This is the start of an ongoing series on cultural nuances and protocol for event organizers.
Sponsored by Zkipster. Running time: 53:18
Show Notes
Roundtable Discussion: the best type of entertainment to book for grand openings and other types of gatherings; tips for Lunar New Year celebrations, and what to expect from the Year of the Rat; the appropriate way to interact with business contacts; why Asian events avoid the color white; appropriate dress codes for events and meetings in Asia
Major Holidays and Events to Note in 2020:
Lunar New Year (China): January 25
Qingming Festival (China): April 4
Songkran Festival (Thailand): April 13-15
Lebaron/Eid al-Fitr (Indonesia): May 23-24
Dragon Boat Festival (China): June 25
Bon Festival (Japan): August 13-15
Chuseok (Korea): October 1
China National Day: October 1
Mid-Autumn Festival (China): October 1-7
Diwali (India): November 14
This Episode Is Sponsored By: Zkipster
Building a memorable experience for your guests means planning every detail right. Zkipster is the guest management platform designed to help you create perfect experiences, from impressive online invitations to seamless check-in at the door. Get started at zkipster.com with a free test event.