Podcast: Why Events Should Be a Form of Performance Art (Episode 184)
Industry veteran Marc Friedland discusses his approach to events, sharing behind-the-scenes details from a recent over-the-top, Dalí-inspired surprise party.
February 18, 2020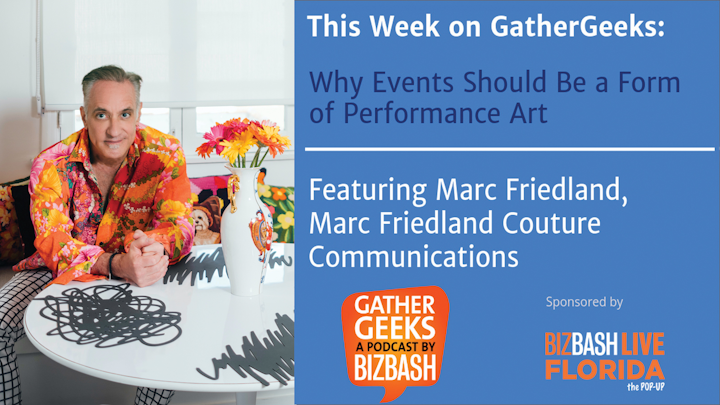 Hosts: David Adler, Beth Kormanik
Guest: Marc Friedland
In this episode of GatherGeeks, BizBash chairman and founder David Adler and editor in chief Beth Kormanik hear from Marc Friedland, the owner of Marc Friedland Couture Communications in Los Angeles. He reflects on 33 years in business, sharing how his career has evolved, why he approaches events as a form of performance art, and why personalization and emotions are the most crucial aspects of any gathering. Friedland then walks us through an over-the-top, Dalí-inspired birthday party he recently planned, sharing how each dinner course was integrated into the entertainment and design; how music and multi-sensory decor were used to create effective event transitions; how the surreal, hand-painted invitation set the tone for the event; and much more.
Running time: 37:36
Show Notes
Roundtable Discussion: how Friedland's career has evolved from hand-painted greeting cards to invitation design to full-scale planning and branding; why he focuses on "return on joy" in addition to R.O.I.; why he approaches events as if they were a painting; how gatherings should evoke emotions and connections
Further Reading: 
See Inside an Over-the-Top, Salvador Dalí-Inspired Birthday Party https://bizbash.com/21116229
Learning From the Oscars: 5 Tips for Designing Awards Envelopes https://bit.ly/39EXkAd
This Episode Is Sponsored By:
BizBash Live: Florida The Pop-Up
We're popping up in Florida with an all-new BizBash experience. Join us February 19 and 20 at the Gaylord Palms Resort & Convention Center in Kissimmee as we co-locate with Connect. Hear from President Barack Obama, Ambassador Capricia Marshall, former Social Secretary Deesha Dyer, Disney's former head of innovation and creativity Duncan Wardle, and more. Register now at bizbashlive.com/florida.