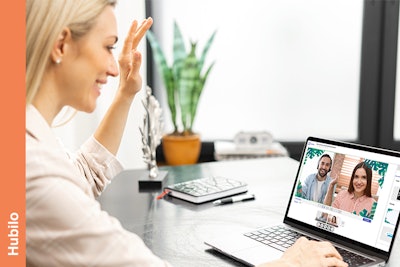 Photo: Courtesy of Hubilo
A common misconception of virtual events is that planners aren't able to create as immersive of an experience compared to in-person events—with one factor being the perceived inability to successfully and properly execute event branding online.
Maybe this notion had some truth to it at the beginning of 2020 when many tech platforms and planners alike were getting their feet wet in the digital space, but today, while others are still falling short, top-rated platforms like Hubilo are catering to the planner's need to brand their events in a virtual environment.
After all, branding is critical to any event's success, regardless of whether it takes place in person or online, and therefore shouldn't be overlooked. Seamless branding equates to much more than a "pretty environment." In addition to helping with brand awareness and general recall, the most successful event branding has the ability to boost event engagement and ROI by creating a lasting impression that doesn't just stick with attendees but sponsors as well.
Of course, that doesn't mean that adding a logo to any and all virtual surfaces of your platform is going to result in revenue. The most successful branding is optimized for your target audience and cohesive across all marketing mediums, so it should be a part of your overall event strategy and not an afterthought.
Not sure where to start? Here are five ways to do branding right on your virtual platform:
1. Use custom theming on the event platform.
This is the first step to aligning your virtual event platform with your brand identity. When searching for the right platform to host your virtual event, don't skimp on the ability to customize the entire look and feel of the platform.
An attendee isn't registering for your event only to see the platform's branding everywhere—they're showing up for your brand, so be sure that's the first thing they see. From the color palette to the typography to the imagery, each piece should tell the story of your event and not be interrupted by the platform's own branding efforts. The good news is any true white-label platform already understands this and will have no trace of their branding to ensure yours shines through.
Elements of customization planners should look for in a platform to further their branding efforts include the ability to create a custom URL, send custom emails, add a welcome video to the ticketing and registration page, brand breakout rooms and lounges, and display banners on the home page, to name a few. Each of these touchpoints is key to creating a seamless branding strategy that aims to engage attendees and impress sponsors.
2. Pay attention to in-session branding.
Attendees spend the majority of their time in this event area, which means the majority of your branding efforts should be focused here too. This is the perfect place to set up your brand logos, notification banners, overlays, and background images on your virtual event platform.
When it comes to delivering immersive in-session experiences, Hubilo's Broadcasting Studio is a prime resource for planners. However, remember to always be mindful of the attendee's experience when developing your branding. You don't want to disrupt their experience or prohibit a sponsor's branding from being noticed by, say, including a flashing logo or constant pop-up messaging that's only going to distract from your event's key content.
3. Create an engaging virtual stage.
Audiences are used to and expect immersive, branded experiences both on-site and online. Once you've put in the work to build out a customized digital experience, you don't want it to fall flat with a run-of-the-mill main stage. Green screens, multiple camera angles, and various kinds of visual media can be used to create dynamic and visually engaging events.
For inspiration and resources, this e-book from Hubilo teaches planners how to use virtual stages effectively and offers actionable tips for turning your event into an experience your attendees and sponsors will remember long after it's concluded.
4. Seize branding opportunities through storytelling and content.
Branding doesn't just come in the form of logos, fonts, and colors. Your event's messaging, speaker choice, session topics, and content are all opportunities to tell a cohesive brand story and leave a lasting impression. In fact, brand storytelling and relatable content are key to building long-lasting, deep connections with audiences.
To do this, planners can tap into emerging tech and tools like easily shareable branded in-event presentations and videos. A great example of branding through content comes from Katy Perry's American Idol finale performance (yes, you read that right!), which featured XR (extended reality) elements to emphasize messaging and tone and capture the virtual audience's attention.
5. Segment your audience to create a personalized event branding experience.
Sure, you could treat every attendee the same, but unlike live events, digital experiences offer planners the ability to use event data and analytics to get real insights into their attendees and actually personalize their event journeys accordingly.
By segmenting your audience into different groups (think by interests, professional experience, or any other filter you want to use), you're guaranteed to watch your engagement skyrocket because you're ensuring your brand content is more relatable to each attendee, rather than taking a one-size-fits-all approach.
Bonus tip: Find a powerful, feature-rich virtual event platform that enables you to put these tips into action.
These tips we've walked through will only prove to be game-changing for your events if you're choosing a virtual event platform partner that actually allows you to put them into action. While many platforms fall short of key features needed to produce a beautifully branded event, Hubilo offers all the bells and whistles to ensure planners, attendees, and sponsors get the most out of the experience. Learn more about how to produce memorable events on the fast-growing platform here.