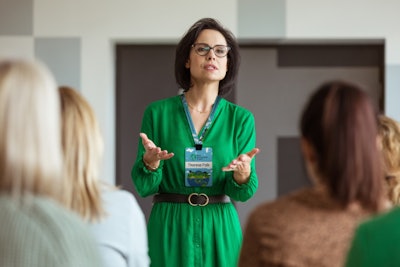 Photo: Courtesy of pc/nametag
Want to impress attendees, save your sanity, and help your events run more smoothly? Here are seven effective methods to help your team save time, money, and resources.
Leverage sponsors to secure financing.
Entice participation by offering perks such as discounted event tickets, speaking opportunities, access to event information, or increased brand exposure. You can even offer the opportunity for sponsors to create an awards category related to their brand if the event features an awards ceremony.
Recruit volunteers to improve efficiency.
Consider offering benefits such as free event tickets, networking opportunities, or access to breakout sessions. In turn, you will receive much-needed help without breaking the bank. Tip: Sending handwritten thank you notes to volunteers after the event can go a long way!
Take name tag preparation off your plate.
The last thing your team wants to do before a big conference is spend hours stuffing name tags and attaching lanyards. Instead, use a preparation service like Name Badges to Go to eliminate the stress of printing and organizing badges in-house. This is a great way to free up volunteers to work other parts of your event.
Templatize event marketing email campaigns.
GetResponse, Sendy, MailChimp, Smore, and Constant Contact are examples of automation platforms that help you design and personalize professional-looking event emails. Make sure to review email performance analytics within your platform to help you improve opens, clicks, and number of event registrations.
Automate your event's social media posts.
First, organize upcoming content into a digital calendar to decide when each post will go live. This will help you avoid the stress of having to produce last-minute posts on the fly. Then, use a social media scheduling tool like HubSpot, Sprout Social, or Hootsuite to schedule posts ahead of time.
Use digital ticketing with QR codes.
Email a confirmation number, unique ID, or individual QR code to attendees before the event to simplify check-in at the venue. Event teams can generate their own variable data, or they can use an event registration software with digital ticketing built into it.
Follow up with a post-event survey.
Collect actionable advice from attendees by creating a survey using Google Forms, SurveyMonkey, Qualtrics, or another survey tool. Keep your survey short for the best response rate. You can also incentivize participation by offering a chance to win a gift card, event discount, or a free ticket to a future event.
---
When planning an event, the more time you can reclaim in your day, the more time you give yourself to focus on executing the finer details.
Visit pcnametag.com/meeting-management-supplies to find everything you need to create a flawless event registration experience, including custom event badges, lanyards, badge ribbons, tickets and wristbands, signage, printers and supplies, and more.