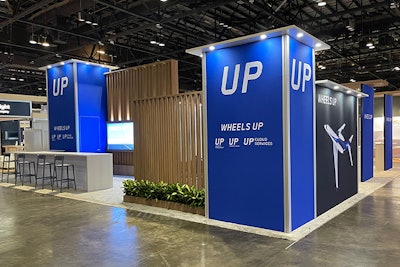 Photo: Courtesy of Britten
Trade show booths combine the practical with the performative. Intended to promote brand messaging, attract attendees, and above all, lead to new connections, an effective trade show booth establishes an inviting but distinct presence.
Set up for success and separate from the pack with trade show essentials from Britten! Offering modular framework, custom branded environments, and high-vis interactive pieces (like Foam3D™), learn how these tradeshow must-haves are primed for instant connection.
1. STAND TALL | EVENTTRUSS™
Tower above the competition and make your presence known with an EventTruss™ framing system. An industry standard in stage presentations and event framework, EventTruss™ is sturdy, highly versatile, and made to transport for multi-use application.
Easy to assemble and disassemble, and configurable to nearly any desired formation, EventTruss™ is the perfect foundation for a trade show exhibit. A reliable platform made to be integrated with lighting, print signage, and beyond, EventTruss™ gives shape and support to your exhibit space.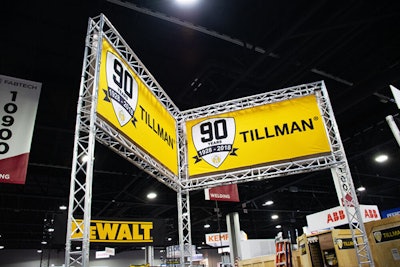 2. AT YOUR SERVICE | POINT-OF-SALE COUNTER
Add some personable charm and functional dimension to your trade show booth with a service desk. Also known as a point-of-sale counter, this staple retail fixture provides a place to greet attendees and spread out some promotional material, and exudes a far more professional appearance than a simple fold-up table. Available in a variety of finishes and scaled to any required size, a point-of-sale counter gives your trade show booth a confident appeal conducive to conversation and exchanging contact info!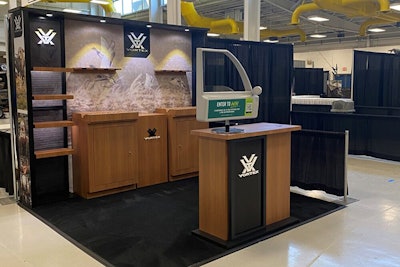 3. SHOWCASE SHOWDOWN | SHOWCASE TABLES
Place your product samples in the most favorable light with a showcase table! Integrating sleek glass-top counters along with lockable storage drawers and a powder-coated frame, the showcase table is a secure way to encourage product visibility. Easily slotted into any tradeshow booth exhibit, the showcase table is an attractive asset that allows patrons to browse your products at their leisure.
4. SLAT FINISH | SLATWALLS
While trade shows are geared toward business connections, a booth filled only with base utility items can feel sparse and bare. Cultivate a warm and welcoming space with some natural wood elements like custom slatwalls.
A chic piece to balance the more function-forward items, slatwalls add nice dimension and help to break up the flat space of a standardized booth. Popular for permanent application within corporate interiors, slatwalls can be a representation of a home office or a sample of a more comprehensive brand impression.
5. EXPANSION FOAM | FOAM3D™
Grow your trade show presence and pique attendee interest with the addition of a Foam3D™ sculpture! Crafted into letters, props, selfie signs, brand logos, and beyond, a foam prop accompanying your trade show stand can be your best sales piece! Adding playful dimension and impressive detail, a foam statue is a fun conversation piece that will differentiate your exhibition booth and your brand.
---
For 37 years and counting, Britten has produced innovative signage and hardware for retail, museums, airports, and convention centers across the world. Contact Britten for a custom quote or more information. Email [email protected] or call 855.763.8203 to speak to a sales rep.