Stampede Flaunts Calgary Hospitality With White Hat Stunt in Dundas Square
May 11, 2012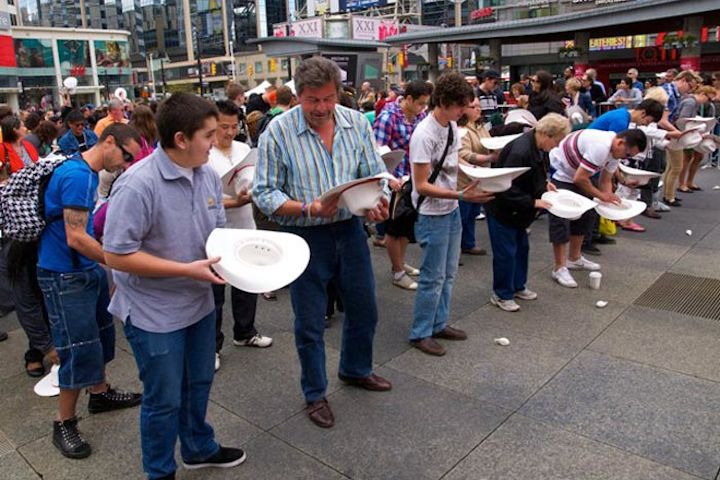 Photo: Ryan Emberley
The Calgary Stampede gave Toronto a taste of Albertan hospitality on Wednesday with a stunt in Yonge and Dundas Square. Called the White Hat Drop, hundreds of white cowboy hats—a symbol of hospitality in Calgary—dotted the public square. A large crowd watched as the first 200 visitors picked a hat. On the count of three, they flipped over their chosen hat, one of which contained the winning red envelope for a V.I.P. trip to the Calgary Stampede Centennial in July.
"The goal of the event was to bring Canadians together to celebrate and take pride in the fact that this year, Calgary will be attracting millions of people from around the world," said Deanne Carson, vice president of marketing and external relations at the Calgary Stampede. Similar stunts took place in city centres of Vancouver and Calgary.
The public promotion, a joint effort between Travel Alberta, Tourism Calgary, and the Calgary Stampede, was part of the Stampede's marketing strategy to build buzz and excitement about this year's Centennial festival. "Because we are asking the country to welcome the world this year [at the Stampede], what better symbol to unite the country?" asked Carson. "The White Hat not only stands for hospitality, but reflects values that Canadians can recognize within their own community: pride in community, integrity, and commitment to community."
So far, community involvement has played an important role in the rodeo's marketing and planning. Under the tagline of "We're Greatest Together," marketing has focused on community traditions surrounding the Stampede, from eating to dressing. The Stampede has also been careful to include the local community in the Centennial celebration, which runs from July 6 to 15. To build anticipation at home, the Stampede has planned mini festivals in the four quadrants of Calgary in May and June.
After the hat drop, Juno-nominated band Hollerado performed in Dundas Square. Rock-It Promotions and Anstice Communications promoted the stunt in Toronto, Vancouver, and Calgary.
Featured Venues/Suppliers: