Report From IMEX 2014: 5 Trends Shaping Meetings Right Now and In the Future
At the fourth and largest installment of the incentive travel, meetings, and event show, the buzz was about the industry's evolution.
October 16, 2014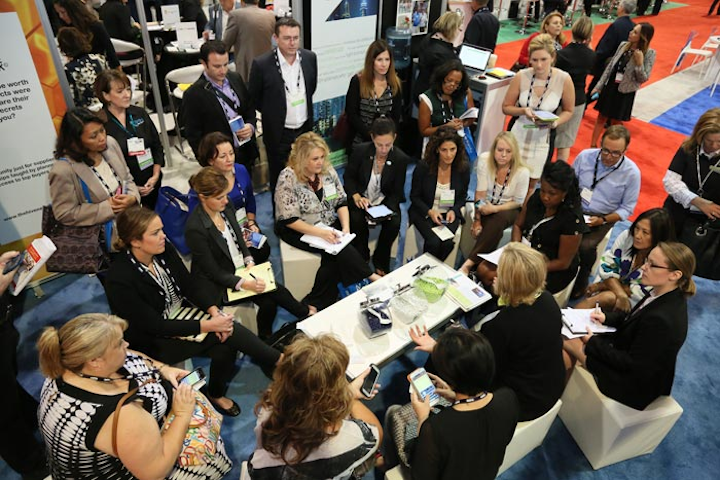 Photo: Courtesy of IMEX
IMEX America wraps its fourth incarnation today at the Sands Expo in Las Vegas, drawing meeting professionals from all over the globe to create the biggest show yet—with a 13 percent larger show floor and 2,900 exhibiting companies from more than 150 countries.
Sustainability, apps and technology, industry advocacy, and social media were all topics that continued to generate much discussion both during education sessions and outside of formal show content. There was also plenty of buzz around the future of the industry, changes that are happening right now and likely in the near term, and into the next decades.
Here's a look at the trends shaping the evolution of meetings.
The millennial effect
Millennials in the work force and in the industry are creating a whole new environment for meetings. As a whole, theirs is a generation that needs constant stimulation and challenge, and one that's easily bored, said Minding Your Business president John Folks. He said that means they're looking for multisensory experiences with solid production values. "If a meeting is death by PowerPoint, the speaker is speaking at you, there's no engagement—that's a problem," he said. "Attention span is very short. Hit all their senses and make sure that it sounds better than their system in their living room, [or] you're not going to keep them."
Beyond that, Folks said, millennials are upwardly mobile, seeing jobs as gigs, and expecting to move swiftly through titles and even careers. "They are looking for opportunities to move to the C suite very quickly. [Meetings] have a unique opportunity to help them reach their goals by providing those mentors, that access, providing them with the tools they need to accelerate." And millennials need that access to be unique to anything they can find online, Folks said.
Responding to the show floor session, one millennial industry attendee urged others to remember that his generation prefers to work in groups. "There's a strong need for community." He added, "Also is your project addressing a real-world problem? Because we've always been told we're the generation who can make or break the planet."
Changing venue landscape
In a session recapping the research of its Meetings & Events 2015 Global Meetings Forecast, American Express vice president of sales and account management Yma Sherry said that meeting planners are seeking out more nontraditional meeting locations like theme parks, museums, and ballparks. "Everybody wants the next event to be cooler than their colleagues' or cooler than last year," she said.
Meeting Professionals International's Jessica States added that whereas meeting professionals once searched for familiar, dependable specs from meeting spaces no matter where they took their groups in the world, now they're moving away from that desire for uniformity—and venues are responding. "Now [meeting pros] are saying they want a space that makes them feel they are somewhere in particular," she said. "They're bringing in local foods, local artists" to underscore the traits of a particular culture or region.
Social Tables founder Dan Berger argued that because events will be smaller and more intimate than ever in the future, meeting spaces will have to adjust. Further, space will also be more commoditized than ever. "Everything is an event and meeting space these days. Venues will need to differentiate more than just capacity charts," he said, explaining that it would help a venue to be able to offer a unique characteristic like art or historic significance.
More practically, Berger said events in the future are more likely to be held indoors or under covered structures. "Climate change is real," he said.
Complex content
While content remains king, look for it to evolve in complex ways, George P. Johnson vice president of strategy and planning Tim Dempsey said in a show floor session.
In some ways, of course, meetings need to acknowledge the way people's attention spans are short in the age of Twitter and constant mobile connectivity. "Our lives are being splintered into these tiny little snippets between sending texts and checking email, so the way content is being delivered is changing as well. People want to consume their content in smaller bites, smaller portions, so they can move through many more of them more quickly." But rather than the dumbing down of the culture, he said, this move may indeed be supporting much broader consumption of content.
On the flip side, Dempsey also said that Netflix binge-watching, available for shows like House of Cards, has also created a culture in which people are willing to spend 12 hours straight consuming something important to them. "So while you talk about audiences' desire to spend smaller and smaller portions of some content, they're still willing to devote some time to binge-watching some other type of content—so it's a complex set of changes," he said.
Social Tables's Berger said he expects that in the future, content will be crowd-sourced (and events will be crowd-funded).
New pricing and payment models
According to Berger, events and meetings will move to a subscription model—such that attendees pay a prescribed amount of money and can go to as many events in a month they like. He also expects more events will be free—with free events becoming more and more expected by consumers. And on site, events will be cash-free. "People don't carry cash anymore," Berger said, predicting that apps like Square and Venmo will help serve the money-exchange needs—and that planners will need to find a way to help service industry folks get properly compensated in the absence of cash tips.
Fans who do pay for events, Berger said, will be paying more and more for the expectation of an active versus a passive experience. "People won't just go to an event and check out," he said.
Industry growth
According to the American Express forecast, meeting budgets seem poised for increase next year—either growing or declining less than seen previously in the recession and recovery years. "In 2014, it was still pretty flat, but no longer bleeding, no longer reducing," AmEx's Sherry said. "The meetings industry is getting healthier and being looked at more seriously as a category from a real business perspective."
Berger also estimates that the industry is very much on the rise. In his show floor session on predictions, he said he expects the number of planners will go up, adding another 30,000 jobs to the existing 90,000 over the next 10 years. He said he also expects the number of accredited universities to increase significantly.
Overall, Berger predicted, "Face-to-face interactions will become even more important. Events will be more important than ever."
Featured Venues/Suppliers: