C.E.S. Parties: Qualcomm's Kid Rock Concert, Wired's Media Lounge, Sprint's Vignettes
January 12, 2010
Now that the Consumer Electronics Show has wrapped in Las Vegas, so too has the crowded slate of related events hosted by marketers to take advantage of the targeted crowd of 120,000 tech types. From a full-scale rock concert to a health-food-filled lounge, here's a look inside the offerings.

On Thursday, January 7, Wired set up a media lounge at Society Cafe Encore for about 500 guests, including members of the media and advertisers. The magazine's director of brand and strategy, Maya Draisin, oversaw the event internally, tapping Los Angeles-based Precision Event Group to produce, design, and manage it.
The space served as a place to regroup during a hectic show. Passed hors d'oeuvres included flatbreads, gazpacho shots, and grilled chicken satay. A "recharge" station offered Red Bull, 5-Hour Energy shots, something meaty and energy-boosting called "Perky Jerky," and assorted candies meant to fuel a sugar rush. A "refresh" station offered fruit-infused waters and smoothies, and a "rejuvenate" station hawked signature Bloody Marys, trail mix, hot teas, and homemade granola bars—all catered by the venue.

In addition to hospitality, the event also offered opportunities for media to connect with Wired editors, plus a "Gadget Lab" showcasing tech products, like the A.R. Drone helicopter with camera, which flew remotely around the space. The magazine's editors even picked some products right from the show floor to display in the lounge.

Precision Event Group's Jason Wanderer explained that the venue's business hours necessitated a short turnaround time, "The challenge was that we had three hours to load out all existing furniture and load in new furniture, audio, video and all of the high-tech gadgets to be ready for 6 p.m. guest arrival." Encore Production Services handled the audiovisual production, and Encore Horticulture the greenery. Destinations by Design supplied the furnishings.

Later the same night, the Joint at the Hard Rock hosted the "Swagg V.I.P. Kid Rock Concert," a 9 p.m.-to-midnight show followed by an after-party at the hotel's new Paradise Tower Penthouse. (The company's new Swagg offering supports retail transactions via mobile device.) The Strategic Group handled PR, production, and celebrity wrangling.

"We're trying to reach consumers ages 24 to 35 with Swagg, and Kid Rock is a great fit for our core audience," said Qualcomm senior director of marketing Marc De Grandpre, who oversaw the event. As to any competition with other events on the crowded calendar, he said, "There are always high-profile events that happen concurrently at C.E.S. every year. However, we were trying to reach a very targeted audience with an exciting new brand launch and compelling message that many guests attending other events would not necessarily be interested in based on their C.E.S. focus. We made sure that we had the right entertainer that would help us draw a great crowd."

Sprint hosted an event that ran from January 6 through 7 in a Venetian ballroom to announce its exclusive deal with Overdrive 3G/4G Mobile Hotspot by Sierra Wireless. The company's C.E.O., Dan Hesse, along with Microsoft C.E.O. Steve Ballmer, Best Buy C.E.O. Steve Dunn, comedian Frank Caliendo, and chef Mario Batali unveiled Overdrive in front of an audience of media folks and industry and financial analysts.

After the debut of the device and Hesse's remarks, attendees visited demo stations set up as individual vignettes. Fresh Wata provided the decor for the four vignettes, which included a park with trees and Central Park-style concession stands; a dorm room with game chairs, bunk beds, and a cafeteria; an office set with desks, chairs, and video screens; and a living room with a 16-foot-wide fireplace and a hexagon-shaped video screen.

Fresh Wata also worked on a promotion for AOL's Edgadget—the show's official blog partner—in the form of a trailer set up in the Las Vegas Convention Center parking lot. Inside the blue and white trailer, a team of 30 bloggers furiously crafted their posts. Inside, five kiosks on the show floor displayed the live blog feed from the trailer by way of a T1 connection. Above the trailer, a 16-foot tubular helium-filled balloon helped make the brand's presence unmissable.

Samsung hosted a press event on January 6 at the Venetian, where it launched an array of products to a room filled with 700 journalists. Cheil Communications, Samsung's agency of record, led on the project by director of experiential marketing for North America Michelle Son, turned to Barkley Kalpak Associates to design and produce the reveal of the products.

The custom set had several layers of mechanized parts so—at the moment when Tim Baxter, president of Samsung Electronics America's consumer electronics division, introduced the pencil-width LED 9000 TV—the Samsung logo from the set lowered to reveal three new television models. After the initial reveal, the display platform upon which the TVs were attached glided out from the set to give the audience a better view. With the help of custom brackets and swing arms built into the set, the screens swiveled to give the audience a side view—and provoked audible awe from the crowd. PRG provided the technical equipment and S&M Display constructed the set.

Also taking advantage of the population swell in town—not just the tech types, but a different breed entirely, drawn by the simultaneous AVN Adult Entertainment Expo—the Rockhouse bar on the strip hosted a matchmaking weekend for all C.E.S. and A.E.E. attendees, January 7 through 9, billed as "an exciting lineup of events for this diverse crowd to mix, mingle, and whatever else." On Friday, C.E.S.-ers were urged to "ditch that badge" and come early for daytime drink specials, while Saturday offered a from-geek-to-chic costume contest.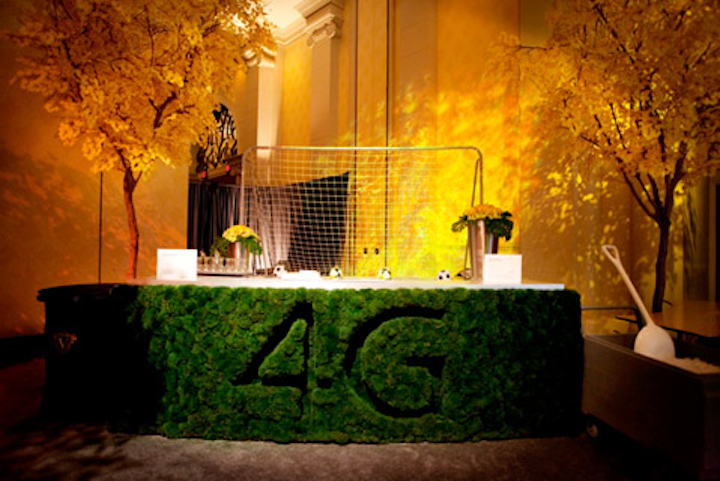 Photo: Shae Rocco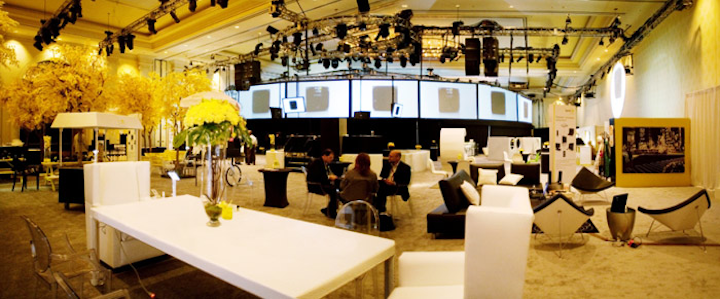 Photo: Shae Rocco
Photo: Shae Rocco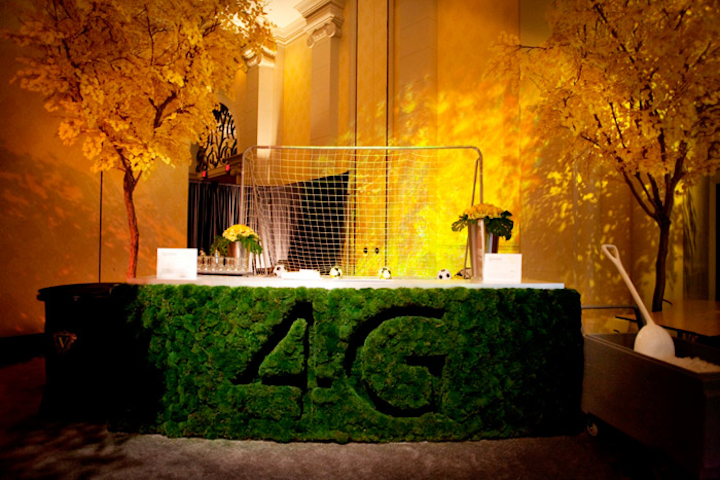 Photo: Shae Rocco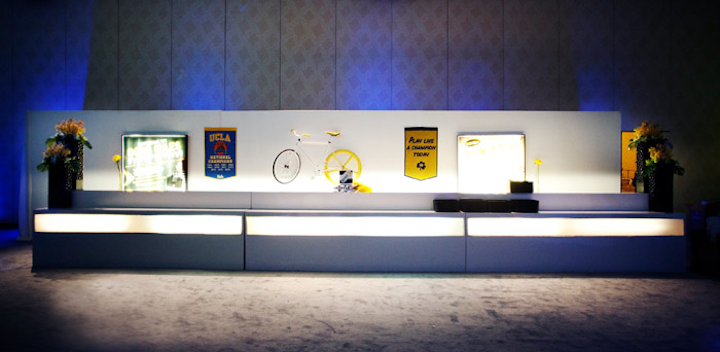 Photo: Shae Rocco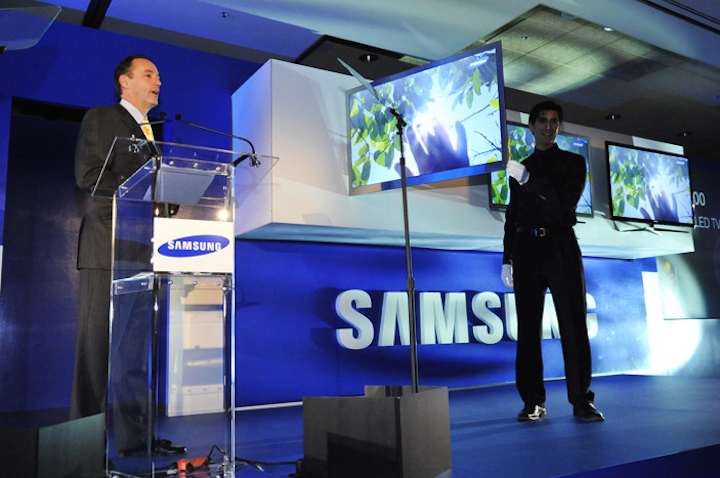 Photo: Chris King
Photo: Jana Cruder
Featured Venues/Suppliers: