Martha, Emeril Celebrate South Beach Wine & Food's 10th Anniversary at Cake-Filled Fete
March 1, 2011
It didn't start until 10 p.m. on Friday night, but the South Beach Wine and Food Festival's 10th anniversary party, called "Let Them Eat Cake" and hosted by Emeril Lagasse and Martha Stewart, was one of the weekend's hottest (and hardest) tickets to land.
More than 800 guests took elevators to the top floor of event hotspot
1111 Lincoln Road
to sip champagne and cocktails from sponsor Moët Hennessy USA, and sample confections from a baker's dozen of pastry chefs alongside the festival's biggest stars.
Aside from the elaborate cakes on display, the event's impact came from Carnaval dancers, ice sculptors who used chainsaws to turn a huge chunk of ice into an American Express card, and performers from
Cirque USA
who poured glasses of champagne while hanging upside down.  
The event was one of the most celeb-studded of the festival, drawing Rachael Ray, Giada de Laurentiis, Alain Ducasse, and Miami Heat player Chris Bosh. But any guest could put themselves in the picture, thanks to a step-and-repeat photo set-up provided by sponsor Ocean Drive magazine. 
Evian was on hand to keep guests hydrated, but most went straight for the sweets, including so-called "DECOdent" cupcakes by Colette Peters, cardamom pistachio cake from Duff Goldman, and Godiva's 10-tier dark chocolate cake layered with Godiva chocolate ganache and covered with chocolate fondant.  
A few hours into the party, Shake Shack delivered burgers and fries so guests could cut the sweetness of the desserts.  
"Let Them Eat Cake provided the perfect platform for Moët Hennessy USA to showcase our brands to an affluent and upscale consumer," said Julie Andersson, the champagne purveyor's consumer development manager for the Southeast region. "We featured some of our newest brand innovations, including Moët & Chandon Ice Imperial, Belvedere Pink Grapefruit Vodka, and our new formula, 10 Cane Rum."
Logistics and delivery of the cakes for the event was handled by FedEx.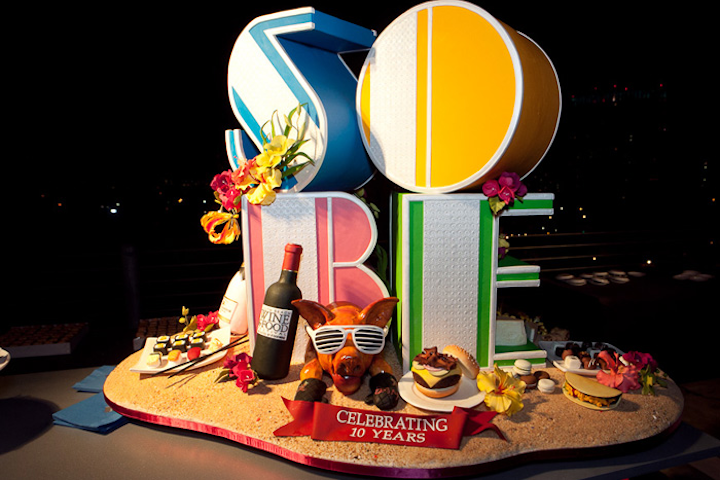 Photo: Will Star/shootingstarspro.com
Featured Venues/Suppliers: