Why 1,000 Guests Came to an Underwater Music Party
At a Red Bull Music Academy event, an underwater sound system let guests experience music in a new way.
November 4, 2016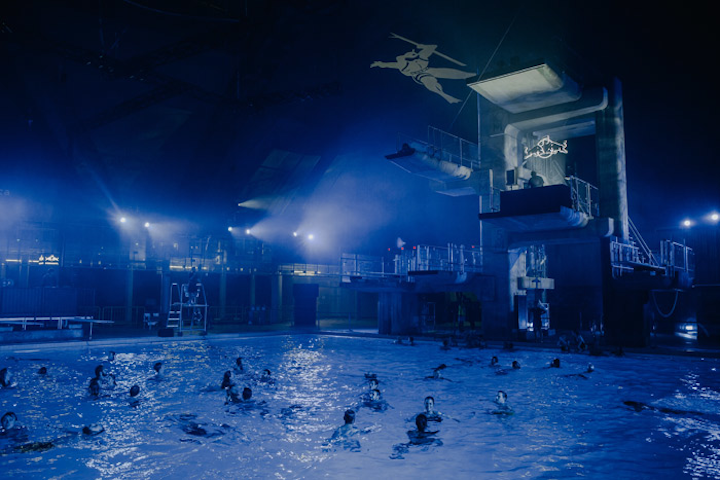 Photo: Dan Wilton/Red Bull Content Pool
Parc Olympique's Olympic Pool in Montreal was transformed into an underwater listening party October 23, as part of the month-long Red Bull Music Academy program. The aquatic event, called Dans Les Abysses (which means "In the Abyss" in French), had a custom-built sound system underwater, at the surface of the pool, and in a dedicated dancing space that had live performances from Lorenzo Senni, Dopplereffekt, and DJ Stingray. More than 1,000 people attended the event over the course of the evening.
Joel Cahen created the custom-built sound system provided by Wet Sounds, a manufacturer dedicated to marine audio. "Inside the water, the sound travels much quicker than through the air, so you don't hear it through your ears, you hear it through your bones," Cahen said in a press release. "So what actually happens is that you hear the sound like if it was inside your head. It is really strange. You can't record it. You can put a microphone inside, but it is not going to sound the same. The sounds are really sharp, immediate, detailed, and accurate."
Red Bull Music Academy Montreal, which took place September 24 to October 28 in various locations in the city, included the premiere of Björk's virtual-reality video for "Family" and the opening of her new digital exhibition, as well as a discussion with punk legend Iggy Pop and performances from artists such as Black Coffee, Jacques Greene, Lunice, and Theo Parrish.
Featured Venues/Suppliers: