Opening Day
Inspired by ballparks and other sports arenas, Nike used floodlights, bleacher seating, team mascots, and concession stands to create a block party for the debut of its new SoHo store.

August 25, 2008
On the eve of its global flagship store opening, Nike took 600 guests out to a ball game. The brand teamed up with Strategic Group and design firm 2 x 4 to create a stadium setting in SoHo with rubber flooring and Astroturf, hot dog and cotton candy concession stands, and lots of beer. Giant clocks mounted on metal stands in the center of the street counted down to 9:21 p.m., when the doors at 21 Mercer officially opened. During Thursday night's invite-only block party, kids joined athletes, artists, actors, and the media to celebrate the only location from the company to carry the full Nike Sportswear line.

"The sportswear apparel and footwear is a remix of an iconic past with new, innovative technology," said Nike spokesperson Demetria White. "To help promote the reinterpretation of our latest NSW [Nike Sportswear] collection, we wanted the block party to be a culmination of present and past sports icons with super fans and a stadium theme."
 
Along Mercer Street between Grand and Howard Streets, the production team set up six projections screens—modeled after ones found in stadiums around New York—to show some of its TV commercials as well as a sports montage created by artist Robert Wilson and producer Noah Khoshbin. (The montage originally premiered at the August 8 launch of the Beijing store.) Guests watched the videos from red stadium-style seats, located inside large wooden bleacher-like buildouts.
Following a half-time performance by the Brooklyn youth group Soul Tigers Marching Band, tennis champion Roger Federer and director Spike Lee gave an introductory speech to the crowd. Meanwhile, celebrity guests including Maria Sharapova and Serena Williams checked out the new merchandise and spoke with press inside the heavily guarded store, as regular joes waited in the streets. (And with the digital countdown from the clocks, those outside knew exactly how long they had to wait.)
Rounding out the re-creation of a New York sports game experience, 83-year-old Yankee fan and unofficial team ambassador "Frying Pan" Freddy Schuman clanked his pan and rallied the crowd while Takeru Kobayashi, six-time winner of the Nathan's hot dog-eating contest, roamed the event, taking pictures with fans, and, naturally, eating hot dogs.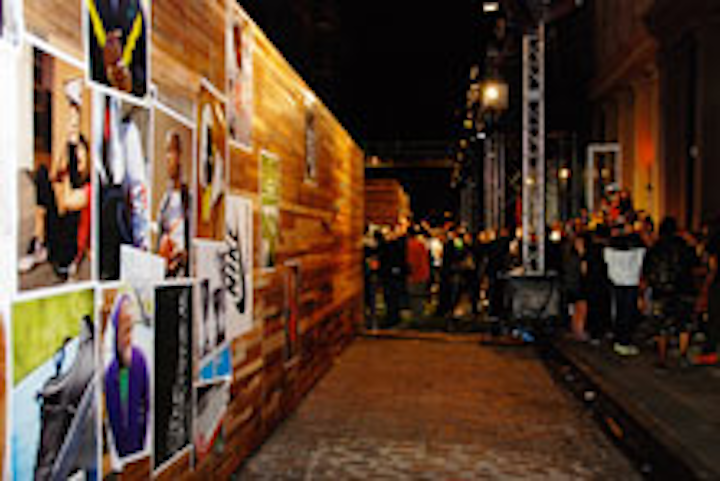 Photo: Vincent Crossley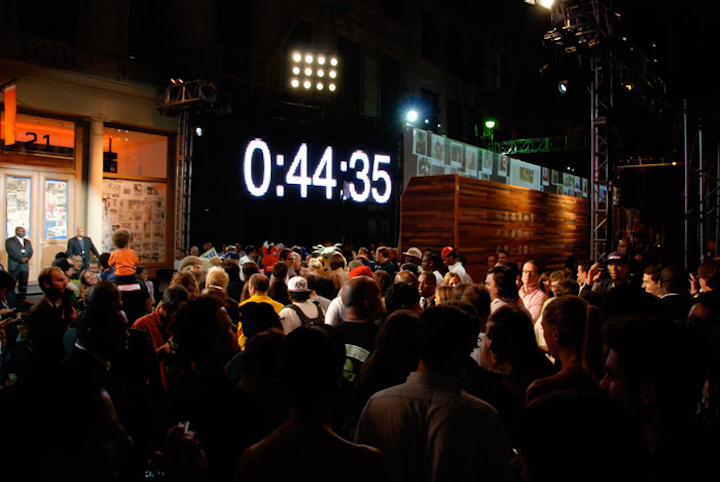 Photo: Vincent Crossley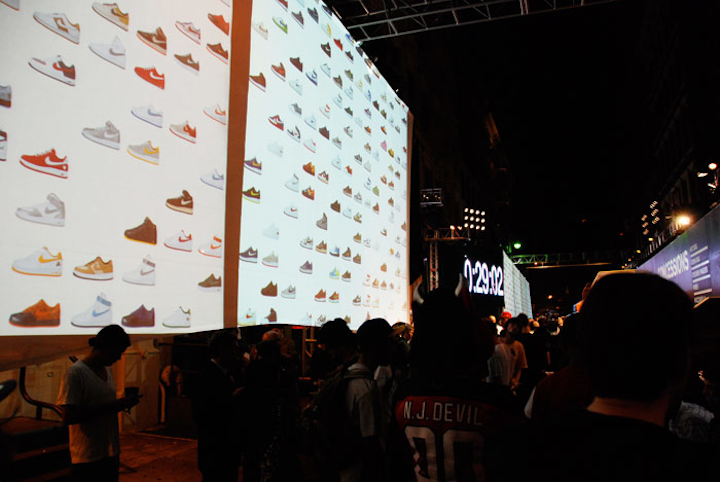 Photo: Vincent Crossley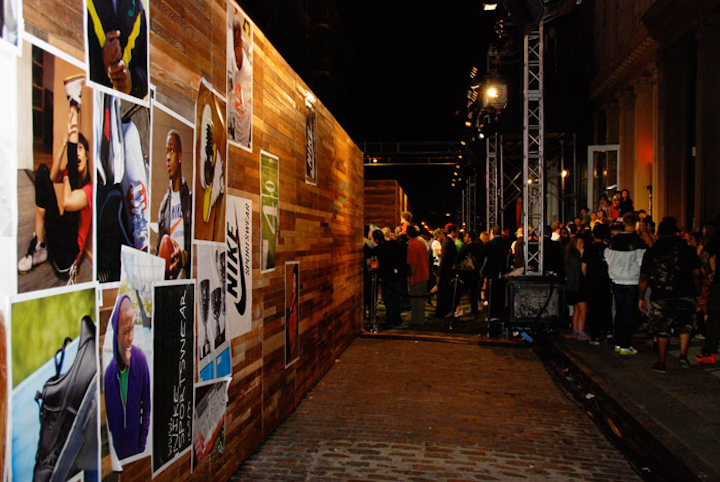 Photo: Vincent Crossley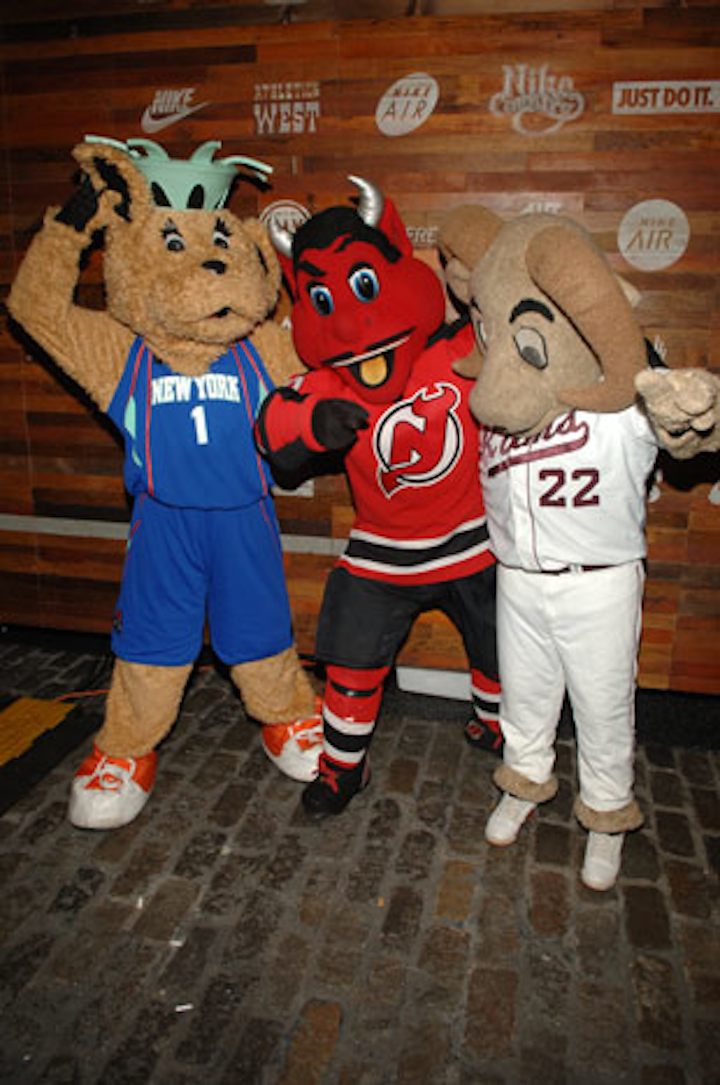 Photo: Jamie McCarthy/WireImage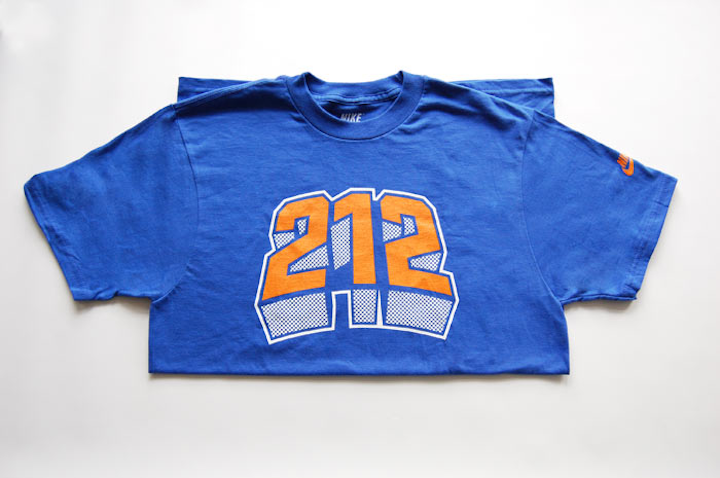 Photo: BizBash
Featured Venues/Suppliers: