Fall Benefits 2014: Trends in Decor, Catering, and More
Here's a sneak peek inside some of North America's big fall fund-raisers.
September 3, 2014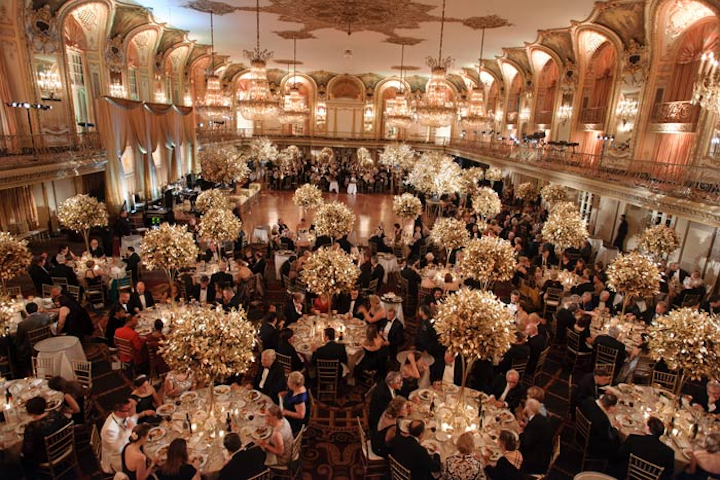 Photo: Cheri Eisenberg
Labor Day signals the unofficial start of fall, and the season's major benefits are just around the corner. Here's a peek at what's in store for theme, decor, and more at some of North America's largest fund-raisers.
Keep a Child Alive, Alicia Keys's nonprofit organization, will host its 11th annual Black Ball at New York's Hammerstein Ballroom on October 30. The event will honor Riccardo Tisci, the artistic director of fashion brand Givenchy; there will also be musical collaborations between Keys and to-be-announced performers. "We're shaking things up this year ... by shining a spotlight on the ideas, dreams, and energy of a generation of young people living with H.I.V., to show the world their power in the fight against AIDS," Keys said in a press release.
In Washington, the Wolf Trap Foundation for the Performing Arts will host its Wolf Trap Ball on September 13. Held at Wolf Trap National Park for the Performing Arts in partnership with the Embassy of the United Arab Emirates, the event will honor the Arab country's history and culture. To completely immerse guests in the theme, there will be music from an Arabic string instrument, henna body art, and a post-dinner hookah lounge. Food and beverage will stay on theme, with pomegranate-rose specialty cocktails, seared scallops with quince gelée, and pistachio cake on the menu.
In Florida, the Headdress Ball celebrates its 25th anniversary this year at the Hilton Orlando. The gala, which began as a floral competition, has evolved into a flashy, Vegas-style evening that benefits Hope and Help Center of Central Florida. With special guests including singer Debbie Gibson, this year's function is produced by JM Best Entertainment and Hardrive Productions; a rep said it will feature over-the-top costumes, choreographed performance routines, and a laser show. The theme of the decor is "Legendary," and decor will pay homage to old Hollywood with a red, black, and white color scheme. There will also be a martini lounge presented by sponsor Ketel One.
Another big anniversary celebration will take place in Chicago on November 1, when the Lyric Opera of Chicago celebrates its 60th anniversary with a concert featuring Glee star Jane Lynch as M.C. Performers will include soprano Renée Fleming, jazz musician Ramsey Lewis, and members of the Second City comedy troupe. After the performance, some guests will attend the Diamond Ball at the Hilton Chicago.
There will also be a headline concert at Macy's Passport Presents Glamorama, which heads to Create Nightclub in Los Angeles on September 9 after taking place in Minneapolis and Chicago earlier this summer. Pop star Jason Derulo will headline that event, which includes a fashion show and a bash that raises money for AIDS Project Los Angeles.
This fall, the popularity of The Great Gatsby theme endures. Chicago's Green Tie Ball will take place in the parking lot of University of Illinois—Chicago on September 20, and the event will take cues from F. Scott Fitzgerald's classic novel. This year, the function has been dubbed "The Great Green Gatsby." Planners encourage guests to dress for the theme, and the event's entrance will be accented with a green carpet. V.I.P. areas, which will feature bottle service and swag bags, have been named "Speakeasy Lounges." The Green Tie Ball raises funds for Chicago's Gateway Green. On the East Coast, the sixth annual Flavors of Boston event on September 12 will also take on a 1920s theme. Benefiting the American Liver Foundation, the event will take place at the Seaport Hotel.
A slightly later era—the 1970s—will get a nod at the Museum of Contemporary Art Chicago's ArtEdge gala on September 20. To celebrate the stateside debut of the "David Bowie Is" exhibit, and to raise funds for its programming, the Chicago museum will charge $3,000 a head for the evening, which will include cocktails, dinner, a showing of the exhibition, and a concert from Bryan Ferry. For the decor, "the inspiration completely was David Bowie," said designer Kim Merlin. "We also took in the idea of the '70s, and iconic '70s moments—Studio 54, Bianca Jagger riding a white horse in a red dress, going to Mr. Chow's for dinner." The dining area will represent a reimagined take on the legendary restaurant with black-and-white decor. The cocktail reception, inspired by Iggy Stardust, will be decked in oranges, greens, and whites that bring forth a "crazy '70s vibe." The concert space will be shot through with black and red decor, and planners will add accents of fur, leopard print, and sequins; a 24-foot sunken living room will serve as the V.I.P. area. There will also be a seven-foot "glitter moon." Event Creative will work with Merlin to execute her vision.
Event Creative is also handling design for the Adler Planetarium's September 13 Celestial Ball, which will have a "Starry, Starry Night" theme inspired by the artwork of Vincent van Gogh. "We're doing huge balls of goldenrod that literally mimic the swirling stars that you see in van Gogh's painting," said designer Jeffrey Foster. "So it's all navy linens and elevated, yellow, scrumptious swirls of flowers."
Kumquats will be in the centerpieces at the Chicago Botanic Garden's Harvest Ball on September 20, also produced by Event Creative, and dinner will take place in a tent on garden grounds strung with twinkling café lights, ivy-clad chandeliers, and a contemporary farm-style dinner table. In Los Angeles, the Huntington Library, Art Collections, and Botanical Gardens will give its September 6 benefit a similarly outdoorsy vibe. Held on the institution's East lawn, the black-tie affair will be decked with cabana lounges, colorful lanterns, and eye-catching floral arrangements.
In Toronto, the annual Booby Ball will take on a circus-inspired theme. Scheduled for October 17, the fund-raiser for Rethink Breast Cancer has been dubbed "Big Top Booby" this year. With carnival snacks, strong man competitions, fortune tellers, and other thematic touches, the event will take place at Kool Haus, and organizers expect to draw 1,500 guests. "A lot of credit for Boobyball's success can be given to the fun and creative themes that we come up with every year, which compel and inspire attendees to support the important work we do with young woman with breast cancer," said Rethink Breast Cancer's executive director, MJ Decoteau, in a press release. Another whimsical theme will grace the Storybook Ball in Boston, a fund-raiser for Mass General Hospital for Children. Set to take place at the Castle on October 18, the event will have a "Willy Wonka" theme.
Featured Venues/Suppliers: