This Week In Toronto: Toronto Opens Its Doors, Inside Out Premieres, City Takes Top Travel Title
BizBash's new Toronto column from Calvin Barr covers the week's biggest event news.
May 29, 2019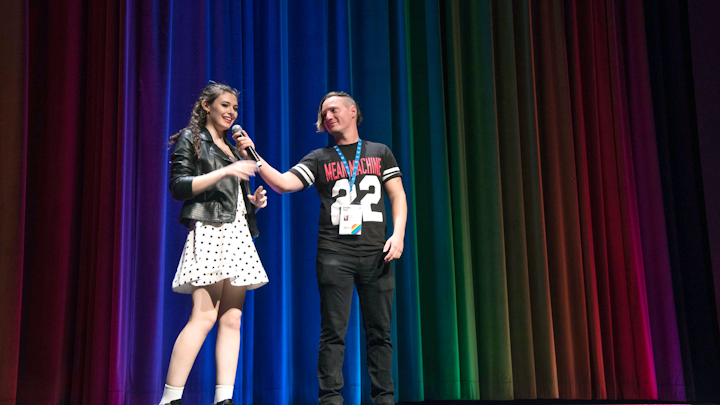 Photo: Moe Laverty Photography
TORONTO—Welcome to BizBash's Toronto-based column, where Calvin Barr covers the week's biggest local news. Got a tip? Get in touch!
Moves & Milestones
Aislinn Rose has been appointed the general and artistic director of the Theatre Centre. Rose joined the arts hub in 2014 as general manager and became a creative producer in 2017. She's since produced a number of high-profile Toronto shows; notably Isabella Rossellini's Green Porno - Live on Stage and Feng Yi Ting, directed by Atom Egoyan for Luminato.
Strategy: Foote, Cone, and Belding (F.C.B.) named Tyler Turnbull the group C.E.O. of the advertising agency's Toronto and New York offices. Turnbull became the C.E.O. of the Toronto office in 2014 and of Canadian operations in 2016. According to F.B.C. Worldwide, Turnbull's new role was created due to the shared account operations between the offices.
In Case You Missed It
The City of Toronto opened historic landmarks all across the G.T.A.  during the 20th annual Doors Open Toronto. More than 150 venues, including Toronto City Hall, Bay Lower Subway Station, Royal Ontario Museum, and TIFF Bell Lightbox offered sightseers free admission. The "20 Something" theme offered a retrospective on Toronto's metropolitan evolution and goals for the future.
In the News
GlobeNewswire: Four Seasons Hotel Toronto hosted more 400 guests for the Boost Child & Youth Advocacy Centre's 22nd annual fund-raising gala, the Butterfly Ball, last week. The benefit was hosted by CTV's The Social's Melissa Grelo and Lainey Lui, and featured live music from the Toronto Beaches Children's & Youth Chorus and Juno winner Simone Denny. First-time gala co-chairs Cleophee Eaton and Candice Sinclair raised more than $700,000 to aid abused and exploited children.
Inside Out, Canada's largest L.G.B.T. film festival, opened its 29th season with the Elton John biopic Rocketman on May 23. Forty films from 32 countries are being screened in Toronto, ending with the Canadian premiere of Late Night, starring Mindy Kaling and Emma Thompson. While Inside Out has profiled queer artists from all over the world, the event also celebrates members of the Toronto film industry with the annual "Shorts: Local Heroes" selections. Among the entries, Loretta's Flowers director Brendan Prost said: "I feel as though some of the loneliness that motivated the film's creation has dissipated in my heart. Being included in the Local Heroes program is one of the first times I've ever felt truly at home here in Toronto."
BBN Bloomberg: Entrepreneurs, software engineers, and would-be investors in the next groundbreaking app gathered in Toronto for what ended up being the Collision Conference's largest event to date, according to C.E.O. Paddy Cosgrave. The North American counterpart to Europe's largest technology ideas marketplace Web Summit, Collision Toronto attracted more than 25,000 global visitors and featured Twitter C.E.O. Ev Williams and Prime Minister Justin Trudeau as keynote speakers. The crowd at the Enercare Centre also was reportedly 46 percent women, making the tech event the one most attended by women in Toronto. (BizBash named Collision to our list of the 15 Most Innovative Meetings of the past year.)

Venue Buzz
Daily Hive: The Remix Project, a nonprofit learning center, is opening a $3.5 million headquarters at the Daniels Waterfront. The Toronto organization launched in 1999 with the mission to provide creative arts and continued education programs to youth in marginalized and underserved communities. The project expanded to Chicago in 2014. Since its inception, Torontonian music stars including Drake and Jessie Reyez have acknowledged the program's role in shaping their successes. The ribbon-cutting ceremony for the new 5,000-square-foot location will take place on June 11.
A Turn of Events
Toronto now holds one of the top spots for hosting international business-related travel, according to Tourism Toronto. According to the 2018 International Congress and Conventions Association (I.C.C.A.) City Rankings Report, Toronto broke the record for the number of international meeting delegates hosted at 84,000. The city also ranked second for the number of meetings hosted across North America, and was seventh for total international attendance, making it the only North American city to make the top 10.
Overheard
Style Democracy: "Learning how to go with the flow and be fluid with menu items and ideas. You can start with a very clear vision, and it's so important to have that, but once you open things might change depending on what your customer wants and you want that customer to be happy, so work with that."
— Eden Grinshpan Nivron, host of Food Network Canada's Toronto-shot series Top Chef Canada, discussed lessons learned from opening a restaurant. Nivron is the executive chef and co-founder of Dez in New York.
On the Scene
The 16th annual Woofstock dog festival took place May 25 and 26 at Woodbine Park. The event featured contests, fashion shows, and more than 150 dog-related exhibitors.
What's Next
Luminato, Toronto's international performance, visual, and media arts festival, will have its 13th edition June 7 to 23. More than 165 Canadian and international artists will appear in 14 venues, including the Harbourfront Centre, Sony Centre for the Performing Arts, and Bluma Appel Theatre. "The festival features explosive, inspirational work from Toronto, alongside work by our international colleagues," said artistic director and curator Naomi Campbell. "There is much to explore, from simple good times and transcendent experiences of rich beauty, to complicated conversations about important ideas."