This Week In Toronto: Canadian National Exhibition Returns, an Upscale Cannabis Lounge, Cirque du Soleil Gives Back
BizBash's new Toronto column from Calvin Barr covers the week's biggest event news.
August 14, 2019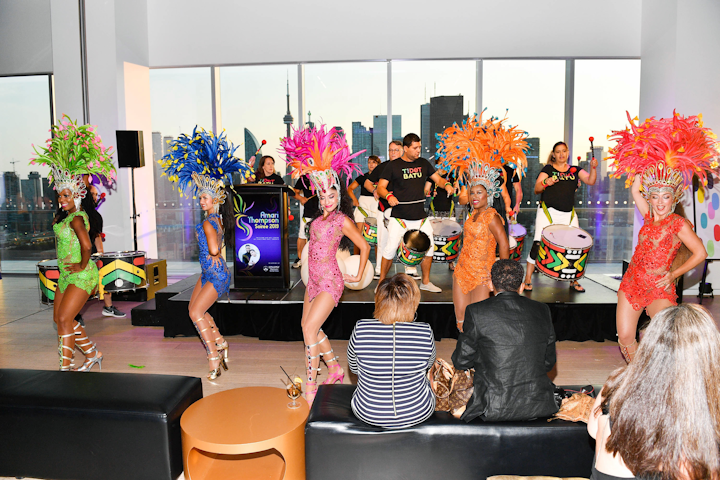 Photo: George Pimentel
TORONTO—Welcome to BizBash's Toronto-based column, where Calvin Barr covers the week's biggest local news. Got a tip? Get in touch!
Moves and Milestones
Cirque du Soleil is partnering with the Shoebox Project for Women for a performance of the show Alegría. The evening invites attendees to contribute to the charity, which provides homeless women with care packages in the form of the shoeboxes. The show will take place September 19 at Under the Big Top at Ontario Place. 
In Case You Missed It
While the Taste of the Danforth took over Greektown this weekend, another food festival welcomed Torontonians with an insatiable sweet tooth. Confectionery festival Sweetery took place at David Pecaut Square from August 10 to 11. The event featured desserts and sweet recipes from kitchen scenes across the city, with Holy Cannoli, Pie Commission, Pho Saigon, and Sáaf Juice among more than 20 local vendors participating. For the first year, the event featured a lineup of local musicians, as well as delicacies served by Masterchef competitors Rozin Abbas, Steven LaPointe, and Andre Bhagwandat. 
News
The Futurist Conference, a blockchain and crypto technology event, kicked off Tuesday and ends today at Rebel Entertainment Complex & Cabana Pool Bar. The event was spearheaded by Untraceable, a Toronto-based marketing and event agency blockchain and cryptocurrency community in Canada. More than 2,000 attendees were expected at the conference, which features two levels of blockchain-related booths, a Blockchain Bootcamp, and more than 50 presentations. Ethereum creator Vitalik Buterin, Blockchain Research Institute co-founder Alex Tapscott, and Untraceable founder Tracy Leparulo were among the headlining speakers. 
Fitness industry event Canfitpro 2019 opens today and runs until August 18 at Metro Toronto Convention Centre. Now in its 26th year with more than 24,000 members, the convention was developed to help fitness professionals, gym operators, suppliers, and enthusiasts network, access education, and complete training certifications. Trade show events take place Friday and Saturday, with presentations from some of Canada's biggest workout studios, including GoodLife Fitness, Stages Indoor Cycling Studio, and Oxygen Yoga & Fitness Studio. Tae Bo creator Billy Blanks and World of Dance contestants Jenalyn Saraza Pacheco and Luka Milacic-Perusina are among this year's special guests. 
Venue Buzz
An upscale cannabis culture lounge will open in Queen West later this year. ByMinistry will feature an 8,000-square-foot space for patrons to explore plant-forward menus, cannabis-infused cooking classes, and an interactive music, fashion, and dance area. "We are creating a welcoming and refined environment that shares an elevated, positive experience where cannabis is normalized," said founder Lorne Gertner. "Toronto is a dynamic forward-looking city with ingrained support for both a cannabis lifestyle, as well as the design, innovation, and creative communities." The venue at 850 Adelaide Street West will be the first of multiple locations planned across North America over the next five years.
A Turn of Events
A new study indicates that calorie-light menus may be more favorable among event guests. According to Chef's Pencil, Toronto ranked as the 10th most diet-obsessed city in the world, based on Google Trends data. Among countries Canada ranked ninth, with Canadian searchers the most interested in Keto dieting.  
Overheard 
"If you've never tasted arugula from Ontario's New Farm or Cod from Fogo Island Fishery, you're in for a mind-expanding experience."
—Gladstone Hotel executive chef Brandi Greenwood on the hotel café's new farm and sustainability-focused menu. Greenwood partnered with 100km Foods Inc., a distributor that connects city restaurants with farmers.
On The Scene
A chef from Athens Restaurant danced for attendees at the 26th annual Taste of the Danforth, which took place August 9 to 11. 
Let's see what's happening at your events. Tag #bizbashto on Instagram.
What's Next?
The seventh annual Pan American Food & Music Festival will take place at Yonge-Dundas Square August 17 and 18. The event will celebrate Cuban cuisine and culture, coinciding with Havana's 500th anniversary. More than 30 chefs will showcase specialty recipes, and tasting competitions will include empanada and ceviche cook-offs. In addition to more than 20 music and dance performers, the debut Pan American Star event invites youth under 17 to participate in a talent contest, while a 200-performer Pan American parade will take place on Saturday evening.   
The Canadian National Exhibition returns to Exhibition Place from August 16 to September 2 with carnival flare, electric performances, and deep fried delicacies. New features this year include "Raccoons Reimagined," an art installation dedicated to Toronto's notorious local pests, a Fan Expo cosplay picnic and parade, and a 50th anniversary musical tribute to Woodstock. Toronto Sun reported in July that C.E.O. Virginia Ludy has left her post; organizers have yet to announce her replacement.