This Week in Toronto: Casa Loma's Christmas Nights, a Winnie the Pooh Exhibition, a Beer and Mac 'n' Cheese Festival
BizBash's new Toronto column from Calvin Barr covers the week's biggest event news.
December 11, 2019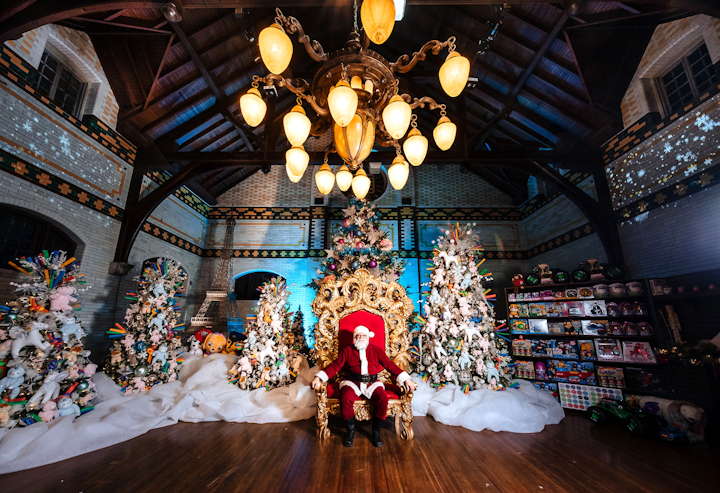 Photo: Courtesy of Casa Loma
TORONTO—Welcome to BizBash's Toronto-based column, where Calvin Barr covers the week's biggest local news. Got a tip? Get in touch!
Moves and Milestones
After more than eight years, acclaimed French brunch spot and bistro La Sociéte is closing its doors on New Year's Eve. The restaurant was launched by INK Entertainment, which—according to C.E.O. Charles Khabouth—plans to launch a new venture in the Yorkville space.
In Case You Missed It
More than 1,200 guests attended the 2019 Federation of Rental Provider of Ontario (FRPO) MAC Awards at the Metro Toronto Convention Centre on December 5. The event—which gives more than a dozen accolades to leaders in property management and development, construction, and renovation—recognized a number of Toronto properties, including 25 Selby Street for "Rental Development of the Year."
News
"A Nutcracker Christmas at the Castle," which opened at Casa Loma on December 1, is extending its hours to include evenings as of December 16. Shows this year include performances by illusionist Professor Wick, Toronto-based ice skater Glisse on Ice, and the Casa Loma Holiday Orchestra. The venue is decorated with its traditional 40-foot Christmas tree, in addition to eight unique creations by Canadian tree designers. Children will have the opportunity to visit Santa, meet characters from Paw Patrol, and participate in a variety of arts and crafts activities.
The 8th annual Krampus Ball took place at the Opera House on December 7. The holiday monster-inspired costume soiree featured a full night of heavy metal, electronic, and alternative music sets, as well as a cabaret, performance art, and body painting. Organizers also provided a photo booth and a post-event online costume contest, and offered free tickets to the event via a social media-based scavenger hunt.
Venue Buzz
Following the success of the Dr. Seuss Experience this fall, the Royal Ontario Museum is hosting a Winnie the Pooh exhibition in the Roloff Beny Gallery this spring. The display, which premiered in London's Victoria and Albert Museum in 2017, includes original letters, manuscripts, sketches, photographs, and other memorabilia from the timeless children's stories. Although "Winnie" the bear was famously named after Winnipeg, Toronto will be the only Canadian stop on the tour.
Turn of Events
Toronto was named the world's most caffeinated city, according to an annual review by UberEats, which reported that it received more coffee orders than in any other city. The report also ranked the CN Tower as the third most popular Uber destination for tourists in 2019. 
Overheard
"We have, I think, 12,000 followers on Instagram and as soon as we posted the Aloha cocktails on our social media feeds, it started getting a lot of interest. People started coming in and I could see the reactions on their faces when they got the Little Snowflake. It's kind of like the baby Yoda phenomenon, everybody loves it." 
—Robin James Wynne of Miss Things, speaking to the Toronto Star about the success rate of innovative holiday pop-up bars in the city this season. 
On The Scene
Holiday Fair in the Square returned to Nathan Phillips Square on December 7, where it will run until December 23. The shopping market includes a skating rink, a line-up of musical performances, and a heated bar named Polar Point.
Let's see what's happening at your events. Tag #bizbashto on Instagram.
What's Next?
Toronto's first "I Heart Beer and Mac & Cheese" festival will take place December 14 at Exhibition Place's Queen Elizabeth Building. Guests are invited to put on an ugly sweater and sample recipes by brewers and chefs across the province, while playing foosball, beer pong, and Cornhole. Craft Brand Co., Peoples' Pint, and Henderson Brewing Co. are some of the local breweries taking part, while Dope as Duck Toronto, Get Your Own Taters, and Alchemy Food & Drink are among the Toronto-based food providers. 
The Jam Factory, in partnership with Wall St. Fitness, NÜLOVE, and City Street Outreach, will host the 15th edition of the Feed Toronto project on December 15. Participants will meet to prepare and distribute hot meals, as well as winter clothing and supplies, to people who are homeless or in need. All food is being donated by Pumpernickel's Catering.