This Week In Toronto: an Interactive Dr. Seuss Exhibit, Fashion Week-Theme Drinks and Dishes, a Moon Sculpture Under the Gardiner
BizBash's new Toronto column from Calvin Barr covers the week's biggest event news.
September 4, 2019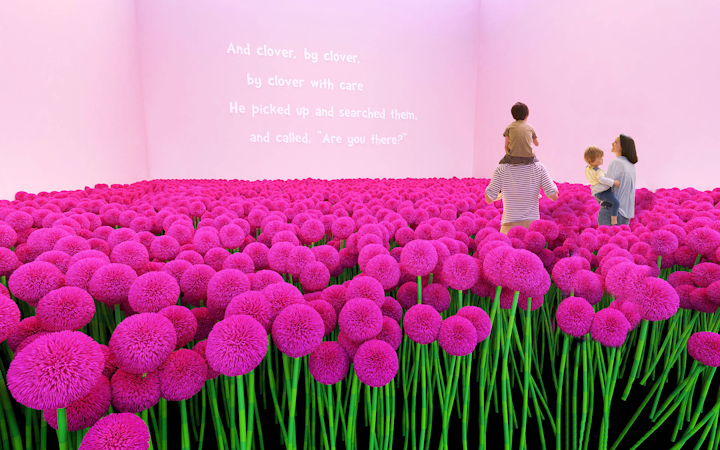 Photo: Kilburn Experiences/Dr. Seuss Enterprises/Associated Press
TORONTO—Welcome to BizBash's Toronto-based column, where Calvin Barr covers the week's biggest local news. Got a tip? Get in touch!
Moves and Milestones
Media One Creative, a Toronto-based video production agency, has appointed Abbi Morrison senior video editor. Among her projects with the company, Morrison is credited as post-production supervisor for the Ernst & Young Entrepreneur of the Year Awards, managing and editing all the video elements for the event.
In Case You Missed It
Toronto International Buskerfest returned to Woodbine Park for its 20th year over Labor Day Weekend. Street performers from around the world came together to raise money and generate awareness for epilepsy. New acts included living statue Cartoonette, circus duo Les Dudes, an interactive puppet show by Imagicario, breakdancing by Magic Breakers, and a magic show by Toronto's Mark Correia. The Canadian National Exhibition also featured performances at its annual Busker's Corner, including Toronto's Mighty Man Mike, who broke the Guinness world record for fastest juggler. 
News
Dr. Seuss Enterprises has partnered with Kilburn Live, the live events division of Los Angeles-based Kilburn Media, to create the Dr. Seuss Experience, an interactive pop-up that will have installations themed around Dr. Seuss stories and characters. The experience, which kicks off October 26, will take over a 15,000-square-foot space at Square One in Mississauga. The pop-up's centerpiece will be an inter-connected maze inspired by Oh, The Places You'll Go, created with thousands of suspended balloons. Each room within the experience will represent a different Dr. Seuss book, including The Cat in The Hat, The Lorax, and Horton Hears a Who. Square One is the first location to host the tour before it moves on to Seattle, Boston, and Houston, with a number of other U.S. stops planned.
Style Plate will return for its third edition during Toronto Fashion Week, which runs through Thursday. The traveling dining experience reflects the season's fashion collections through specialty cocktails and dishes. Chefs and mixologists in eateries throughout Yorkville, including D-Bar at the Four Seasons, Trattoria Nervosa, Bar Reyna, Sofia, and STK are participating. As part of the celebration, fine jewelry designer Hania Kuzbari will host a high tea afternoon and design demonstration at the Hazelton Hotel today.
Venue Buzz
Ripley's Aquarium of Canada will host an "Octo-berfest" party on September 27. Musical entertainment for the undersea-theme event will be led by the Matt Lebar Ensemble, while Steamwhistle, Collective Arts, and Railway City will be among the available local brews. Toronto Oktoberfest will run for the eighth year in Ontario Place from September 26 to 28. 
A Turn of Events
The city is replacing the famous Toronto sign in Nathan Phillips Square, which, according to Tourism Toronto, is the city's third most popular attraction after the CN Tower and the Eaton Centre. The display was initially installed in 2015 for the Toronto Pan American Games. City officials announced that an upgraded, permanent sign will be revealed in late 2019 or early 2020.
Overheard 
"Everyone thinks that [human trafficking] is happening in Eastern Europe or Asia, and that the people being trafficked are from that part of the world. In Canada, 90 percent of the people it's happening to are local."
—Andrea Boulden, senior manager of TD Wealth's event team, on her work at Meeting Professionals Against Human Trafficking, an organization that helps event and hospitality professionals prevent human trafficking. Boulden discussed this topic in the latest episode of GatherGeeks. 
On The Scene
The Canadian International Air Show celebrated its 70th anniversary from August 31 to September 2.
Let's see what's happening at your events. Tag #bizbashto on Instagram.
What's Next?
The Elevate Tech Festival will run September 20 to 26 in downtown Toronto with headlining speakers Michelle Obama, Martha Stewart, and astronaut Chris Hadfield—who is also the event co-chair. The week brings leaders in the tech industry together for a series of keynote lectures, networking sessions, and digital application demonstrations. The main stage will be at Meridian Hall, while events will also take place at Mars Discovery Centre, Telus Innovation Centre, Design Exchange, and more than 30 venues along King Street.

The Museum of the Moon opens at the Bentway on September 14. A seven-meter lunar sculpture by U.K.-based artist Luke Jerram will be installed underneath the Gardiner Overpass, celebrating the full harvest moon. Former CBC host Laurie Brown and Juno-nominated musician Joshua Van Tassel will record a live, experiential episode of Brown's show, The Pondercast, exploring relationships between urban communities and nature. Toronto's Choir! Choir! Choir!, Bernice, and a silent disco by Rich Aucoin will offer musical entertainment. BizBash highlighted the traveling sculpture at New York Comic Con in 2017.