This Week In Toronto: Drake's New Retail Store, Matty Matheson's Beach Festival, Eatertainment's Mykonos-Theme Bash
BizBash's new Toronto column from Calvin Barr covers the week's biggest event news.
August 7, 2019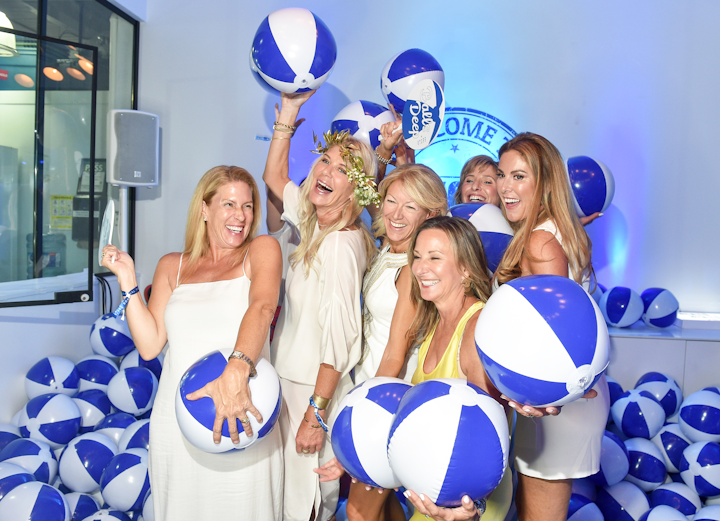 Photo: Ernesto DiStefano
TORONTO—Welcome to BizBash's Toronto-based column, where Calvin Barr covers the week's biggest local news. Got a tip? Get in touch!
Moves and Milestones
Enercare Centre at Exhibition Place became the first convention center in Ontario to receive LEED Platinum certification from the Canada Green Building Council. The LEED rating system recognizes buildings and construction operations committed to long-term sustainability and worker health and safety practices. The venue hosted the Collision tech conference earlier this year and hosts the Canadian National Exhibition. 
Cadillac Fairview has announced the opening of two distinctly Canadian outlets at CF Toronto Eaton Centre. OVO, Drake's official retail brand, opened its second Toronto location, coinciding with OVO Fest 2019 which ran this past weekend. Streaming at CF, a public creative studio for online and multimedia content creators, will be operational from now through October 31. Podcast host and former Toronto Raptor Danny Green and Canadian YouTube comedians Jae and Trey Richards recorded segments in the studio as part of its launch. 
In Case You Missed It
Art Gallery of Ontario announced two major exhibits coming next winter. "Diane Arbus: Photographs, 1956–1971" will display 150 images taken during the last 15 years of the photographer and human rights activist's life. A retrospective on traveling magic shows during the late 19th and early 20th centuries, "Illusions: The Art of Magic," will feature art, documents, and curios showcasing the lives of iconic illusionists including Harry Houdini. Both exhibits will open at the gallery's Sam and Ayala Zacks Pavilion on February 22, 2020.
News
Eatertainment Events & Catering, an event management and catering company, hosted the third annual Beats & Eats bash at its headquarters on July 24. The Mykonos-theme event, which hosted more than 300 guests, turned the indoor and patio office space into a Mediterranean Sea paradise atmosphere. The event offered a selection of Greek eats, Mykonos-theme props and photo ops, and a DJ. 
Canadian chef and TV host Matty Matheson announced an expansion of MattyFest, a live music and tasting event Matheson invented to celebrate his birthday. It was previously held at Parts & Labour when he was the restaurant's executive chef. Coming to RBC Echo Beach on September 7, the party will be headlined by Wu Tang Clan, in addition to sets by more than 10 groups. The event will have food from more than 20 restaurants, including Toronto's KungFu Dawg, Buca, and Cheese Boutique.
Mansha Financial raised $100,000 in support of financial literacy resources for more than 10,000 high school and university students during TMI 19 on July 31. The fund-raiser teed off with a golf tournament at Glenn Abby Golf Club, and ended with a black-tie, casino-theme event atop the Globe and Mail Centre. Hip-hop icons the Funky Bunch, as well as TSN hosts Sherman Hamilton and Cabbie Richards, were among the guests.
Venue Buzz
Marbl held a midsummer soiree to celebrate the launch of its new King Street-facing outdoor patio on July 31. The patio, which seats 60, features the restaurant's eponymous stone design, botanical decor, open-beam ceilings, and low-lighted chandeliers for intimate summer occasions. Ketel One vodka poured cocktails in peach and orange blossom, cucumber and mint, and grapefruit and rose flavors, and an array of specialty caviar was served. Marbl's main indoor spaces are also available for corporate and private event bookings.
A Turn of Events
Newswire: Lester B. Pearson International Airport announced a greener travel mode for Toronto tourists, international event attendees, and residents. As part of a $182.5 million federal investment in electric and other zero-emission automotive options, the airport is developing an electric charging hub to support a fleet of electric buses and other vehicles.
 Overheard
"I think that there are so many events happening now that people bounce around from one thing to the next. It's important for a lot of guests to say hello to whoever the host is, and let them know that they've been there. So being accessible and available as a host is important."
—BizBash's GatherGeeks spoke to Alison Slight, co-founder of Candice & Alison, about creating buzzworthy events and being a good host. The duo recently held their 10-year anniversary celebration.
On The Scene
Festivities for the 52nd annual Toronto Caribbean Carnival culminated with the grand parade on August 3.
Let's see what's happening at your events. Tag #bizbashto on Instagram.
What's Next?
One of Toronto's biggest summer outdoor food festivals returns August 9 to 11. The 26th annual Taste of Danforth will take over Greektown, with vendors from all over the city setting up food stations offering menu selections at $6 or less. Ontario Lottery and Gaming and Casino Woodbine will present three performance stages, while a kids zone, sports zone, and multicultural dance demonstrations will provide entertainment for attendees. Patios along the Danforth will be extended for patrons, and a beer garden sponsored by Bud Light will also be open.
Daily Hive: The 6ix may be getting a new plant-based poutine option. New York-based vegan eatery By Chloe announced an expansion to Toronto last week. Following the success of its European expansion to London, the Toronto location is slated to open at Yorkdale Shopping Centre in September. It will reportedly feature a "Toronto By Chloe" menu adapting hallmarks of Canadian cuisine. By Chloe also offers catering.